Bangkok's restaurants are placing Thailand's culinary scene on a world stage, and they keep progressing with new creative dishes.
The city never seems to run dry of unique eats to try. So if you're currently cruising the streets searching for distinctive and uncompromisingly delicious food, we've curated a list of 6 stunning yet sumptuous dishes we tried this month that are bound to delight you. Let's jump right onto the unique eats bandwagon and stay up-to-date with Bangkok's culinary scene, shall we?
Hero image credit: Unsplash/call me hangry 🇫🇷
NONAME – Steak Seafood Tapas
The uni sensation is real, especially here in Bangkok. Whilst some are wild for donburi bejewelled with ribbons of sliced raw fish over at Thonglor's Japanese haunts, if we were to pick our own uni adventure this very minute, our number one choice would be the Wagyu Beef Steak with Foie Gras and Sea Urchin at NONAME.
Little Donkey BKK
Classic French toast is undeniably good, but the elevated, cereal-crusted version served by Chef Steve Doucakis at Little Donkey BKK totally gives us hope that even the best could get better. The satisfying crunch provided by the crust coated in crushed cereal hits all the right spots for us. It also acts as a barrier to keep the French toast's inside custardy and ooey-gooey. Love, love, love.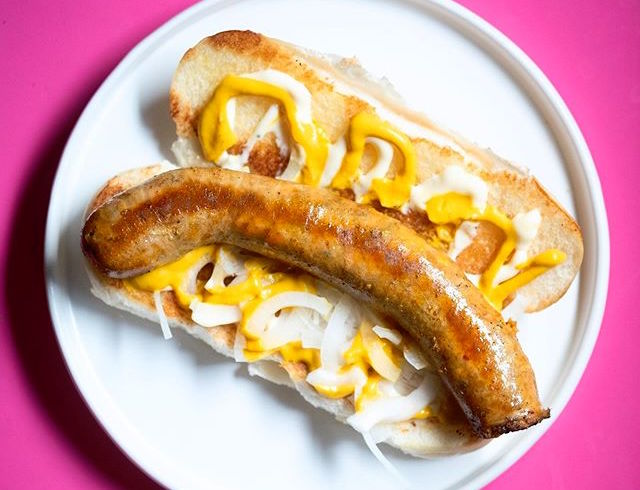 Little Market BKK
Little Market is a burger master but another thing they've come to master is the piquant Sai Oua Dog. The Northern-style, chilli-speckled sausage gives an extra oomph of umami that will not fail to vivify your hot-dog-and-bun experience.
Saladang Dining Hall
If you're in an obsessive relationship with noodles, Saladang Dining Hall should be your go-to. Not only do they make a mean Massaman Lamb Leg, but the venue also cooks one of the best boat noodles in the city. The pig blood-enriched broth here needs no seasonings. Along with the silky noodle and toppings like meatballs and braised beef, this bowl boasts high-profile flavours you won't get enough of.

EASY! buddy
When it comes to pad ka prao, it's never a disappointment to make a pit stop at EASY! buddy. Now in a new location at CentralWorld, we are closer to the delicious goodness more than ever. It's easy, happy-making food. Never underestimate this ka prao-centric place, as they are never easy, or compromise on high, umami-packed flavours and grade-A ingredients.
Susan Croissant
The cronut hasn't lost its moment. At Susan Croissant, the fried dough which goes under the name of 'Frido', is still much of a hot item. Although we love the OG glazed one, the Lemon Cream & Crumble really steals our attention in all its sweet-sour sharpness.