Living under a rock does not justify just how unaware you'd have to be to not know about Vaso. Living in the Stone Age may come close. 
It's a dramatic statement, but it's fitting, given that Vaso has brought the drama, the excitement, and the downright seduction to a new restaurant opening unlike many we've seen before. 
The Spanish tapas bar has caused a massive furore since it opened its doors in the snazzy Velaa Sindhorn complex, with a notorious reputation for being one of the most hard-to-book destinations about town right now. It's a restaurant that has made a lot of noise — both literally and figuratively — in the dining scene. But what's with all the hype? 
Recently, we tugged on a couple strings and managed to snag a dinner reservation for the prestigious 8pm slot. Here's what we observed.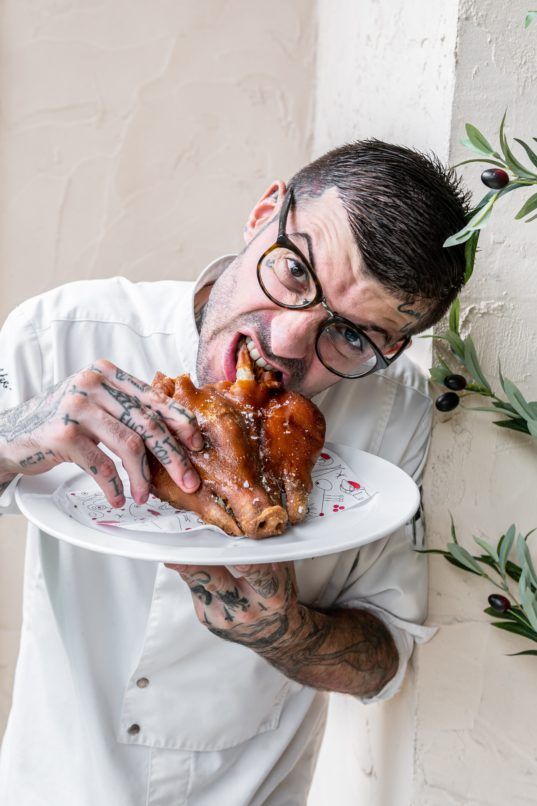 First things first: it's the chef
There are those who know about Vaso from their hiso friends and from their 'grams by the bar, and then there are those who know about Vaso because of El Palanca. 
Chef Álvaro Ramos has many aliases. Some call him Gafaspastas. Some call him Alvarito. Some refer to him as "that crazy chef." Most famously, however, he's known as El Palanca, and most interestingly, remembered by his warm, charming, and borderline flirtatious nature, as well as his tattoos — covering his eyelids too, no less. 
Yet whilst looks can be deceiving (or not at all), El Palanca has had some seriously impressive tenures across Spain and Asia, from the one-starred Dos Palillos in Barcelona and the two-starred La Terraza del Casino Madrid, over to the award-winning El Willy Shanghai. Now, he brings to Bangkok his spirit of creativity and innovation by marrying traditional Spanish cooking techniques with Asian influences. The result is a host of sociable plates that are reminiscent of Southern Europe yet still suited to a local Bangkokian palate. When they come served with the chef's celebrity charisma, it becomes apparent why he is a prominent star in the aforementioned 'grams.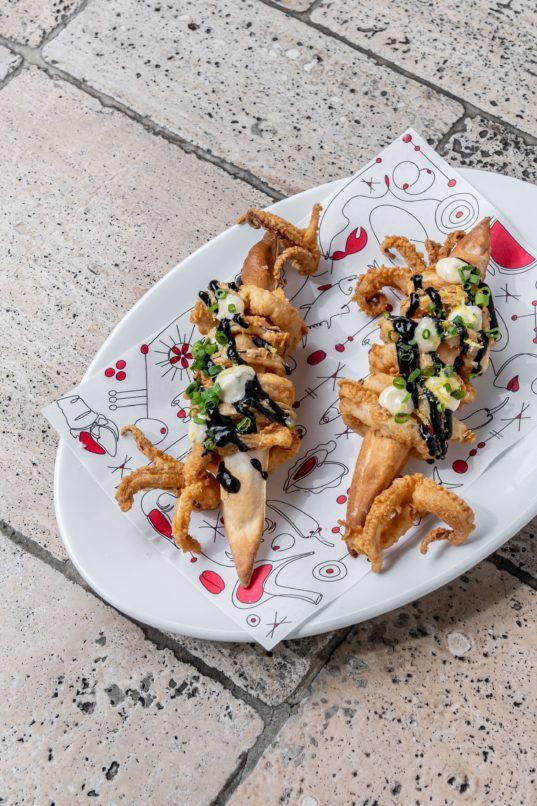 It's also the food (and the drinks)
Vaso is divided into two sections, one serving up quick and chill tapas by the bar, and another which offers a more intimate private dining experience. The former is the one that you find featured most commonly on social media, and is also the one we visited on our night out. 
The fun with tapas is that you can order a variety of dishes to mix and match and share with friends. We love the 'vasos' to start, consisting of a selection of chef-chosen tapas with a drink. Think, octopus leg and white wine (THB 260), Iberian Joselito ham and red wine (THB 320), or even caramelised foie gras toast with Estrella Galicia beer (THB 690). It's a pairing of a small scale but of grand taste. 
Then, of course, it's time to dive into the favourites: you'll find everything from gambas al ajillo garlic prawns (THB 390), tortilla de chorizo Spanish omelette (THB 390), croquetas (THB 260/2 pieces), patatas bravas (THB 240), and even padron peppers (THB 290) on the menu. It's wholly exciting for those who are familiar with Spanish cuisine, and not too intimidating for those who are not. Naturally, you'll also have to try one of the paellas (THB 480 with cuttlefish and squid ink or THB 2500 with whole lobster), and not leave without a happy serving of churros with chocolate (THB 320). We also really loved the Basque cheesecake (THB 320), which was trendy here and in Spain long before Bangkok picked it up recently.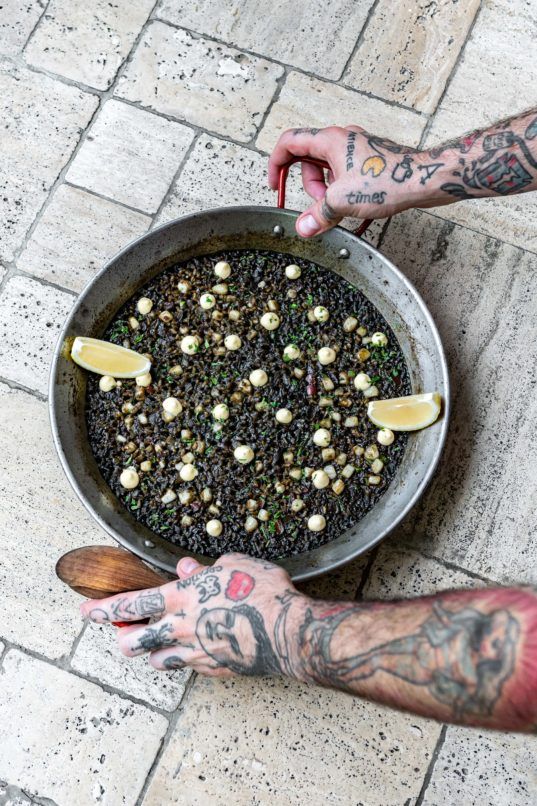 Yet the food is only half of the journey. Vaso spells drinks with a capital 'D.'
Beyond a welcoming (and loud) communal "Hola!" from the team as you enter, Vaso likes to serve its guests a sparkling welcome drink. Shots are a popular order. A great selection of reds and whites can be found on the menu. And there's even Spanish beer. All in all, you get a sense that everyone who dines here is in it for a good time, as champagne flutes and wine glasses cover the bar top almost as prominently as the little dining plates.
What luck, then, that tapas make for such great drinking food.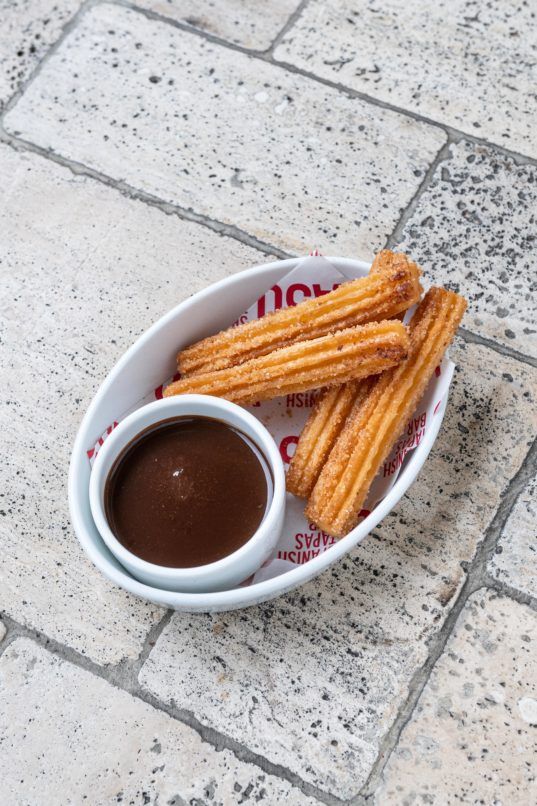 It's also the crowd
There's something about bar seating that already makes it very sociable. You're rubbing shoulders with strangers. Given the oval shape, you're also facing them. You could lift your glass and do a silent 'cheers' to the lady across the bar. Or you could buy the whole restaurant a round of shots. 
No, really. 
Written big and bold across the menu, telling the staff to "play 'La Macarena'" is code for buying a round of drinks for all fellow customers at the shy price of THB 999. It's suggested that this is how you make friends "the Spanish way", but also sets the tone for what kind of restaurant Vaso is.
The crowd here is young (or young at heart) and fun. They're not fussed with hangovers the next day. They're well-dressed. They're here to check you out the same way you're there to check them out. And you'd probably recognise a whole bunch of them as Bangkok's most famous it-people if they moved closer into the light. Together, they make up for a lot of the buzz about Vaso.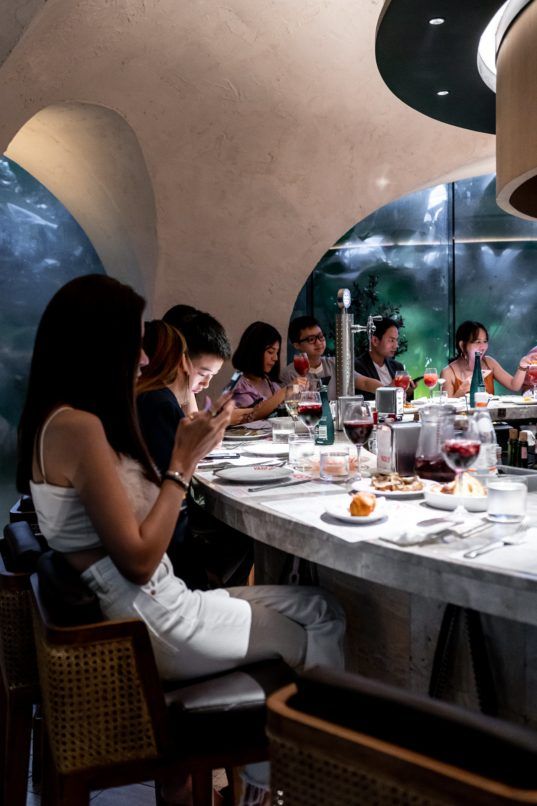 The music is really, really good
Always keen on bar and restaurant music, we have never Shazam-ed so many songs throughout the course of one meal. Vaso has a great playlist. 
Great because it's both familiar and unfamiliar, you could go from Ecoute-moi Camarade to Barking to Maradona in under 10 minutes and have it feel seamless. It's really upbeat, and hits that sweet spot between wanting to get up and dance, and curiously reminiscing. 
When we asked Álvaro for the playlist on Spotify, he shrugged and replied, "it's just 'Vaso.'"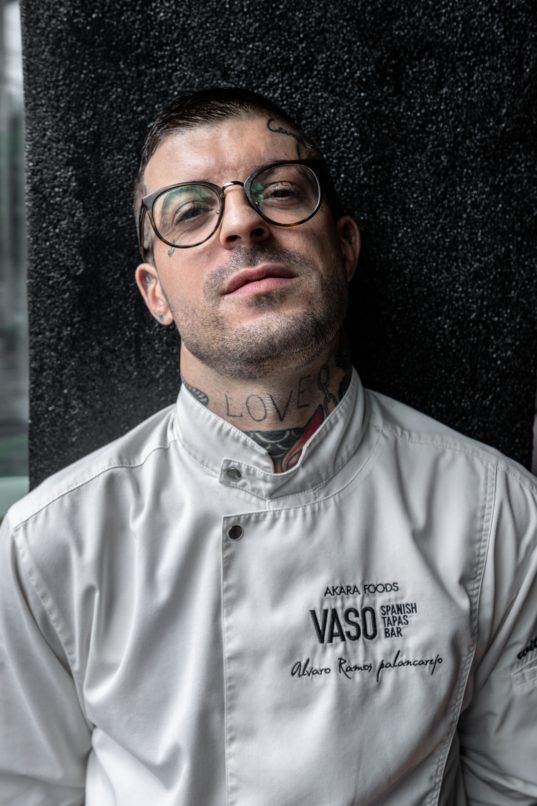 It's a secret
There's no denying that after the wild and exhausting ride that has been 2020, we needed a place like Vaso. 
It's sexy, it's cheeky, and it's creative. It feels like a Friday when you're here, even if it's only Thursday. You don't know who all these people are, but you're curious for what you're about to get into together. The chef's antics draw you in. The Iberico ham is addicting. Another round of Sangria shots? 
Vaso feels almost like a dirty secret or a guilty pleasure. It's exclusive, expensive, and an experience of its own. 
Try to get a reservation and see for yourself. 
Vaso – Spanish Tapas Bar, Vela Sindhorn Village, Pathum Wan, Bangkok, +66 98 914 4664; Open daily 12pm-3pm for lunch and 5.30pm-12am for dinner.