Welcome to the first episode of #WhatsCooking, where we take you to the home kitchens of your favourite chefs and influencers.
This week we are joined by the Canadian-by-blood and Thai-by heart chef Andrew Martin of JAEW Jim Thompson, the new Thai restaurant conceptualised around Andrew's relationship with Thai food. It is inspired by 7 years of simply living here and working at nahm, Bo.lan, 80/20 and Issaya Siamese Club.
Andrew's version of Thai food brings a wave of thrill to Thai cuisine; his culinary insights and knowledge gained from roaming around local markets, farms, and forests gives his food flavour reminiscent of old-school Thai fare but with pleasant makeovers on appearances. 
Even at home, the house meal he makes also reflects on the signature cuisine he cooks for the restaurants, with a ton more of peak-season ingredients he finds in the market. As he has stated: "Good fresh ingredients will make good fresh food." Let's take a look at scrumptious dishes Chef Andrew made this week.
Grilled Steak Salad: Yum Nua
"I live a very healthy lifestyle now and I think these food reflect that. What we put into our body combined with an active lifestyle can do wonders. Of course, I still enjoy my pad ka prao kai dao, pizza and gai tod, because we still have to satisfy our cravings. We just need to have balance, and this dish is a perfect example of that. I made a simple grilled Thai marinated flank steak (always have some frozen at home), then I tossed in a bunch of beautiful of mixed herbs, lettuces, tomato, and cucumber, and dressed the whole thing with pungent nham jim (Thai relish). A sprinkling of khao khua (roasted rice powder) as a finishing touch also gave the dish this wonderful toasty nuttiness and crunchy texture. Delicious."
International Vegan Chili
"My girlfriend is actually vegan, so the food I make at home can easily be made as vegan and non-vegan options to satisfy us both. That's why I incorporate lots of vegetables into every meal. This one is an 'international' vegan chili, since how I make it differs from the traditional way of making the bean and meat stew. In a pot, I cook together mixed beans, lentils, lots of tomatoes, onions, carrots, and garlic, and season the whole thing with dried spices for herbaceous aroma and taste. I then left it to stew for 3 hours and refrigerated overnight. The next morning I just reheated it with more kale and broccoli stems and topped it all off with a simple salad of tomato, basil, and avocado, dressed with bright, acidic lime juice. It's a hearty, healthy, and soulful dish where I can easily use up whatever veggies I have left in the fridge and make enough for a few days."
Mackerel in Dashi
"My mother is Japanese and so I ate a lot of Japanese food growing up. This dish is in my comfort food repertoire. It's a humble kombu dashi with braised daikon, carrot, and bok choy. I made it vegan for my girlfriend then added bonito shavings and grilled mackerel for myself. I also seasoned mine with more soy sauce and mirin for extra oomph. We ate it with a big scoop of beautiful sangria-shade riceberry and a salad of shredded carrot, beansprouts, and cucumber tossed thoroughly with salt and rice vinegar."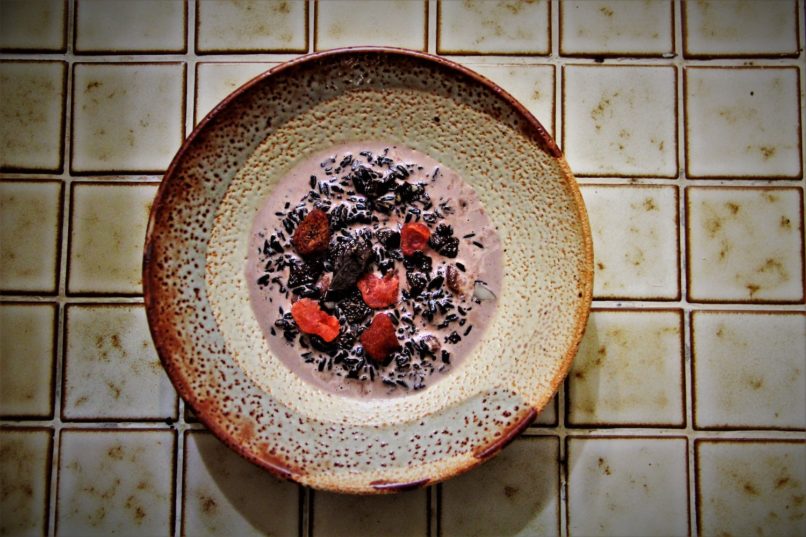 Coconut and Riceberry Pudding
"Here's one delicious, fuss-free vegan dessert I like to make. I always get freshly squeezed coconut cream from the market so I always freeze some of it to keep on hand. And for this dish, I used the leftover riceberry and cooked it with the luscious coconut cream with star anise and a pinch of palm sugar to taste. Then I sprinkled it before serving with dried strawberries, dried coconut flakes, and dark chocolate for some pops of flavours and crunch."