For foodies who need some extra inspiration to keep their inner food geek going this month, we've got you covered.
Bangkok's culinary establishments constantly feed the city with new dishes, new menus, new dining concepts, and bold pop-ups to keep us food buffs energised and excited. Here's what's new in the Bangkok dining scene that will sure enliven your jaded appetite in no time.
MLive Food Market
November is greeting us with many delightful culinary festivities and MLive Food Market, in our opinion, is one of the most delightful of all. From 27-29 November from 5-10 pm, this fun-filled, free-entry food festival will take place by the poolside perched on the 9th floor of the Bangkok Marriott Marquis Queen's Park. It will feature top-notch gastronomic icons from 18 of Marriott International hotels. Not only will MLive Food Market make their impressively extensive selection of scrumptious fare from each hotel more accessible than ever, but the event also makes it accessible for all considering the friendly price point (from THB 40 to about THB 220 only). The alfresco setting, bean bags, and sun loungers also give out a homey vibe that will welcome visitors with a warm ambience. Live music and drinks are also available as well as children entertainment like face painting and balloon art. This makes MLive enjoyable for both kids and adults alike. Whether you crave for steamed crab legs from The Silk Road, the Mighty Mo Burger from The District Grill Room & Bar, Italian dishes from La Tavola or even the signature cheesecakes from The Lounge at The St. Regis Bangkok, there's something to cater to everyone's taste buds and preferences.
Bangkok Marriott Marquis Queen's Park, 199 Soi Sukhumvit 22, Khlong Tan, Khlong Toei, Bangkok, +662 059 5555.
Le Petit Chef
For a succulent feast that pleases the eyes as much as the tummy, Le Petit Chef checks all the boxes. The 3D animated dining experience is now showing at The Living Room within the Sheraton Grande Sukhumvit, a Luxury Collection Hotel, serving up new stellar dishes like Hokkaido Scallop Mieang Kham, Duck Breast with Roasted Potatoes, Buffalo Milk Mozzarella with Sturia Caviar, and Rice Pudding Brûlée with Saffron and Cardamom. The entire meal is presented with a visual story narrated by the French character, Le Petit Chef. The food-meets-animation dining is available from Wednesday to Saturday and also for Sunday Brunch. Check the schedule here.
The Living Room, Sheraton Grande Sukhumvit, a Luxury Collection Hotel, 250 Sukhumvit Rd, Khlong Toei, Bangkok, +662 649 8353; Open: Wed-Thu, 3-10:30 pm; Fri-Sat, 2:30-10:30 pm; Sun, 11:30 am-5 pm.
80/20 Chef's Choice Set Lunch
Lunch does not have to be mediocre. Opt for the scrumptious three-course Chef's Choice Set Lunch (THB 1,499++ per person) at 80/20, available every Friday to Sunday. The latest and hottest offering by the Michelin star restaurant features mouth-walloping dishes: Tiger Prawn Ceviche with Jicama and Seaweed Cracker for an appetiser, sharing plates of Gaeng Liang, Stir-Fried Butternut Squash and Basil, Smoked River Fish, Banana Blossom, Mango Vinaigrette, Grilled Pineapple Curry with Roast Chicken, In-House Salted Fish Relish and Yasothon Jasmine Rice, and, last but not least, Som-Chun for dessert to cap off the meal. Included in the menu is also a complimentary cocktail of your choice.
80/20, 1052-1054 Charoen Krung 26, Bangrak, Bangkok, +662 234 2822; Open: Wed-Sun: 6-10 pm for dinner; Fri-Sun, 11 am-2 pm for lunch.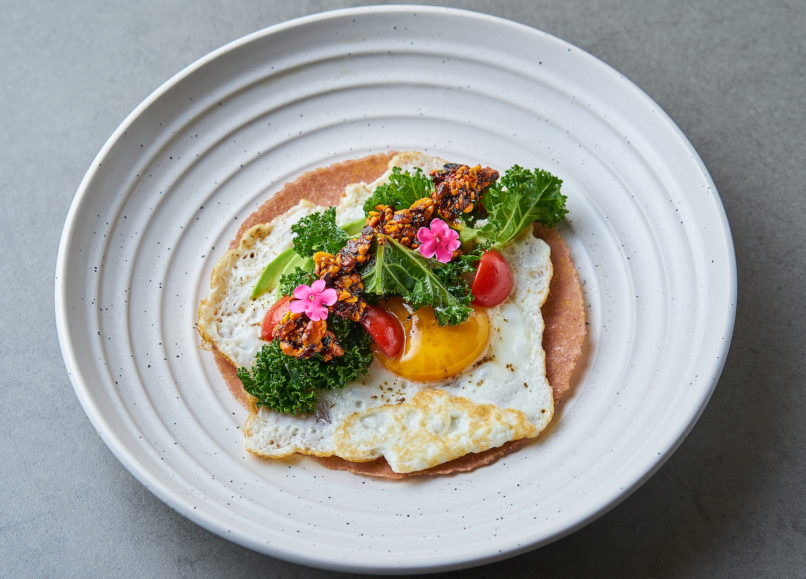 La Cocina
Taco aficionados, get ready to treat your taste buds with La Cocina Tacos & Ceviche Bar x Barrio Bonito's selection of Mexican fare with health-forward twists. The venue recently launched a range of new dishes. These include the nopal taco highlighting Thailand-grown cactus, nachos with house-made corn and sweet potato chips, and a range of burritos packed with a punch of flavours. All items are packed with nutrients to follow their motto: "made to feed your body, soul and mind in a sustainable way." Following this concept, definitely don't miss out on the new guilt-free dessert, the Coco-A, which is a decadent yet surprisingly light chocolate mousse made mainly with Veliche 72% cocoa, coconut milk, and avocado.
La Cocina, 355 Thonglor Soi 17 at The Commons, Bangkok, +662 006 3225; Open: Sun-Thu, 11 am-10:30 pm; Fri-Sun, 10 am-11 pm.
Front Room
Formerly a Nordic-Thai restaurant, Front Room nestled within the Waldorf Astoria Bangkok has now been reopened with a revamped concept of 'Ros Mue Mae' (or 'the flavours of mum's cooking') that goes full speed steam ahead with home-style Thai cuisine. Dr. Niphatchanok (Ajarn Ning) Najpinij, an avid Thai culinary researcher and daughter of famed Thai cuisine guru Kobkaew Najpinij, together with Chef Supanat (Ann) Khanarak and the Front Room's sous chef Sarocha (Bua) Rajatanawin, bring about a new menu the really dives deep into a personal Thai home cooking experience. They divide it by the eight distinctive flavours of Thai cuisine: sour, sweet, nutty, salty, spicy, bitter, astringent, and mild. A must-try.
Front Room, Waldorf Astoria Bangkok, 151 Ratchadamri Road, Lumphini, Pathum Wan District, Bangkok, +662 846 8888; Open: Tue-Sat, 11:30 am-2 pm for lunch and 5:30-9:30 pm for dinner.