Too many workdays, not enough coffee? We feel you.
Bangkok's drink scene is flourishing like blooming buttercups, and as beverage buffs ourselves, we know it's hard to keep up with all the cool and instagrammable creations. Nevertheless, there's no need to worry, as our curated list of the best drinks is here to help you map out your drinking itinerary — alcohol free. That's right, we've rounded up the best coffeeshop and casual cups about town. Let's get right into the sipping business, shall we?
[Hero image credit: Unsplash/Alexander Gilbertson]
Hint Coffee
Just when you think popcorn can't get any better, try this: the Popcorn Latte at Hint coffee. The minimal, white-splashed café pops out a popcorn-flavoured drink bejewelled with a caramel popcorn crown ­– which to us, is way better than the flower crown. And if that isn't corn-y enough, a box of caramel-covered popcorn is also served on a side as a dessert and snack to complement your coffee.
Hintcoffee, 168 Krung Thonburi 10 Alley, Khlong Ton Sai, Khlong San, Bangkok, +6698 363 0933; Open: Tue-Sun, 9 am-4:30 pm.
Oh Shit Not You Again
Not only does the name stick, but Oh Shit Not You Again also doles out unbelievably succulent Taiwanese-style fried chicken and cheesy fries. It's not really a cafe, but their must-try to go along with their grease-packed fare is the Sparkling Calamansi, a soda drink flavoured with Philippine citrus fruit. It's as refreshing to drink as it is IG-worthy to be featured on your feed.
Oh Shit Not You Again, Lido Connect, Siam Square, Rama I Road, Bangkok, +6696 921 7679; Open: Mon-Sun, 10 am-10 pm.
CRIME BKK
"It's a crime to drink bad coffee," says CRIME BKK, and that's probably the best thing anyone has said so far this month. If you're either the now firm believer in the quote or a murder show fan, this crime scene-inspired café should be your move.
CRIME BKK, 23 Thong Lo 20 Alley, Khlong Tan Nuea, Watthana, Bangkok, +6664 963 0666; Open: Tue-Sun, 8 am-5 pm.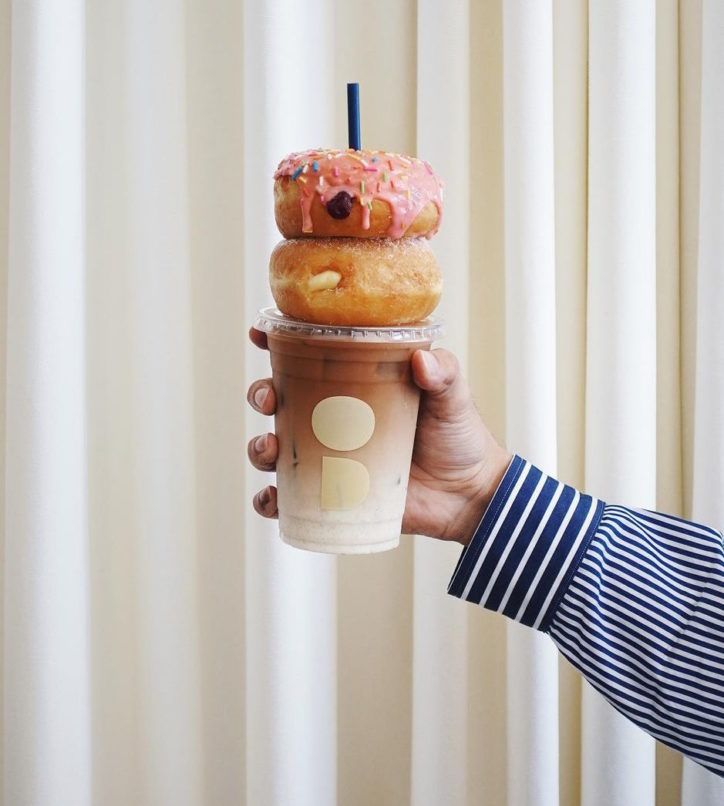 DROP BY DOUGH
For those who take their coffee with desserts, DROP BY DOUGH should be your go-to. Their array of jam-filled, multicolour glazed doughnuts served on top of your favourite brew is just like happiness on-the-go. Who wouldn't like that?
DROP BY DOUGH, 11 Sukhumvit 101/2 Alley, Bang Na, Bangkok, +6696 393 8838; Open: Mon-Sun, 10 am-6 pm.
FLAIR The Espresso Bar
FLAIR The Espresso Bar is — you guessed it — all about flair. The venue serves up fun drinks, as evidenced in the Blue Marble beverage. It is a butterfly pea tea spiked with milk, with lactose-free and plant-based milk options. Apart from the well-rounded milky flavour, another highlight about this drink lies in the moment where the milk dances through the azure-shade tea, creating a marble-like effect. Real allure.
FLAIR The Espresso Bar, United Center Bangkok, +6692 614 2639; Open: Mon-Fri, 7:30 am-5:30 pm.