It is a wine pairing made in dessert heaven.
Bangkok wine lovers will long have been familiar with Fin Wine — which is short for 'Fabulous is Needed' — one of Thailand's first purveyors of organic, biodynamic, and artisan wines. Now, the wine company has partnered with YORA, the ice cream made by Michelin-starred chef Saki Hoshino. Together the two have launched a series of limited edition ice creams, suited to both the wine lover with a sweet tooth and the dessert lover with a booze tooth.
The latter is not really a thing, but you get the gist.
[All images courtesy of Fin Wine x YORA]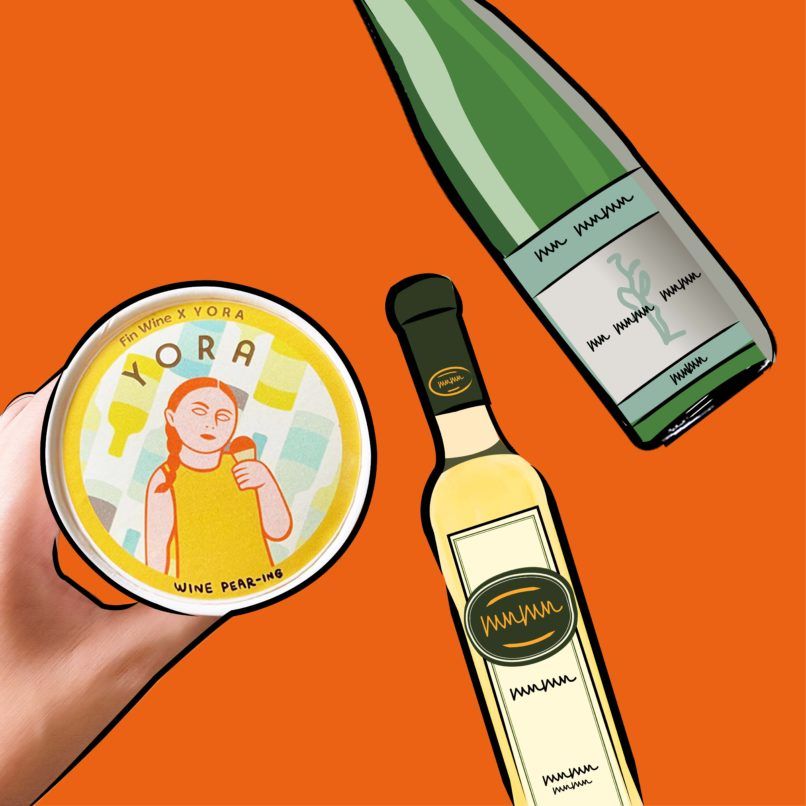 For its first edition, Fin Wine x YORA present 'Wine Pear-ing', a sorbet made from caramelised Chinese pear poached in a blend of Sauvignon Blanc and Semillon from Bordeaux. It is topped with a touch of cinnamon for the ultimate indulgence.
Made with local, sustainably-sourced ingredients, we're excited to see what this collaboration will proceed to have in store. You can order the artisanal ice creams in two sizes: a cup at THB 120, or a pint at THB 450. Sets are also available (highly recommended), and include 3 cups and a bottle of wine at THB 1350, or 1 pint and a bottle of wine at THB 1440.
For delivery from Tuesday-Sunday only, order yours via Line (@finwine or @yora.bkk). If Saki's desserts we so know and love (and the wines we so sip and love) are anything to go by, we have a very good feeling about this.