LG has revealed their latest developments, the 2022 OLED and QNED TV line-up, perfect for those looking to level up their home entertainment experience.
The debut of LG's latest TV innovations is sleek and contemporary, with cool elements such as True Cinema, Ultimate Gameplay, Smart Life, and Art Gallery. Without a doubt, these features allow users to view content with superior cinematic-quality visuals and sounds and enable more convenience to life with AI technology. 2022 LG OLED TVs
There are five LG OLED TVs in this lineup, where buyers are given more options regarding screen size and price. By using the α (Alpha) 9 Gen5 AI Processor 8K, the 88-inch LG SIGNATURE OLED 8K TV Z2 Series has more speed, stability, and overall brightness for unrivalled picture clarity and contrast. Other updates include their relaunch of a new size 77-inch LG OLED 8K TV Z2 Series, which provides 8K content and their addition of the LG OLED evo 4K TV G2 and C2 Series and the LG OLED 4K TV B2 and A2 Series. Sizes range from 42 to 83 inches, which will be available this year, as prices begin at 42,990 baht. LG QNED MiniLED TV
This 4-series lineup contains the QNED99 8K Series and QNED91 4K Series, with two new series this year: the QNED86 4K Series and QNED80 4K Series, where Sizes range from 55 to 86 inches. The devices display rich colours using a combination of NanoCell and Quantum Dot technology. Another highlight is their outstanding realistic visuals that triumph over other LCD TVs as the QNED panels use Mini LED technology, employing thousands of tiny LEDs working in tandem with up to 2,400 dimming zones and advanced dimming zones. Features of the Latest LG TVs
True Cinema: AI technology enables cinematic-quality visuals and sound
Thanks to the newly developed AI technology, α 9 Gen5 AI Processor 8K, that enables self-lit OLED evo, there is an improvement in brightness and accurate colour displays at different screen points, which means that viewers can see more realistic details in dark scenes. The new TVs also deliver three-dimensionality and depth to objects due to their AI Picture Pro, while the AI Sound Pro received a virtual 7.1.2 surround sound upgrade, enabling clearer voice. Those who worry about audio quality can rest assured that they will have the best audio experience as the new lineup has an AI Acoustic Tuning feature that detects the space and adjusts the sound when delivered.
LG also uses Dolby Vision IQ, Dolby Atmos, HDR10 PRO, and Filmmaker Mode, which is great as those who love to watch movies and series can now have a full cinematic experience in the comfort of their home! Ultimate Gameplay: Smooth response unlocks every victory
Indulge in seamless gaming and lag-free viewing as this new series has a 1ms response rate and 120Hz refresh rate. Gamers are also ensured to have a better chance of winning as LG operates with HGiG technology, which allows fast-moving visuals to remain in high resolution. Without any worry, players do not need to pause or quit the game due to the neat component, Game Optimizer. There is also a Sports Alert for individuals who want to keep up with important matches, as notifications regarding the game, score, and new competitions will be sent in real-time!
Smart Life: More convenience powered by Smart functions
LG's 2022 TV line-up is packed with smart functions to make our life more at ease. Users can sign in to up to 10 accounts, and in addition, every user's account is highly personalised with applications and content recommendations based on the account owner's usage. Users do not need to be frustrated with the Magic Remote as it is sleek and easy to navigate. Also, users can share their content on the screen easily by tapping the phone on the remote's NFC button. Voice commands are also available in Thai and English to provide even more convenience. Due to the Multi-View feature, viewers can watch different content simultaneously as two screens can be displayed independently.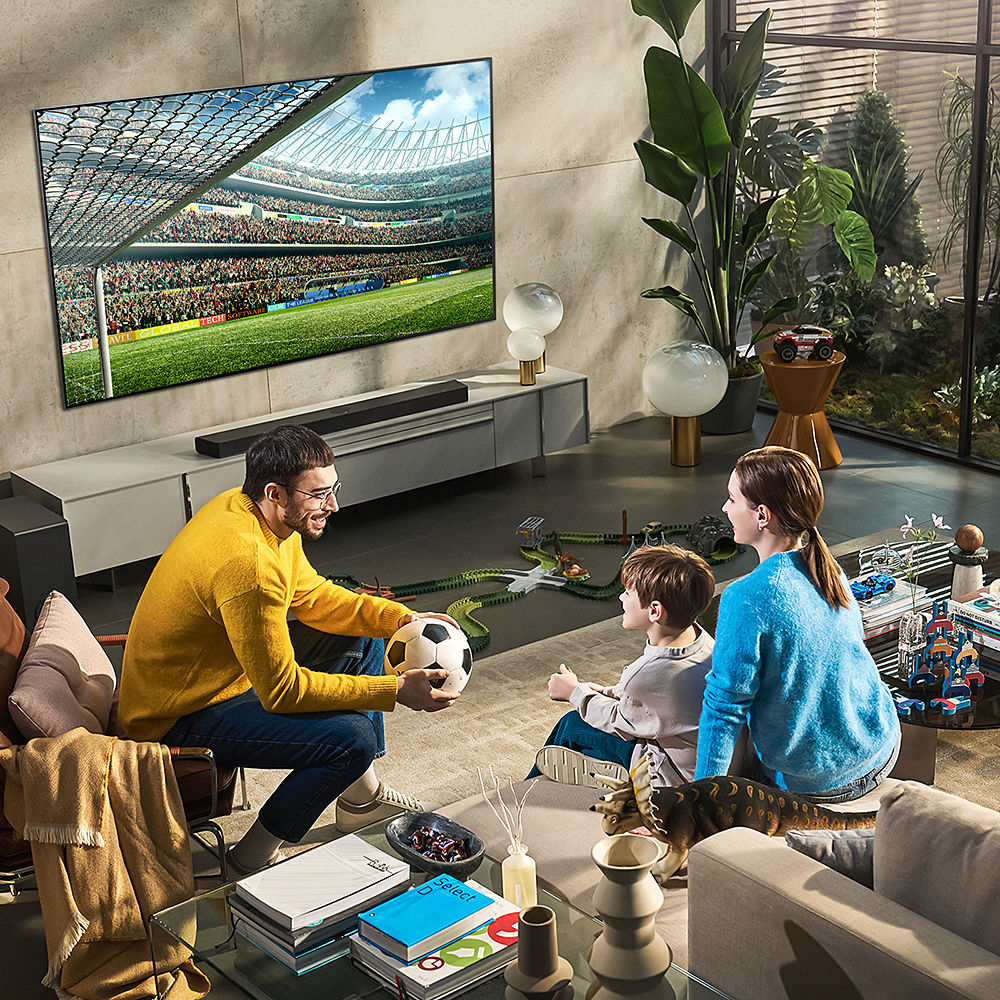 Art Gallery: Outstanding slim design that turns your living room into an Art Gallery
The LG OLED TV Z2 Series in 77-inch size and LG OLED TV G2 Series in 77, 66, and 55-inch sizes were specifically designed to be Gallery Edition. The super slim design is only 4 millimetres thick, allowing this particular set to be hung against the wall, giving a sense of sophistication as if one was viewing a masterpiece at an art gallery.
To be more eco-friendly, the latest OLED TVs weigh half as much as the previous model but remains durable due to the composite fibre material, making shipping and installation more convenient. Energy is also saved because of the reduction in carbon emissions, which increases the potential for 15.4% faster tree growth over the next ten years.
Customers can purchase the new LG TVs at LG dealers and distributors. For more information, please visit LG Home or contact the LG Call Center at 0-2057-5757.