He entered our screens on the third season of the Thai acclaimed television hit show Hormones: The Series at just the age of 17 as the clean-shaven head, shy, and timid character known as Pala. Who knew that seven years later, this young actor would turn into the CEO of his own company?
Actor Wongravee "Sky" Nateetorn has grown up before our very eyes. Now at 24 years old, Sky is no longer just an actor and model. Besides gracing the cover of magazines, runways, and events, the boy we first knew is now also an entrepreneur and businessman – handling business matters, deals, and schedules all on his own.
We met up with Sky atop the opulent Park Hyatt Bangkok Hotel at the spacious Penthouse Cocktail Bar, overlooking the dynamic views of Bangkok city. As our Digital Cover Star for October, Sky is here for a fashion photoshoot with one of his favourite watch brands – French luxury watch and jewellery manufacturer Breguet.
The actor turned up at 10 o'clock on the dot in beige casual wear, sporting a cap. Simple, casual, and stylish, the 24-year-old greeted the crew warmly with a wai and a smile on his face. Despite the years that have passed, Sky still looks as youthful as ever.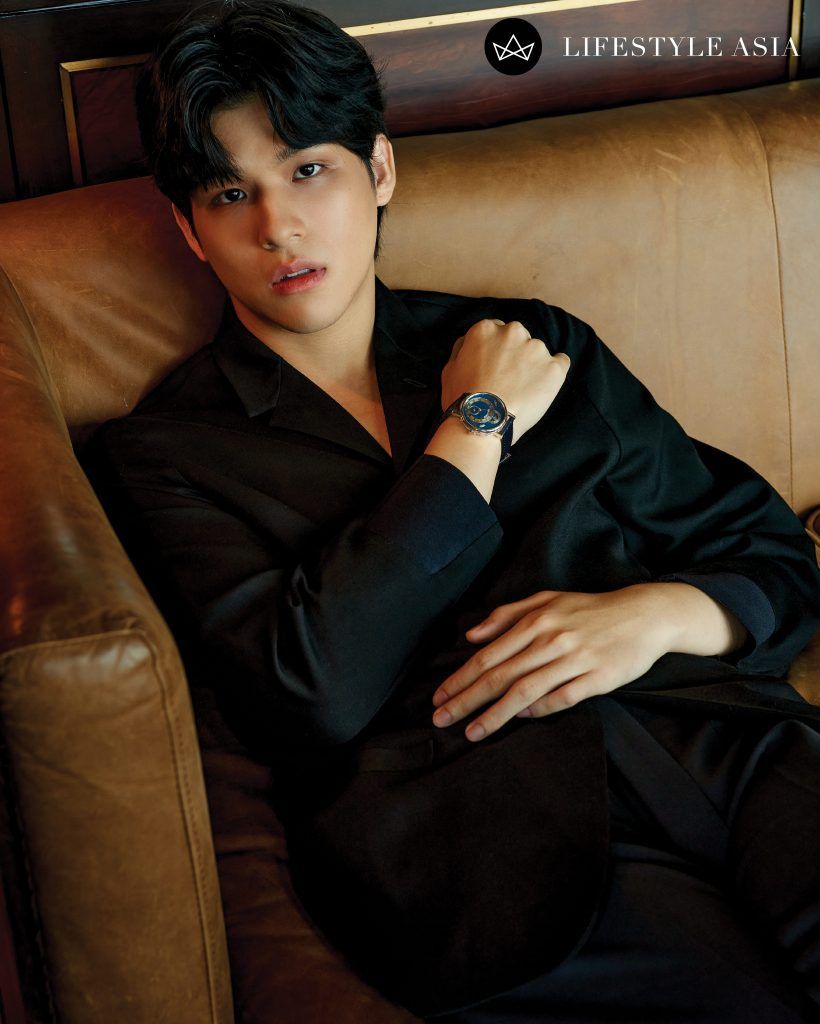 How many years have you been in the entertainment industry, and do you remember your first day on set?
I entered the industry when I was 17 years old. I'm 24 now, so it's been roughly 7 years. I still remember the first day clearly, because that was such an important moment in my life. 
It was during the time where I was filming for Season 3 of Hormones: The Series. The first scene I did was actually the final scene of the season, which was the most intense scene for my character. I couldn't do it at all – I came home crying because I was so disappointed with myself. The first scene I ever did as a professional actor took more than 40 takes. I even had calls with the director, who consoled and assured me that it wasn't my fault – there were so many other factors involved, from the sounds of the boats, and people moving about, and how the sound recording was limited. 
Still, I blamed myself, because I felt like I was also a part of the reason why the scene didn't turn out well. I managed to move past that because I kept trying. I kept trying and experimenting – figuring out what works, what I was good at, and trying to better understand how everything worked. I kept on learning and reaching out to people, talking to directors, experts, and acting coaches.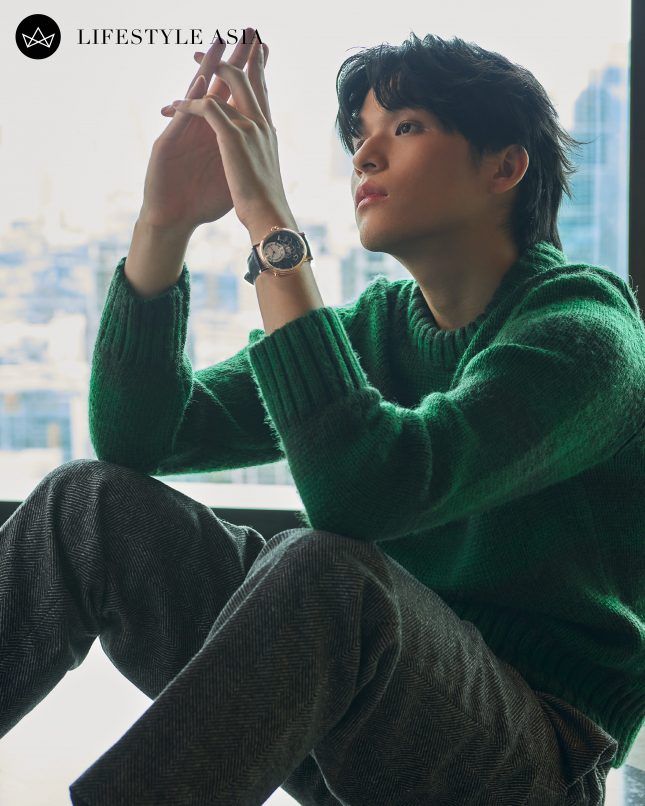 You started off with Nadao Bangkok, the famous artist management agency. What are the main lessons that Nadao has taught you in the realms of being an actor?
I remember that the first day I entered was a workshop day, where everyone would gather and sit around together. That was during the Hormones: The Next Gen era. Our parents were also there, and then there was director P' Yong (Songyos "Yong" Sugmakanan) who gave us an orientation on what Baan Nadao (House of Nadao) was about. He explained that Nadao operates like a family, and emphasised very seriously the responsibilities and professionalism we must take on – we have to be on set on time, and refrain from using our phones while filming.
Of course, these are quite basic foundations, because what the crew at Nadao saw was that as professional actors, we are only responsible for only some parts of the production. However, when we are really on set, there would be many other factors that come into play that might slow down the filming and production. For instance, some days it may rain, therefore we won't be able to film for hours. Hence, we must be prepared for any kind of complications that may unintentionally pop up – so that we wouldn't be a burden to anyone, and would help make other people's jobs easier and more efficient.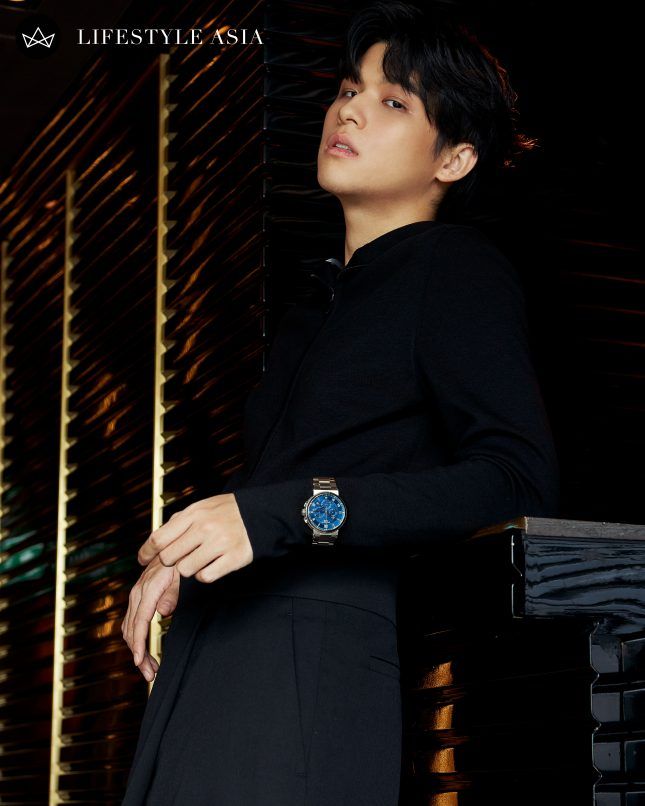 Are there any projects that were turning points in your career that you can still recall now?
To be honest, I don't think I have participated in that many projects [he proceeds to count them with his fingers]. There's Hormones: The Series (2015), the series I Hate You, I Love You (2016 – 17), also Project S: Side by Side (2017), and then then there was My Ambulance (2019) – these four projects are considered very little considering how I've already been in the industry for 7 years. Some other actors out there with the same timeline would already have over 10 projects under their belt.
But if you were to ask me about my turning point, it would have to be Side by Side. With that project, it felt as if I had leaped through a certain wall, or a blockage. There was something there [during that time] that got me stuck, something I can't really explain – but there was definitely that feeling. Eventually, I managed to move through that as well.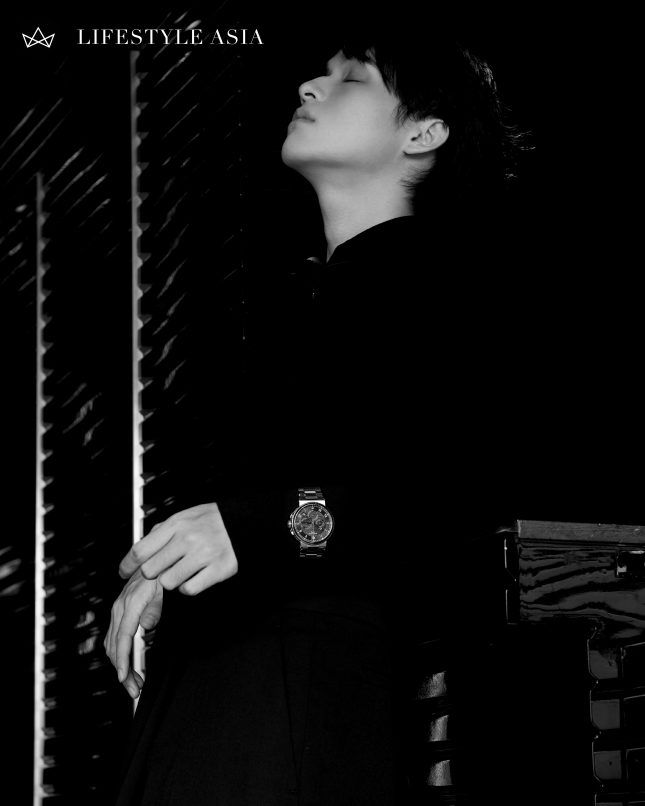 In terms of your personal life, when did you really feel like you have grown into an adult?
Since I entered the entertainment industry, actually. I am not from Bangkok, I come from another province, Ranong, and I started living in Bangkok during my early high school years. During the latter half of my student life, I entered the entertainment industry, and that was a time when I had to undergo so many changes, and adapt to and learn so many new things – in terms of my responsibilities, studies, work, everything. 
I had to grow up, and there was no whining or complaining about it. I had to learn how to do things and take responsibility for myself.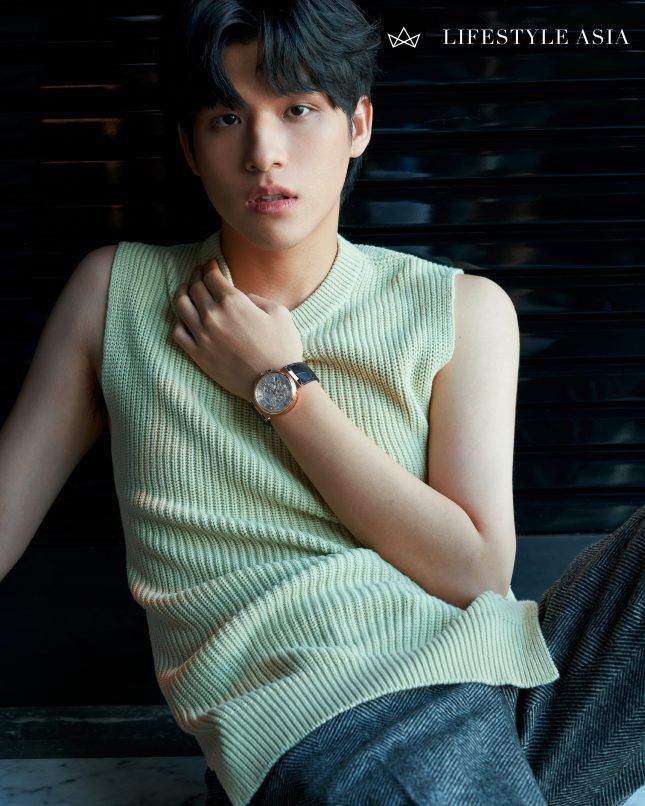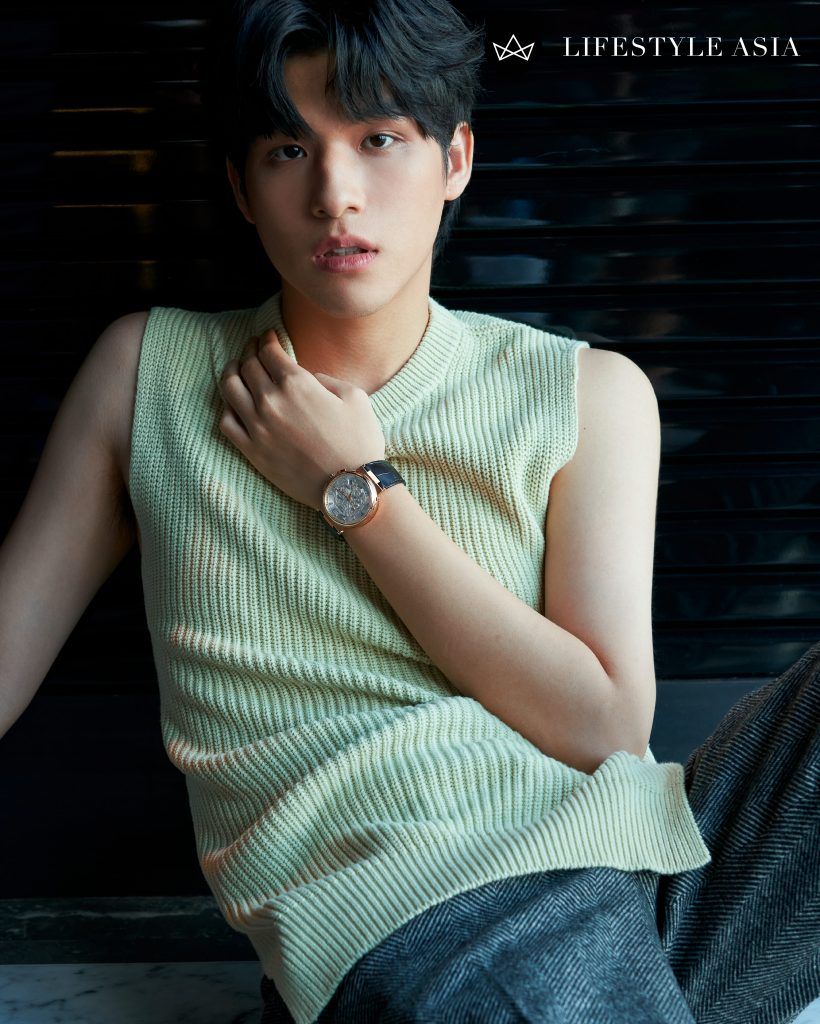 Now that there's no more Nadao Bangkok and you have to fly with your own wings, how have you grown since then?
I think that everything in life is all about learning new things. For instance, hypothetically, if Nadao hadn't closed down yet, I'd still have to fly on my own as well. At the end of the day, you are responsible for your own self. Every other element is what moulds, shapes, and builds you up in order to navigate the entertainment industry. 
The only change when it comes to no longer being in Nadao is the fact that I no longer have people to rely on like I used to, I now have to listen to, and rely on myself. On the other hand, though, the crew at Nadao would always reassure me that they're always there whenever I need someone to talk to. 
Now that I am out, I have to learn everything by myself – from work deals to managing my time and schedule. It honestly is a lot. I still don't have a personal assistant or manager at this point, so my mum is currently helping me out on that front in the meantime. So yes, now I have to learn everything new from the ground up – both for my mother and myself.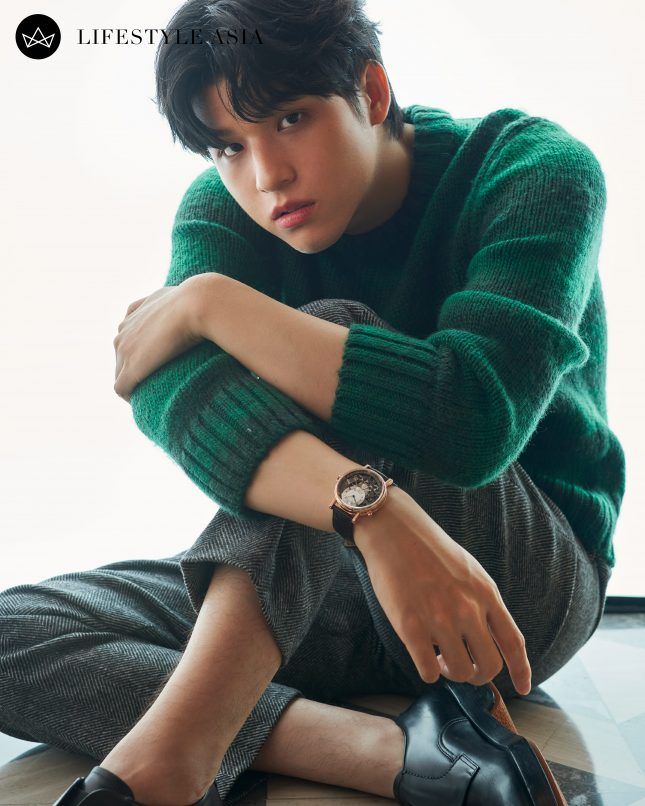 What are the positive aspects in coming out of Nadao and really being your own person? What kind of potential or skills have arisen?
I have gained so many new experiences and perspectives. Now, I really sit down and learn about each project that I consider taking on. I learn how to negotiate and make deals, which agencies I have to pass through, and the process of it all.
This made me realise that these things are definitely hard. In order to attain one job or project, you need to deal and go through so many people. I wouldn't necessarily call myself a CEO yet – I am just someone who has their own company in order for me to take care of myself. 
The reason why it's called Dao Tem Fah (A Sky Full of Stars) is honestly because my mum came up with the name. I think it's because my name is Sky, so there's a sky full of stars, something like that.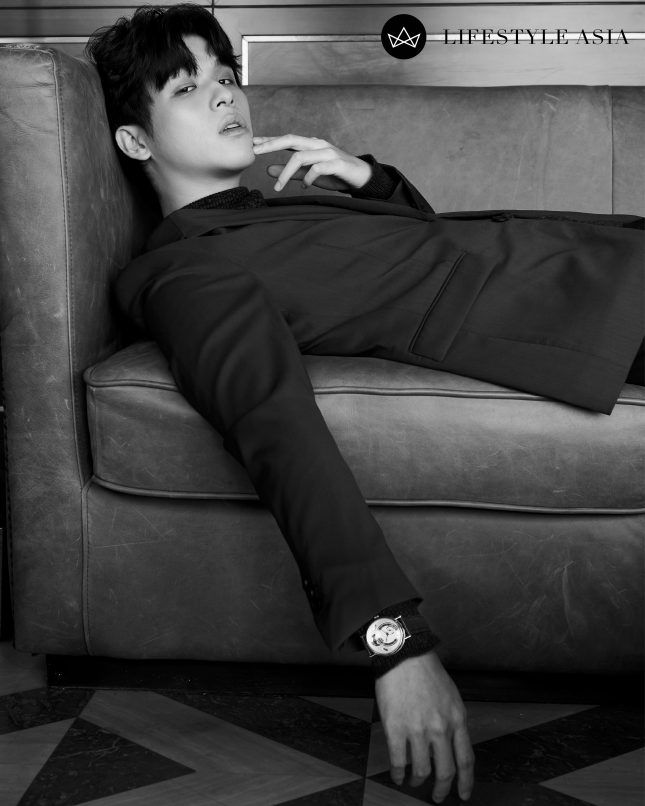 How much has the Sky from then grown up in terms of mindset and work ethic?
From that boy until today? Well, my hair has grown a lot more, it's quite fluffy now [laughs]. Honestly, I've grown in everything. Everything has been flipped from one side of the coin to the other. This is in terms of my personality, behaviour, work ethic, and overall perspective on life. 
I feel like I have found who I am as a person. And as I continue to see and experience new things, I also I want to do so much more as well.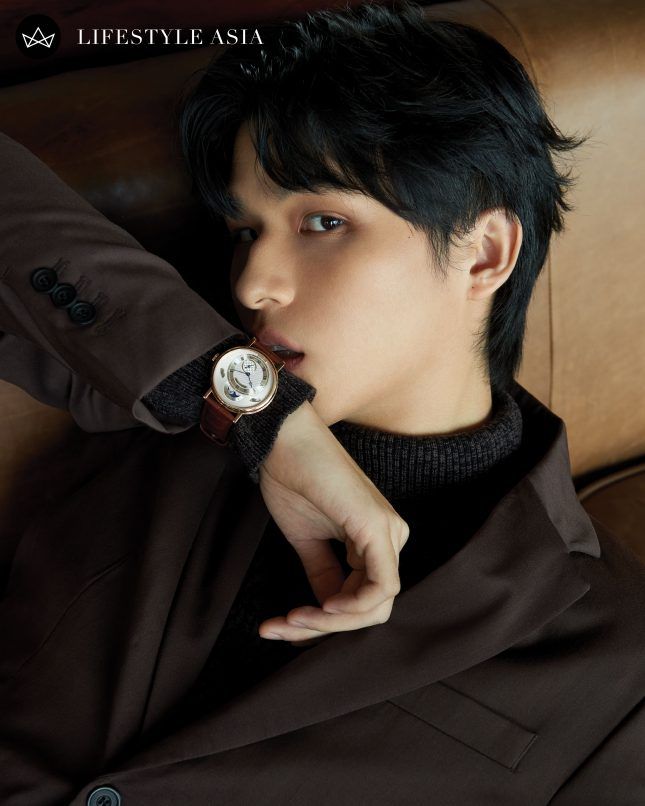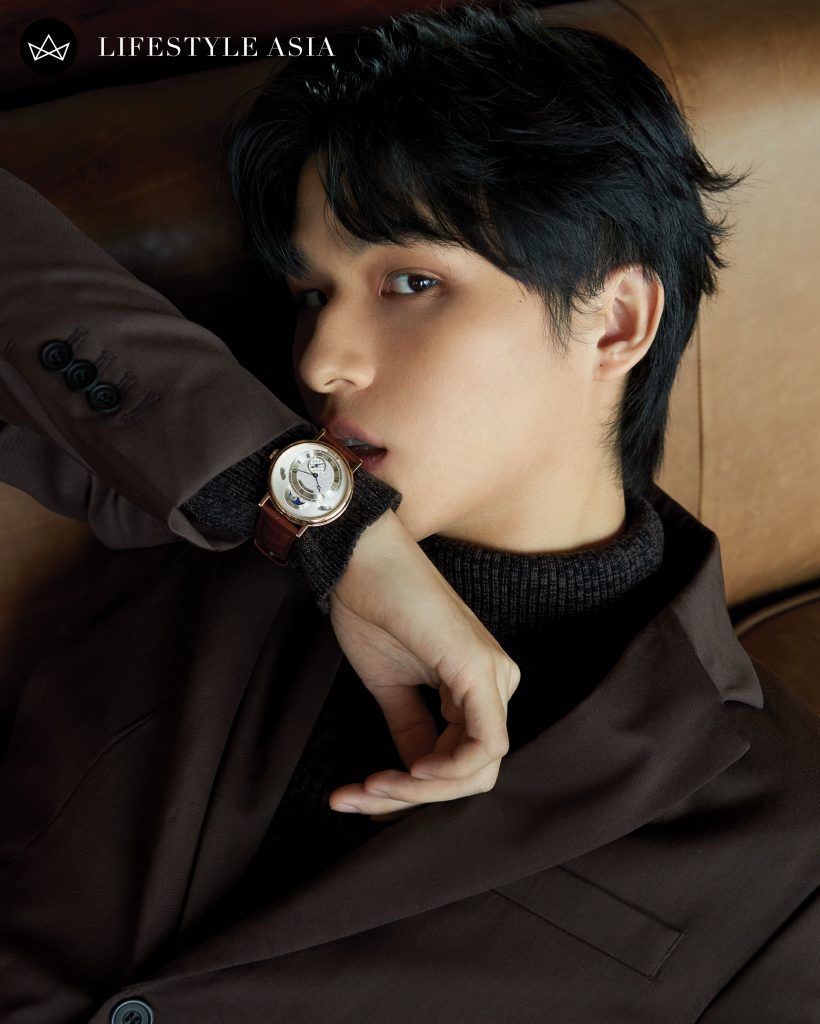 That once shy, soft spoken boy we knew from that first day has indeed now grown gracefully and expanded himself in ways we could never imagine. Sky's path as an actor, of course, is far from over. In fact, this might just be the beginning.
Whatever the case is, one thing is clear – we cannot wait what the future holds for this multi-talented individual. With his skills, humility, and vision, there's no doubt that Sky's future will go far in whatever path he pursues – as endless as the stars in the sky. 
Credits:
Model: Sky Wongravee
Photographer: Kritsada Hasapark  
Stylist: Arthit Chuenkamolpan
Assistant Ttylist: Prok Maksuwan
Hair: Wongwarat Phruphetkaeo
Makeup: Tong Sutipat
Watch: Breguet
Clothes: COS, Dior, Ermenegildo Zegna, VVONSUGUNNASIL
Location: Penthouse Bar & Grill, Park Hyatt Bangkok