Bangkok is a city brimming with talented personalities and charming characters who have pushed their way through to really make their mark. There's no doubt that they're truly living their best life, and doing it in great style. In our Good Life Gurus series, we explore and ask the city's millennial tastemakers and cultural arbiters to reveal what the good life means to them, and give us a little insight into how they live it.
There's nothing quite like indulging in a flavourful ice cream that is not only a treat in itself, but also has a story to tell. To start the new year on a fresh note, we're zooming into Bangkok's food culture that has dynamically changed over the years and is continuing to evolve. Today our Good Life Gurus are the power duo Rarin Tumwattana and Natee Charussuriyong, founders of Guss Damn Good.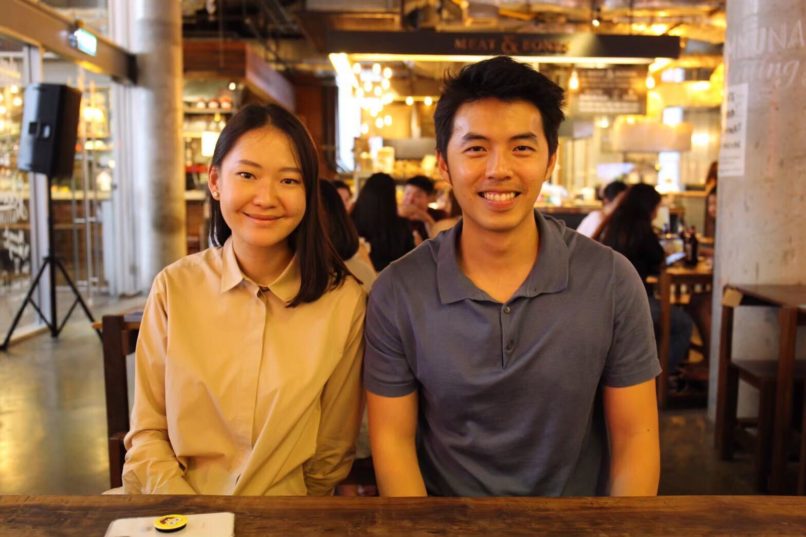 Friends-turned-business partners, Rarin and Natee brought the American ice cream culture to Bangkok, hoping we could appreciate ice cream in a similar manner. To turn their dreams into reality, the two researched, experimented with a bunch of flavours, and put their heart and soul into finding the right texture. You have probably already indulged their crafted ice cream, but what's the story behind the flavour?
Here, they give us the scoop on passion, work, and living the good life.
Please give us a little background about yourself and what you do. 
Rarin: I'm Rarin. I'm the co-founder of Guss Damn Good. I studied at Babson College, which is where I met Natee. We had a good bond and enjoyed each other's company. Because we liked working together, we thought of starting a business together. We kickstarted Guss Damn Good during our second year at Babson College, back in 2014. We were really determined to start this project and we did everything from prototyping to pitching. Then, when we came back to Thailand in 2015, and we really got it going.
Natee: Actually, I graduated with my engineering degree, then I went to work with a big company for 3 years. Afterward, I went to study at Babson College. Right after Babson, here we are at Guss Damn Good. I took care of anything related to numbers and logic, whereas Rarin looked over the creative side of the project. She dug in and researched what flavour would work, and what the story behind that particular flavour should be, and what feeling it evokes.
What's the story of Guss Damn Good? How did it all begin?
Rarin: It all started when we both decided to do a start-up together. I personally love to eat all types of snacks or desserts, and if we were to be in that industry, it had to be ice-cream. We went around Massachusetts to try all sorts of crafted ice cream to really get the feel of it. We discovered that people loved eating ice cream just the way it was, without any toppings. The entire experience and flavour was within the ice cream itself. Even during heavy snowfall, people would stand in a queue just to eat ice cream. After asking around I came to know that people like to eat ice cream during the winter because it reminded them of summertime. I realised that ice cream is not just a dessert, but it's a feeling too.
We decided to do create Guss Damn Good with the tagline 'feeling crafted ice cream' to offer homemade ice cream that has a story to it. Hence, every flavour has a 'story to flavour.' The story develops a feeling and that feeling develops into a designated flavour. In our store, we've got all the cool, interesting names that pretty much give you a story in a nutshell.
The word 'Guss' comes from the words 'focus' and 'gut feeling.' Initially, we named it 'Guss Ice-cream' but when we came back to Thailand and one of our friends tried our ice-cream, they said, it's "damn good." Instantly we thought, why not name it 'Guss Damn Good'?
Who are your clients? What are they like? 
Natee: Our clients are local. If they are foreigners, then they are mostly expats living in Thailand. We see it in terms of psychographics, and they are more explorers who wants to try new things. They have travelled the world and have international exposure. It's quite diverse. There's no particular age group.
What role do you think ice cream plays in living a 'good life'?
Rarin: Ice cream is a happy product. It's a product that anyone can enjoy, it's not particularly for girls or guys only. You can have it according to your mood, too. During the lockdown, although we already had a delivery service before, when our store was shut — up to 9 branches at one point — a lot of people ordered via Line. We were the number one product they missed or thought about when they were at home. During the lockdown everyone is stressed out, so ice cream was that stress-buster and a reminder of what the good life is about.
What does the good life mean to you? How do you live the good life?
Natee: For me, at the age of 33 right now, it's doing what I really love. It's doing something I'm really passionate about. Coming here, doing this interview, talking about our product: it's not work but rather something I love doing.
Rarin: I totally agree with Natee that doing what you love is the true definition of living a good life. Being able to eat delicious treats is also the good life. I feel that's what Guss Damn Good really defines.
What are your 4 good life essentials (two each)?
Rarin: Family, if we didn't have their support then maybe we wouldn't have been able to do this project. Also team, having a good team really pushes you because they become a pillar of strength for you.
Natee: Health, because if your health isn't good, you can't do anything. If you have good health and immunity, then you can do anything. For me it's also adventure, having the liberty to explore anything I want to. If I want to go scuba diving or snowboarding, I love to do that.
What is your self-care ritual?
Rarin: I love eating, so probably eating. I enjoy simple, good food. I like drinking a good cup of coffee or eating a good bowl of noodles. I also like going to the nail spa.
Natee: I like to do cardio. In the morning I like to do a cardio workout. I like to work out not just to exercise or to be healthy, but to improve my performance. I also like snowboarding. I like to play a variety of sports — you can challenge yourself, push your limits, and have fun.
What do you do to be more sustainable or eco-friendly (in work and privately)?
Rarin: At Guss Damn Good, we used to use plastic and have now changed to wooden spoons. We are still looking for other alternatives, and are in talks with suppliers, because the material of the spoon makes a difference in the taste of the ice cream as well. Personally, I use tote bags whenever I go shopping and try to reduce my use of plastics or at least recycle them.
Natee: My house is an extreme case when it comes to dividing waste materials. For example, if we eat Mama noodles, we will go wash the packet afterwards and even separate the plastic and laminated paper. My brother's son studies in school where they are really dedicated to separating wastes and recycling. Therefore, at home, we have a zone to collect waste and send it to the school so they can recycle. We never throw anything away at home, and we wash everything first and then separate it accordingly.
Where do you go for... the best breakfast in Bangkok?
Rarin: These days, for breakfast, I stay home and usually have salad, mozzarella, olive oil, and salami. I usually go through food phases. This is my phase where I love olive oil.
Natee: I also have my own breakfast, so I can be aware of all the calories I'm putting into my meal. Sometimes I make smoothies or just have some chicken.
Where do you go for... the best date night in Bangkok?
Rarin: I like classic bars. I would say The Bamboo Bar because it has a nice vibe, the drinks are good, and the snacks, too. It also has jazz music, so it's perfect.
Natee: I would go to Sushi Masato. It's not too cosy, but it's also private. The chef is really friendly and talented as well. The sushi there is amazing.
Where do you go for... the best drinks in Bangkok?
Rarin: The Bamboo Bar.
Natee: Shade of Retro for sure.
Where do you go for... the best coffee in Bangkok?
Rarin: I like Roots. I like that it promotes local coffee and helps local farmers and their community. The price is also very reasonable. It's my everyday coffee.
Natee: I like Roots and Brave Roasters. I like the company culture at Roots, and I enjoy their barista competitions.
Where do you go for... the best place to shop in Bangkok?
Rarin: I go to Emquartier very often, as well as Siam Paragon.
Natee: Same here. I also go to Emquartier if I need to shop. I don't shop often, so when I buy, I buy everything at once. I usually head to Zara.
Where do you go for... the best escape from Bangkok?
Rarin: I like Krabi and Phuket a lot. Krabi has really nice resorts. Phuket has really amazing food.
Natee: I like to go to Pranburi. When I go, we go in a big group and simply hang out at the beach. The beach is gorgeous and empty all the time. That's my kind of vacation.
Lastly, a word of advice for living the good life in Bangkok?
Rarin: Bangkok is a great place to live in. It has everything from cafes to restaurants. For me, a good life is good food. In Bangkok, you can get good food 24/7 from morning to midnight.
Natee: I would suggest reducing your time in traffic. Spend more time with your family and loved ones, and spend lesser time on your smartphones and in traffic. I feel it's a waste of time getting stuck in traffic and that's why I drive less now, if possible. I usually walk or ride a bicycle and that entire experience just opens you up to a different world.