Bangkok is a city brimming with talented personalities and charming characters who have pushed their way through to really make their mark. There's no doubt that they're truly living their best life, and doing it in great style. In our Good Life Gurus series, we explore and ask the city's millennial tastemakers and cultural arbiters to reveal what the good life means to them, and give us a little insight into how they live it.
Amongst our wishlist of dream jobs, "luxury pyjama designer" ranks pretty high.
Such is not the dream but the beautiful reality for Japanese-Dutch Mika Wassenaar, who grew up in Montreal before moving to Bangkok, Shanghai, London, and finally Phuket to set up her business.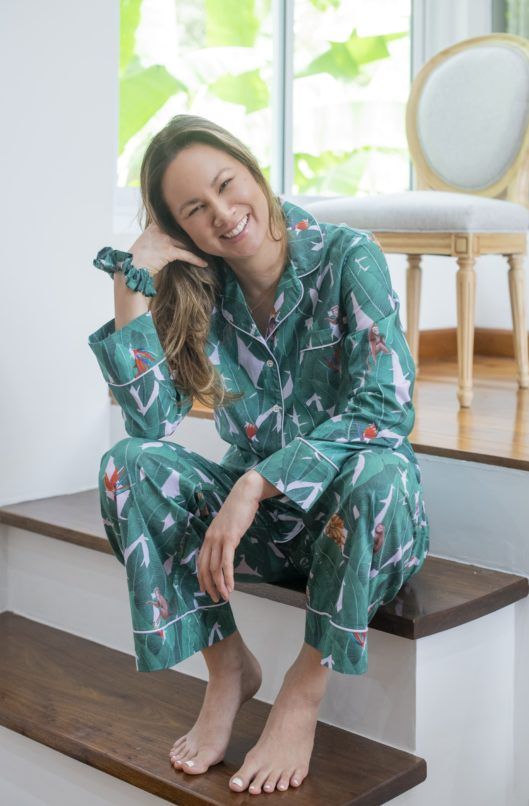 Inspired by these travels and more, the wife of renowned artist Goldie is the mastermind behind Siamese Dreams, a local brand that spotlights local craftsmanship and a spirit of social responsibility.
It is with conscious curiosity, everyday luxury, and a ritual of selfcare in mind that the pyjama brand came into being a few years ago. Using only 100% cotton, Mika has worked exclusively with female artists to create the hand-painted designs the brand is so loved for. Made proudly in Thailand with socially responsible suppliers, a percentage of profits are also donated to charities to support education systems in the local community. She's made a bit a name for herself in insider loungewear circles, with various local influencers, trendsetters, and even Thai supermodels sporting her brand.
Here, we chat to Mika a little about the philosophy behind her business, her own definition of self-care and relaxation, and her favourite good life spots across her home island of Phuket. We conducted this interview all while wearing pyjamas, because of course.
Please give us a little background about yourself and what you do. 
Having grown up in Montréal, and having a multi-cultural upbringing with a Japanese mother and Dutch father, I'm a proud global citizen. I have been fortunate enough to have travelled around the world and lived in such great cities as London, Shanghai, and Bangkok. I have worked in the fashion and textile industry for nearly two decades, from design to buying. I'm currently based in Phuket, where I live with my husband, daughter and cats.
What is the story of Siamese Dreams? How did it all begin?
After moving to Phuket in 2014, and having worked for various brands over the years, I longed to create something of my very own. After failing to find consciously made pyjamas and loungewear, in beautiful and fun prints, made entirely in Thailand, I knew I should make my own. It's my homage to Thailand, for all her beauty and charm and for welcoming me to make my home here.
Who are your customers? What are they like? 
Our customers are intelligent, kind, and playful. They expect beautifully designed, well-made products that are ethically made, using natural fabrics, with a minimal impact on the environment. They are savvy and well-travelled and most importantly, don't take themselves too seriously.
What role do you think loungewear plays in living a 'good life'?
I believe that beautiful and comfortable loungewear is one of the foundations for a happy self-care routine. What we wear at home, when we rest, is equally as important as what we wear in the outside world.
What does the good life mean to you? How do you live the good life? 
Being content with my life choices, nurturing healthy relationships, being grateful for everything.
What are your 5 good life essentials? 
Plenty of rest and sleep
Delicious and nourishing foods
Plenty of laughter
Radical self love
Daily gratitude lists
What is your self-care ritual?
Scented candles (I love Diptyque and KARMAKAMET), long showers or baths,  chill playlists or guided meditations, putting on my Siamese Dreams pyjamas, and reading a great book.
What do you do to be more sustainable or eco-friendly (in work and privately)?
For work, I source only natural fabrics and try to minimise packaging waste. At home, aside from the standard reusable bags and containers, we recently installed Solar Power (Phuket Solar Co.)
What do you do to keep fit?
I really enjoy Kundalini Yoga, hiking up the Kamala Hills, and walking on the beach.
Where do you go for... the best breakfast in Phuket?
Where do you go for... the best date night in Phuket?
Where do you go for... the best drinks in Phuket?
Where do you go for... the best place to shop in Phuket?
Where do you go for... the best escape from Phuket?
Lastly, a word of advice for living the good life in Phuket?
Surrender to the rhythm of the island. True Luxury is laid back, barefoot, and casual.