Bangkok is a city brimming with talented personalities and charming characters who have pushed their way through to really make their mark. There's no doubt that they're truly living their best life, and doing it in great style. In our Good Life Gurus series, we explore and ask the city's millennial tastemakers and cultural arbiters to reveal what the good life means to them, and give us a little insight into how they live it.
There is no time like the present to be obsessed with someone like Savita 'May' Sresthaporn.
The certified health coach is the powerhouse behind MSHAPPYDIET, inspiring thousands and thousands of her followers to maintain a healthier lifestyle. She is also the founder of Acai Story, the superfood cafe you've definitely tried if you're trendy, plant-based wellness brand Plantogenic, and MSHAPPYKITCHEN, her very own delivery service in collaboration with Water Library.
It's very likely that if you've ever tried to jump onto the Healthy Living bandwagon, you've definitely encountered her products in some form.
[All images courtesy of MSHAPPYDIET]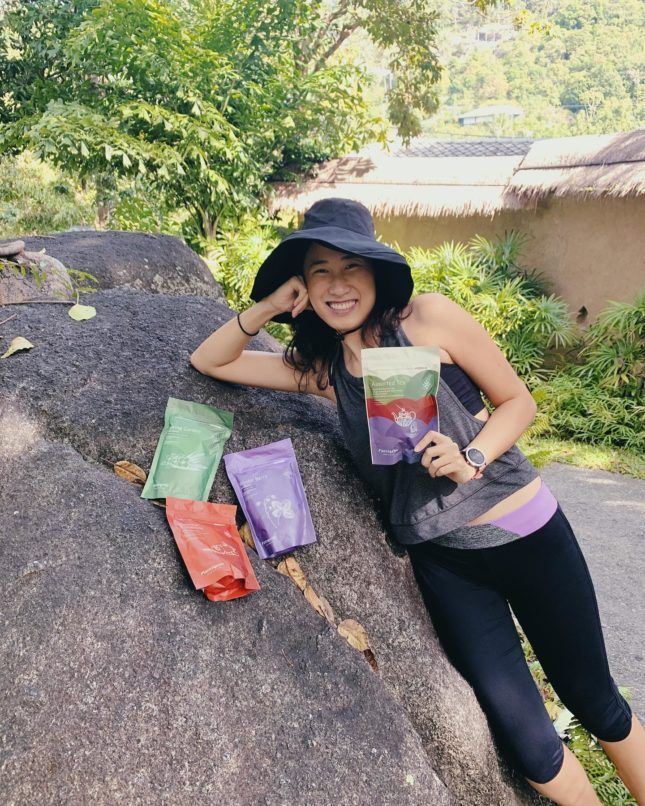 Yet May is in no way intimidating, and her brands are not at all pretentious. The kind and humble wellness influencer comes across as genuine and authentic, and is as excited to present her products as her customers are to receive them. Especially at a time like this, when our health and well-being are paramount, May feels like a warm and calming voice, but also puts the fun into healthy practices. She lives by example, and is an advocate for "skinny" fries, soup cleansing over juice cleansing, and guilt-free chocolate snacking, to give you an idea.
Here, we chat to May about her businesses, her self-care rituals, her hidden gems, and her "everyday wellness" ethos. We're sipping her Plantogenic Sugar-free and Dairy-free Superfood Chocolate as we type. We feel more wholesome with every word.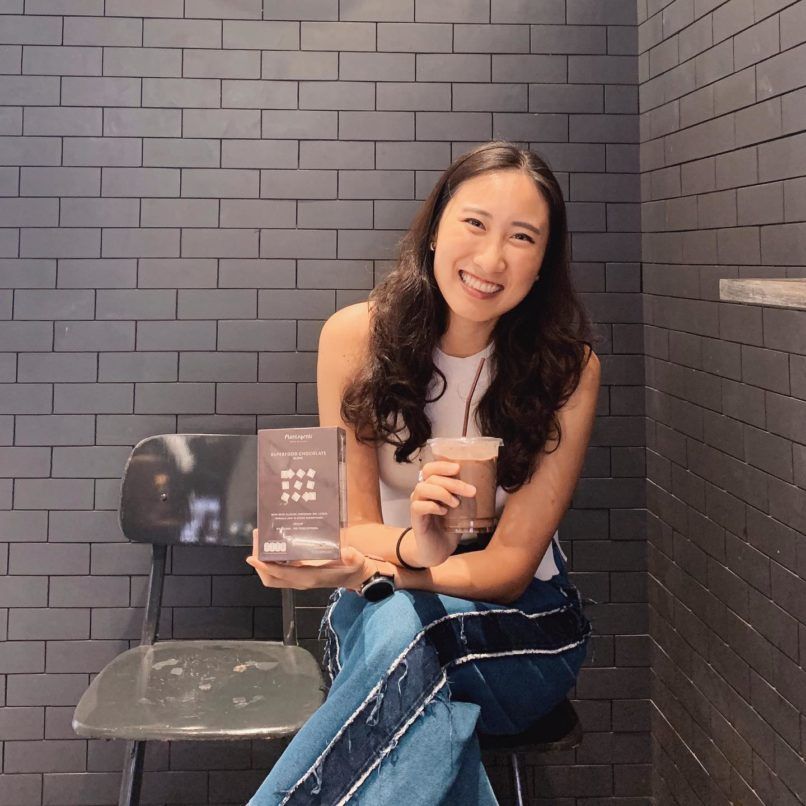 Please give us a little background about yourself and what you do.
I am a wellness influencer at MSHAPPYDIET, and the founder of Acai Story, Plantogenic, and MSHAPPYKITCHEN.
What is the story of the MSHAPPYDIET? How did it all begin?
I wanted to inspire people by showing that diet is not just about food, but also the way you live, think, and be. Happiness can be created and it starts within you. Everybody is different and no everything works for everybody. Lastly, healthy living should be fun and sustainable. It should be a lifestyle and not a fad.
Who are your customers? What are they like?
They are women aged 25-55, who seek joy in life. They are urban, educated, cultured, and well-travelled.
What role do you think nutrition plays in living a 'good life'?
It's very important because everything starts from the inside. What you eat highly impacts your energy level, your mood, your sleep, your motivation, your skin, and so on.
What does the good life mean to you? How do you live the good life?
The good life to me means knowing yourself, knowing who and what's important to you, and having the luxury to prioritise your time to be and to do what's important to you.
My good life is to have time to nourish my body and mind: eat good food, exercise, meditate, and do the things I love. It is to have time to spend with my family and friends, and know that what I do (my businesses) create value and help make people's lives better. I like to stay curious and have the opportunity to explore new things: books, movies, music, places, food and ideas.
What are your 5 good life essentials?
1. Time and freedom to unwind: meditate, take a warm bath, journal, reflect.
2. Attitude: curiosity, positivity, and acceptance.
3. Natural food.
4. Good health so I can exercise and travel the world.
5. Family and friends.
What is your self-care ritual?
Daily meditation, daily movement (yoga, walk/run, swim, strength training), drinking lots of water, eating lots of greens, and daily 2-minute journaling before bed. I also take a warm bath every week, and go to the spa for a massage. Once a month I try to get away from Bangkok.
What do you do to be more sustainable or eco-friendly (in work and privately)?
I reduce the use of plastic bags, and don't use straws. I try to eat more plant-based meals, and promote and sell plant-based products. I am trying to grow my own herbs and vegetables to reduce plastic packaging from supermarkets.
What do you do to keep fit?
I eat well and exercise, I sleep early, and I try to be in a good mood.
Where do you go for... the best breakfast in Bangkok?
Where do you go for... the best date night in Bangkok?
Also home, with a good bottle of wine followed by a good movie.
If it has to be outside, we love strolling around the grand palace when the weather is good, followed by a meal at Tonkin Annam Vietnamese restaurant.
Where do you go for... the best drinks in Bangkok?
I don't drink much but always love a glass of wine or cocktails with a good live band. The organic wine bar at Bo.lan was pretty good.
Where do you go for... the best place to shop in Bangkok?
Instagram! Can you tell how much I love staying home?
Lately, I also love buying my own fabric from China World to tailor. I miss strolling around Chatuchak Market, too.
Where do you go for... the best escape from Bangkok?
Lastly, a word of advice for living the good life in Bangkok?
Breathe! Always remember to take a deep breath and smile.