The world's 50 Next spotlights a list of people shaping the future of gastronomy around the world. Released just recently, the class of 2022 features one of Bangkok's very own. Read on for our curious chat with Dharath Hoonchamlong, who took home the prize for Gamechanging Producer 2022.
Dharath 'Tot' Hoonchamlong first caught our eye when he was named Bo.lan's Environmental Manager, a few years ago. With the award-winning restaurant always known to be one step ahead of the sustainability movement, it was a new role on the Bangkok food scene at the time, and one that raised many an eyebrow. What does an Environmental Manager do? Why does a restaurant or bar need one? Where does he or she fit into the food system?
Cut to the present day, and this position could not be any more relevant, and if there ever was a man more suited to the job, it would be Tot. Holding a Master's degree in Food Studies from New York University, the 29-year-old has long been an advocate for food and ethical practices around food. Coupled with a creative spirit, it's easy to see why the young innovator managed to bloom within this field, and evolve even moreso at a time when the conversation only keeps on growing.
From the founding of Wasteland bar and its "environmental message in a bottle," over to various workshops, trainings, and product developments, we recently sat down with Tot to learn more about his role as a food waste warrior, the struggles (and successes) of the pandemic, and how to be a more eco-conscious consumer. Read on for an informative and interesting chat, which ends with a few key questions you should ask yourself next time you head out to dinner — as well as some eco-friendly suggestions for where to go, too.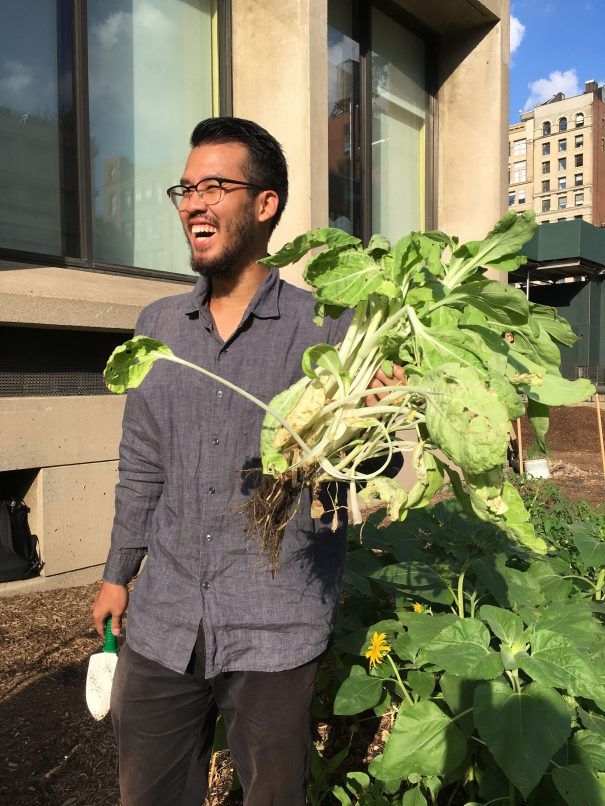 A chat with Dharath 'Tot' Hoonchamlong, 50 Next Gamechanging Producer 2022 and dedicated food waste warrior
Congratulations on making the 50 Next list, Tot! Your career journey is unlike many we've ever seen before. Could you describe to us how you got to becoming a zero-waste educator? What motivated you to get into this field?
Thank you! I grew up in a household that taught me to be familiar with waste management and sustainability topics, thanks to my mum. However, the time I studied in New York and the pandemic was what drove my focus into education.
The courses and connections there got me to know people, projects, and many sustainability initiatives. The more interesting ones are the ones started by the community and people from each neighbourhood across the boroughs of New York, and how they impact and shape the food system and sustainability there. From food rescue, upcycling programs, and recycling programs, over to community gardens, food justice, incubators, parks, urban farms, and more, these shaped my view and focus that it is possible to drive and create changes in sustainability through education.
You've worked together with some of the F&B industry's greats. Tell us a little more about your time at bo.lan, and the founding of Wasteland.
My time at Bo.lan as Environmental Manager was like a roller coaster. I think it is the only restaurant in Thailand to ever have a position like this. I got to learn and connect with people through chefs Bo and Dylan.
To sum up how Wasteland was founded, I saw that there are parts, cuts, and portions of ingredients that the kitchen has yet to find a way to manage, so I started collecting data and samples. I then visited various bars within the Thonglor area to see if anyone wanted to work them into drinks. Kitibordee Chortubtim (Gov) and Suchada Sopajaree (Fahbeer) wanted to give it a try. Their bars had to close when the pandemic hit, so we kept experimenting and doing R&D.
The list of drinks and ideas grew longer and larger, emerging into a physical space. Then as Bo.lan was about to be relaunched as a community space, we thought of the possibility for Wasteland as a bar.
We opened Wasteland to be a community sipping space that aims to explore sustainability not just through drinks, but also to educate people. We opened for about a year with many events and workshops. We also started doing craft soda.
When Bo.lan closed down, we continued to operate remotely and are still doing craft sodas, pop-ups, events, and many other collaborations.
Restaurants and bars are often given a bad name in the realm of waste and sustainability. Can you give us some examples of how you work with them to improve this?
Mindset and understanding are key, as the people who are going to implement sustainable practices have to understand and be able to adopt these thoughts first. Practicality is also important when it comes to waste and sustainability, as the system has to work and be adaptable in everyday operations. Lastly, transparency. Restaurants and bars can preach so much, but they rarely demonstrate transparency as they are afraid it may affect their image.
Changes are not going to happen overnight. They take time. We should be aware of how we are doing, our progress, and what we want to achieve.
How do you think the sustainability movement in the F&B industry in Thailand will develop in the coming years? What are some big trends you are seeing here in Thailand or regionally?
More places, initiatives, programs, projects, and collectives are popping up all over Thailand. Nature is closer and connection with local roots is stronger. Access to producers, ingredients, culture, and knowledge is more interconnected, and a sense of pride in identity and culture is also on the rise. These have shaped and changed food culture and food business across provinces. Collaborations within Asia are more common now, and I look forward to seeing more of that crossing between regions as well.
Additionally, social media has become a platform for people to share and access information and knowledge about food and beverage from history to creativity. There's more awareness and understanding, which makes the changes to arise in coming years even more exciting.
What projects are you currently working on, and where can we find you?
I have been delving into academics and research, and I aim to work with various groups of people, from producers and researchers to artists and others involved with food and the environment. One of my main interests is food literacy, and I would like to do more food writing. I'm planning to do more sustainability programs and projects within the scope of food, beverage, and hospitality. I will most likely be in Bangkok, hopping around, or doing field visits.
Which sustainable hotspots in Thailand should we be knowing about?
Some of the sustainable hotspots in Thailand that I would like to mention are:
The Food Trust Bangkok, situated where Bo.lan used to be. Now a food education space with classes, workshops, and events led by Duangporn Songvisava (Bo) and Dylan Jones. There's also the grocery section that works directly with local farmers and producers. The Food Trust also has another location in Chiang Mai.
Na Project strives for sustainability of the planet and people by using food to create social awareness and social impact by Sakson Rouypirom (Sak) and Diroklarp Janthachotbutr (Him) through a collaborative space and programs. There are programs that help at-risk youth, as well as workshops about sustainability. What I would like to highlight is the 'Urban Refugee Kitchen,' where diners can connect with refugee families to learn about food, identity, displaced people, culture, and how the program helps people learn and equip them with skills before relocating to their new home.
Studio Horjhama is a place to learn about diversity, food culture, and ingredients within Thailand that are unknown to many. It's led by Sasithon Kamrit (Ann), who has been up countless mountains and has met with many communities, especially indigenous ones. Sasithon is very knowledgeable, vocal about food and environment, and also makes amazing and very comforting food.
Maadae Slow Fish Kitchen is a tiny seafood-centric spot in Chiang Mai with strong ties to Slow Food spearheaded by Yaowadee Chookong (Yao) and Saruda Sooksaeng (Nuch). They don't only work with fisher communities in the south of Thailand, but also communities in the mountains in the north too. It's one of my go-to spots whenever I'm in Chiang Mai, and I always learn something new about fisheries there.
Lastly, as avid diners and drinkers, leave us with a word of advice. How can we be more eco-conscious consumers when we go out?
It's always a dilemma not knowing whether the places we visit are sustainable or not, so we should inquire and learn more about the places we dine and drink at. There are many layers to how food- and beverage-related establishments work with sustainability and the environment. Some main questions to ask yourself are: What is the impact of the people working and dining here? What is the impact on the neighbourhood and the city? And what is the impact on the environment and the earth? Ask yourself: are they and are you making changes and impacts for sustainability?