For those of you who are interior design aficionados, this ultra-exciting documentary by the Vitra Design Museum, which looks back on more than two centuries of chairs, is a must-see.
For those of you who may still have some more days to spend at home, the good news is that the internet still offers plenty of delights to help you pass the time. One of the uncontested jewels in this cultural crown is the documentary "Chair Times – A History of Seating – From 1800 to Today," which has recently been posted online by the Vitra Design Museum.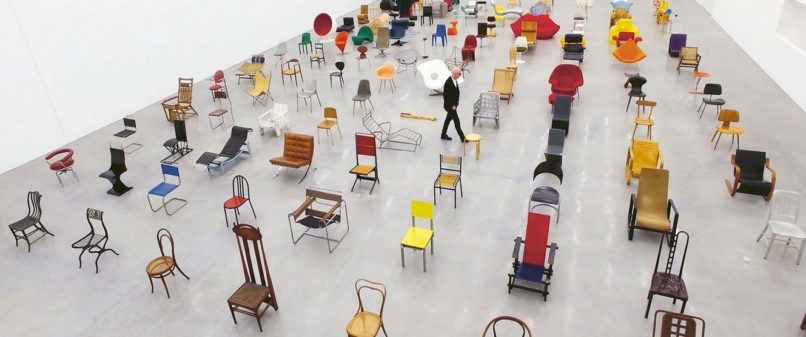 The film charts a course through 125 different chairs from the museum's collection, which are presented in the order of their initial year of production. All of these designs, from the earliest 1807 models by Thonet to the most recent 3D-printed creations, illustrate the development of a discipline, which has continually evolved to adapt to social progress and the introduction of new techniques.
The journey begins with elegant bent wood pieces by Thonet and continues with creations by Le Corbusier, Charlotte Perriand, Charles and Ray Eames, Mies Van Der Rohe, Breuer, Gehry and others.
As you sit back to enjoy this 90-minute film, you will also hear from some major specialists in the field, like designers Hella Jongerius, Antonio Citterio and Ronan Bouroullec, architects and collectors Arthur Rüegg and Ruggero Tropeano, and architect David Chipperfield. In short, you will enjoy a tour of the history of design in excellent company, and guided by Rolf Fehlbaum, Chairman Emeritus of Vitra.
Having examined the work of designer and architect Gerrit Rietveld, who amidst the recession in the 1930s, created furniture that could be built at home, and Charles and Ray Eames who explored the use of plywood during WWII, the words of Rolf Fehlbaum assume a particular pertinence in the context of today's unpredictable world: "Innovation does not emerge in periods of slow progress but in times of crisis and change."
"Chair Times – A History of Seating – From 1800 to Today" can be streamed from the website of the Vitra Design Museum: https://www.vitra.com/en-un/page/chair-times
Three years ago, the Vitra Design Museum dedicated an exhibition to the white plastic chair, the most widely used piece of furniture on the planet. An omnipresent and little-studied everyday object with many cultural connotations that has left its mark on the world.
This article was published via AFP Relaxnews.