Oscar de la Renta Coralina Large Oval Platter
For a beautiful way to bring Living Coral to the dinner table, look no further than Oscar de La Renta's delicate Coralina Collection. Inspired by a custom gown Oscar designed for Vogue magazine in 2006, the graceful floral motif on this porcelain Coralina Oval Platter (THB 5843) is sure to make any canapes, big meats, or swirls of linguine really dazzle and shine. The plate is accented with a luminous gold trim, bringing out the fresh bloom of the coral colour.
Zara Home Round Candle with Raised Coral Design
Whilst it would propose quite the challenge to bring real living coral into our homes, Zara Home makes the impossible near possible with this Round Candle with Raised Coral Design (THB 790). The decorative semi-sphere candle features an organic marine-shaped design, making for a charming accent to any coffee table lacking a little colour. Sweetly reminiscent of the sea, and suited to almost any room – from bathroom to bed and even balcony garden.
Hermes Avalon Terre d'H Blanket
Pantone's Colour of the Year may be Living Coral this year, but any avid fashionista knows that the king of the industry rightfully ruling its own shade of orange has long been French fashion powerhouse Hermès. Incorporating a hint of living coral into this 100% cashmere Avalon Terre d'H Blanket (approx. THB 100,465), the hibiscus and mandarin colour makes for a sweet addition to any couch or day bed. Let it lounge elegantly in your living room during the afternoon, and wrap it stylishly around yourself for a movie evening.
Marimekko Unikko Twin Duvet Set
The charm of Living Coral as a colour lies in that it isn't quite orange, and it isn't quite red or pink. Embracing exactly that playful ambiguity, this Marimekko Unikko bedding (approx. THB 3190) toys with the shade through the iconic Unikko pattern designed by Maija ja Kristina Isola. A bold duvet set for those who like to fall asleep on a bed of flowers every night, and let their bedsheets speak vibrant volumes.
Jonathan Adler Snake Valet Tray
American homeware designer Jonathan Adler recently started selling in Bangkok at Chanintr, bringing his clever and creative designs straight to the heart of the city. Embracing a warm Living Coral hue, this Snake Valet Tray (approx. THB 2168) is a posh porcelain reinterpretation of a leather valet tray, and brings together a slithering and shimmering pair of gold serpents at its centre. Place in your entry way for a snazzy spot to keep your keys, or on your bedside as a glamourous keepsake for your favourite jewels. Tray chic.
Zara Home Satin Cushion Cover
You'll never go wrong with sassy satin in your home, and for 2019, this Zara Home Satin Cushion Cover (THB 590) is the way to go. The elegant fabric shines in Living Coral, elevating any casual space with chic and fun flair. Like something straight out of a mermaid's bedroom, this cushion cover will ensure your pillows are always smooth and suave (and super on trend).
Dolce & Gabbana x Smeg Limited Edition Citrus Juicer
We've been swooning for Dolce & Gabbana's collaboration with Smeg ever since we heard word of it, and whilst the colour of this limited edition Citrus Juicer (approx. THB 23,910) leans more towards a dark Living Coral hue, it's still a must-have for every self-proclaimed kitchen god or goddess. Highly decorative and sweetly Sicilian, the juicer doubles both as an eye-catching countertop design accent as well as a stylishly convincing way to get you to sip those vitamins every morning. Win win.
Ralph Lauren Wescott Bath Towel
There's nothing like a grand bath towel made from soft cotton to envelope and snuggle you up after a long shower. Welcoming you with all the warmth, this Ralph Lauren Wescott Bath Towel (approx. THB 860) is a perfect way to step out of the steam in style. Beautifully suited to white or neutral-coloured bathrooms, the cosy colour is sure to brighten up any and all of your mornings.
Versace Étoiles de la Mer Cup & Saucer 6oz
Versace takes a more literal approach to Living Coral with this Étoiles de la Mer Cup & Saucer (approx. THB 9090). Adorned with seashells and corals in a striking yet delicate design, the intricate beach-themed details offer much for the eye to admire through all your afternoon soirees this year. A must-have for all those who love drinking tea – the Versace way.
Case Pagoda Neon Heart
Bangkok's Casa Pagoda is known across town for its fun interior pieces, and this neon biological heart wall decor (THB 45,000) is no different. The ultimate way to prove that your heart really beats for Living Coral, put this item in your favourite room, hang it above your girl/boyfriend's bed, or decorate a nursery to both educate and slightly terrify your youngsters. Extremely contemporary and very cool, it's perfect for those who really want to showcase their love for Living Coral (and anatomy) this 2019.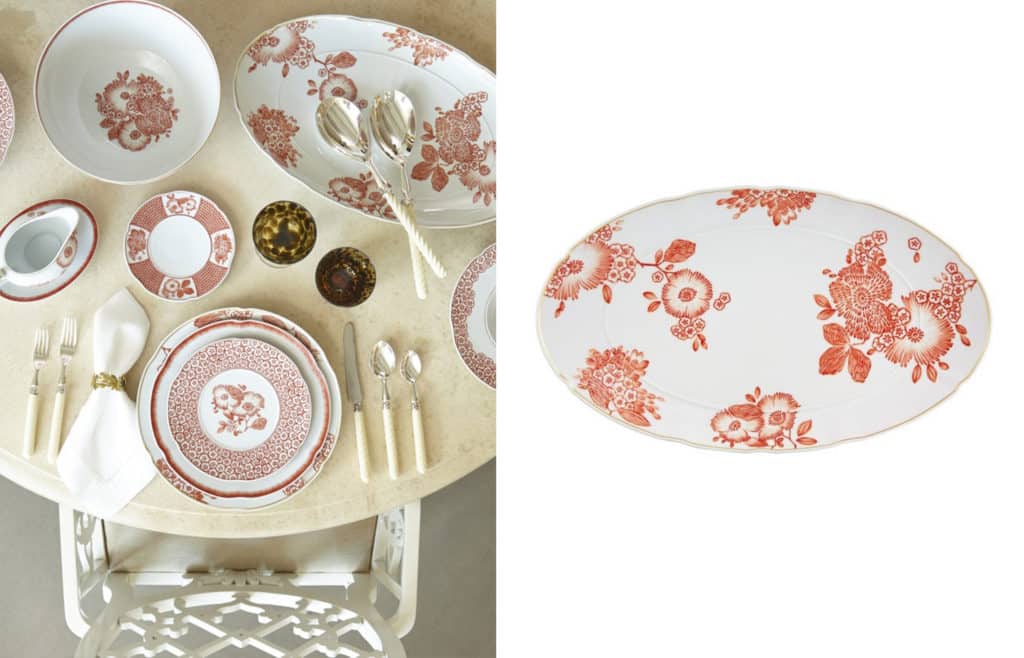 You've finished this slideshow
Shop all looks
Back to article
10 subtle ways to add Pantone's Living Coral into your home
Living Coral is the new black. Or so at least, Pantone would have us believe. Vibrant, vivacious, and wildly energetic, the slightly darker sister to Millennial Pink has been dubbed the Colour of the Year 2019, and interior design trends have been quick to follow suit. Yet if you don't feel quite ready to paint your walls and change all your furniture, fret not. From candles to towels and bedside trays, we've put together 10 subtle ways you can incorporate Living Coral into your home and allow it to really do what it does best; that is, pop. Interior Design Versace Dolce & Gabbana Hermès Living Home Interiors Ralph Lauren Home Casa Pagoda Jonathan Adler Pantone Marimekko Smeg Pantone Colour of the Year Living Coral Zara Home Lisa Gries
Creative Content Director, Bangkok
Lisa is the Creative Content Director at Lifestyle Asia Thailand. When she's not knees-deep in web algorithms, editorial calendars, or traffic-driving strategies, you'll likely find her in downward-facing dog at the yoga studio, or immersed in conversation at a secret bar in China town. Lisa writes mostly on dining, travel, and pop-culture, and is a huge fan of soup dumplings, Riesling, and power napping — in exactly that order.
---