If there is one trend we've been spotting on our social feeds more than usual — exempting Dalgona coffee and baking banana bread — it is this one.
Floral arrangements: can you even say you're staying home in style if your vases don't boast them?
Living in Bangkok comes with many a perk if you like flowers. We've got flower stalls on many street corners, with even our grocery stores boasting a vast selection from roses and tulips to lilies and orchids.
If you're really into flowers, though, a whole world awaits at Bangkok's big flower market Pak Klong Talad nearing the Old Town. A wonderland for anyone who loves to stop and smell the roses — figuratively and literally — it is a must-visit for those who are looking for a vast variety of options at a friendly price point to suit.
Here, we've put together a bit of a flower arrangement 101 to inspire you before or after going.
[Hero and Featured image credit: Thought Catalog/Unsplash]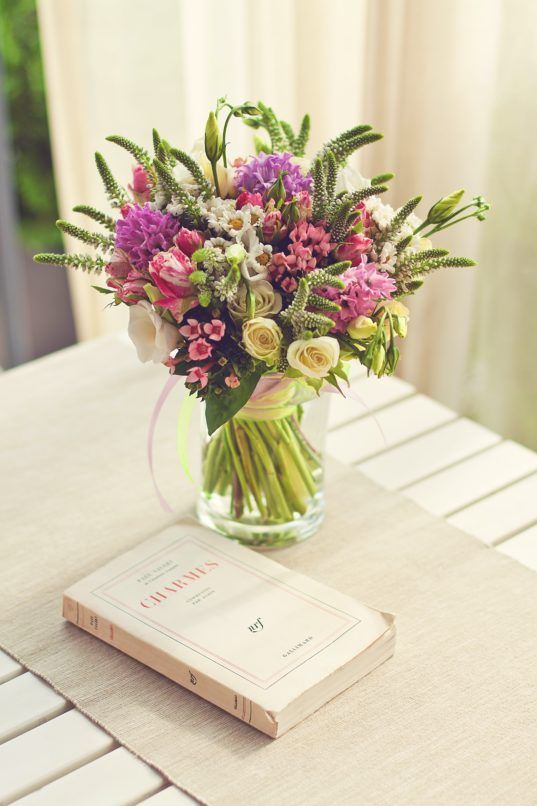 Lesson 1: choosing your flowers
This is the most fun part, but possibly also the most stressful.
Floral arrangements aren't a great outlet for colour-blocking, so go for flowers in complementary hues as opposed to contrasting ones. Play around with textures and volumes to add dimension to your bouquet, and if you're a little superstitious, you can also choose your flowers based on what they stand for.
The easy way out? Go for one flower type only. And in one shade only if you're really lazy.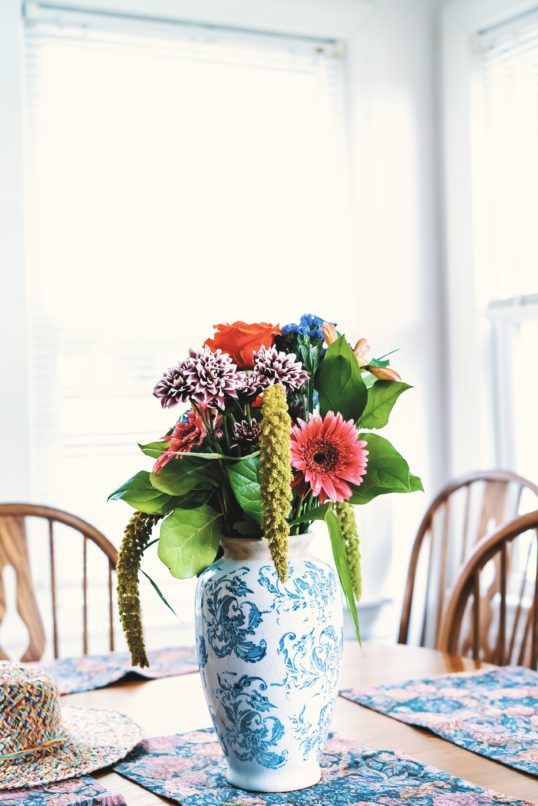 Lesson 2: what's in a vase?
The vase is as important as the flowers that go into it — but equally fun to select, too.
Will you go ceramic, metal, or glass? Shallow or tall? Traditional or unconventional? Will you pull a #ZenGarden move by getting a bowl and doing a floating arrangement? The options are endless.
The shape of the vase also dictates its purpose. Larger vases, naturally, are great for centrepieces. Tall vases bring drama. Moon-shaped vases are nice for bouquets. Cubed vases are the star for a minimalist household.
Our personal favourite? Upcycled vases. Think, your old Patron bottle. Last night's dinner wine bottle. A water jug. A lemonade pitcher. Cans. Beakers. Get crafty — just make sure it's water resistant.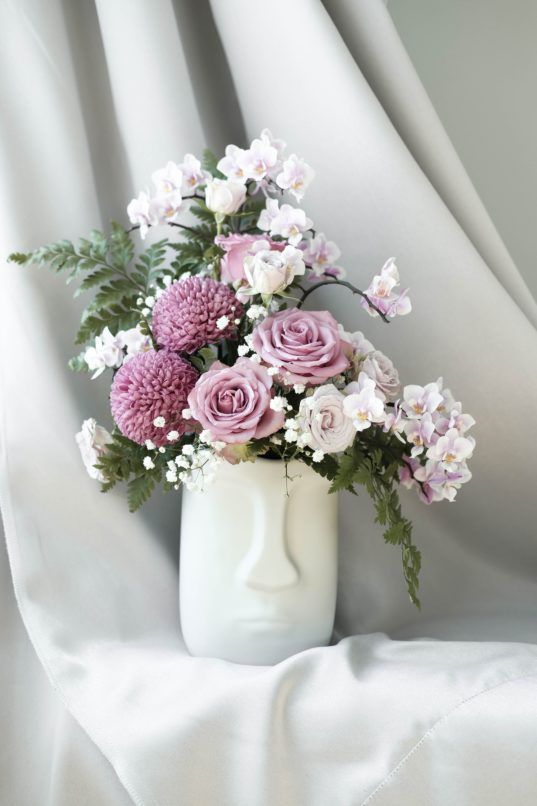 Lesson 3: strip
Strip your flowers of foliage you don't need, and keep only the buds (or leaves!) you wish to highlight. Cut stems at an angle so they can absorb as much water as needed.
Lesson 4: water
Fill your vase up to three quarters with water, and add 2 drops of bleach to kill any bacteria that could be in there.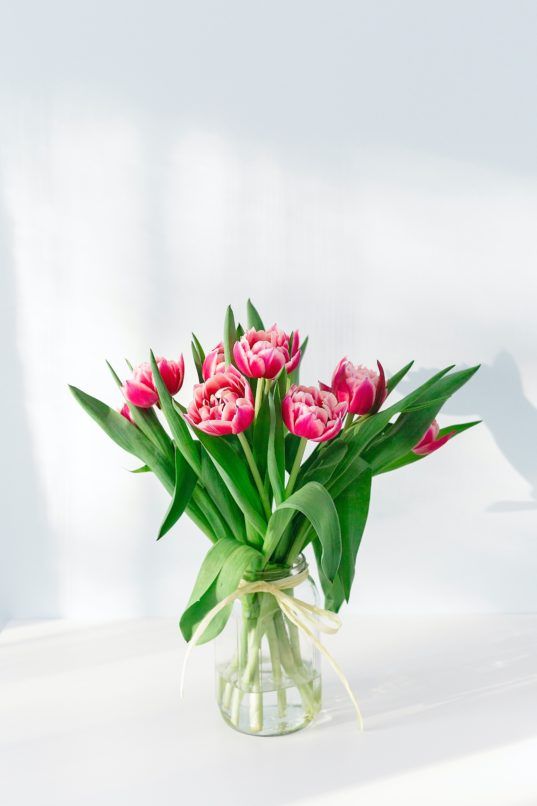 Lesson 5: location, location, location
Before getting started on your arrangement, think about where you plan to position your flowers.
A big and bold arrangement looks good in the lobby or entrance of your home. Make it too tall for the dining table and you won't be able to see your guests. Try not to keep flowers in the bedroom, but when you do, keep them minimal. Aligning your vase alongside some framed photos? Be sure the colours complement, and one doesn't take attention from the other. More of a bathroom bouquet lover? Consider fragrant flowers, like lilies.
At home, flowers should be positioned such that they are out of direct sunlight, whilst still receiving enough sunshine time. Keep them out of a direct AC stream, but with enough ventilation, too.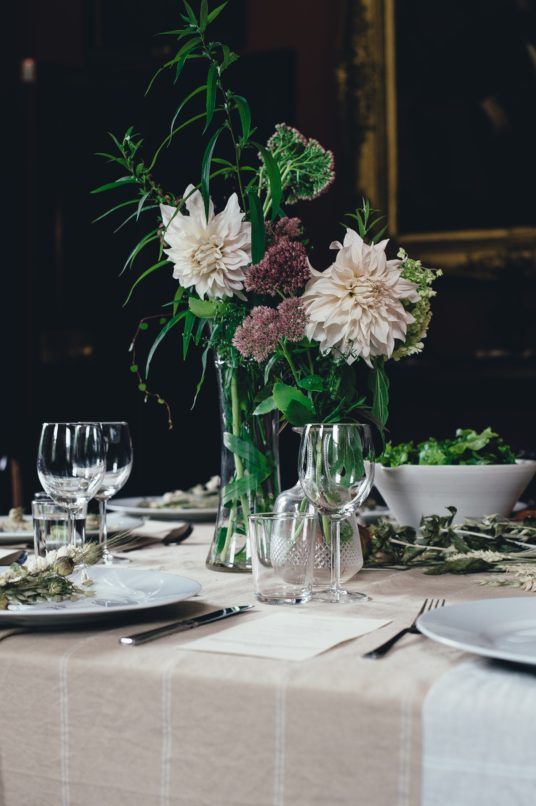 Lesson 6: the actual arrangement
The actual flower arranging depends largely on the type of vase and also the flowers you choose, but here's a rough guide.
Begin with a basic frame of foliage and twigs to support the whole spiel, before moving to leaves and large blooms for the foundation of your arrangement. Continue with decorative flowers as the star and focal point, before adding in fillers (more on that later) to complete the space.
Be sure to point flowers in different directions, going in a circle as you work so you can ensure coverage for every angle. Always start with the larger stems first, and look for negative spaces and fill them up. Don't like how it looks? Pause and start again. Pull and tug to bring height or width, and trim stems again where necessary. It should be a calming exercise.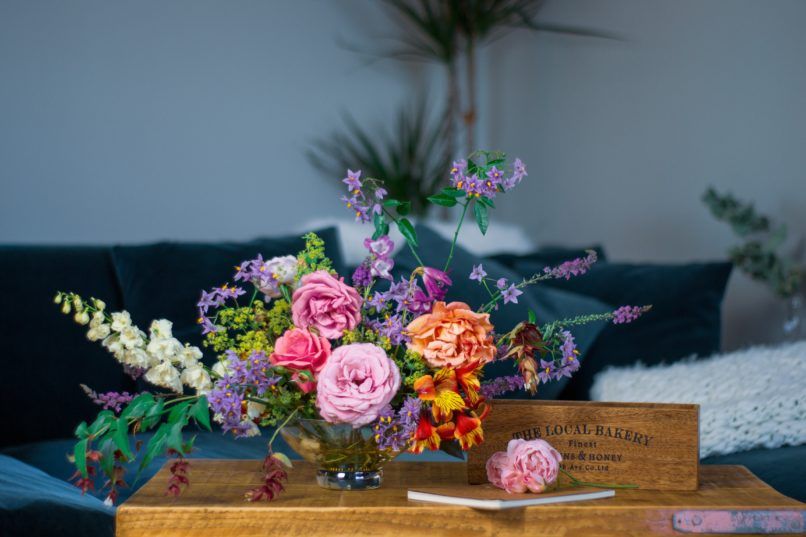 Lesson 7: fillers
Nay, not those botox injections you get for your lips.
Skinnier-stemmed flowers are often used as fillers to busy up empty space and can really make your 'main' flowers pop. Flowering herbs are a great option (think dill and chamomile), as well as more traditional herbs, branches, twigs, or even firm leaves. Anything that doesn't take too much from your central pieces.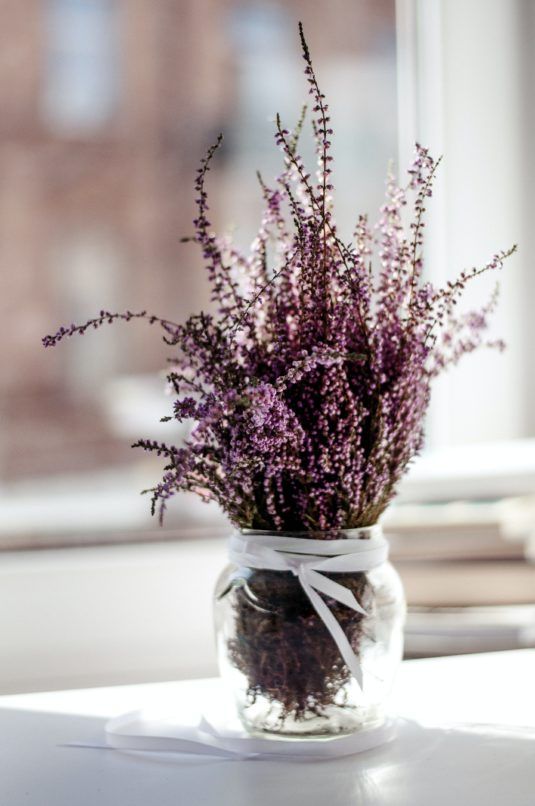 Lesson 8: loose vs tight flower arrangements
If you've selected very unique flowers, you may want them to be the star of the vase. Thereby, opting for a loose floral arrangement makes a lot of sense. Pair with a transparent vessel and it could be near art. What's that they say about one rose being more romantic than a hundred?
For tighter flower arrangements, you're going to have to get crafty if you're using many different kinds of flowers. However, you can still do a tight floral arrangement with only one type of flower. Cut all of the stems to the same length (bar maybe a few for the centre to be longer), and arrange them in a cubed glass vase so they look almost like a box of chocolates. Very modern.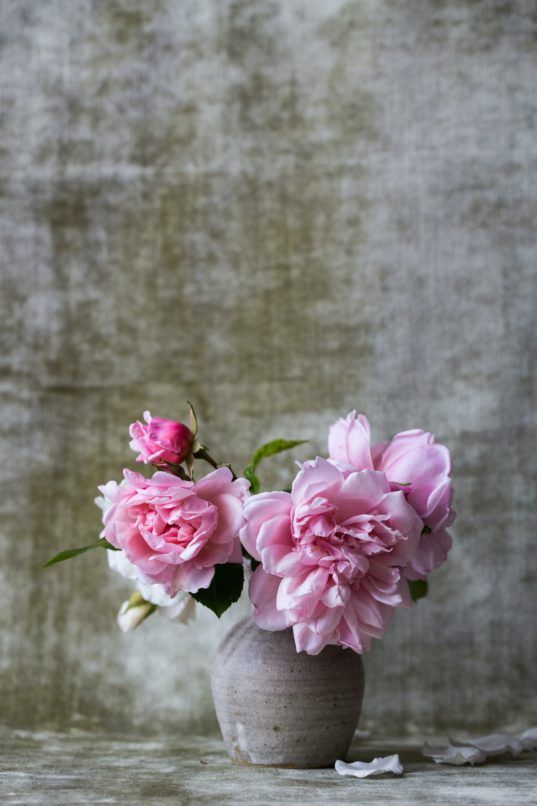 Lesson 9: all tied up
You can choose to either tie your flowers or leave them hanging loose.
This can be done in bunches, where you group certain sections together; or as a whole, where you put them together in a bouquet. You can use rubber bands or tape for this step, and don't forget to consider playing with heights here, too.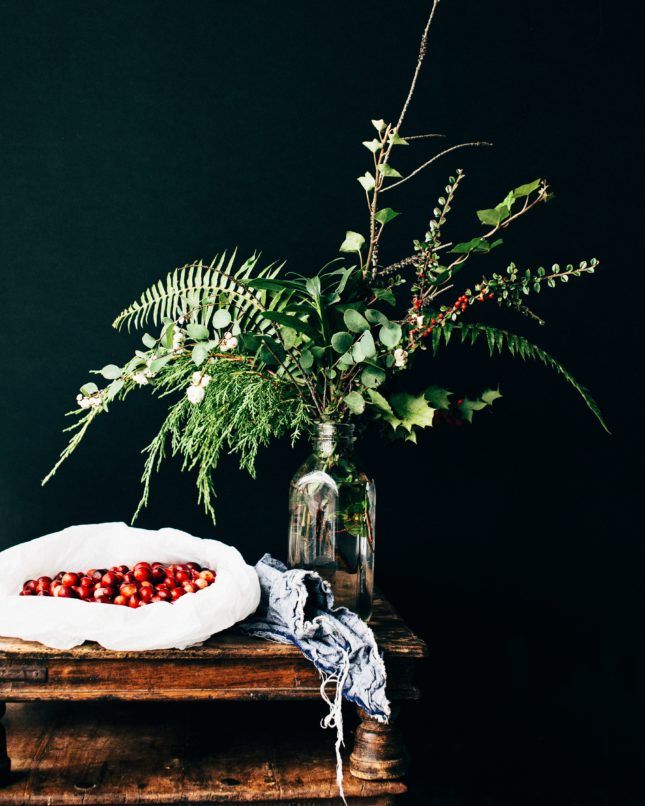 Lesson 10: for the lazy students
You could spend a long time arranging flowers for your home, or you could spend a mere few minutes.
For those who love a floral arrangement but don't necessarily have the time or motivation to put it all together, there are still a few ways to create something pretty.
Tulips and non-stiff-stemmed flowers are a saviour here. Fill a cylinder vase with tulips and let them fall elegantly over the edge. Their floppy nature adds a great charm, and the soft colours do most of the talking.
Alternatively, go off the floral route completely, and string yourself a branch bouquet. You'll only need a few woody stems (maybe even as little as 3 or 4), which you can arrange asymmetrically for a minimalist forest kind of vibe. You may need to add marbles to hold the weight, which can work as yet another decorative element as well.
Now, step back and admire your work. Speak to it. Sing to it. Bloom.