Your four-legged friends needs to upgrade their beauty routine, too.
Since we are all saying goodbyes to harsh chemical ingredient products and adopting a more "clean" beauty routine, why should our furry friend stay behind? Luckily, when Michelle Arnau and Sally Clarke founded Rowan, a clean grooming brand for dogs, they made a range of products that met the same kind of quality and eco-friendly standards as those made for human products.
A host of dog grooming products made with natural, skin- and environment- friendly ingredients are springing up online. And they smell good to boot! It may not seem like much, but it's a real step forward. Previously, these kinds of products were more commonly associated with endless ingredient lists.
The Rowan brand is one of the pioneers in the field, proposing a premium range of coat-care products that are as good for pups as they are for the planet, the brand explains on its website. The two founders wanted to develop dog grooming products of equivalent quality to those used by their owners, whether in terms of effectiveness, sustainability, or benefits to skin, hair and fur.
"We're committed to setting new standards in coat care by creating naturally-derived formulas made with human-grade, high-quality ingredients that leave fur shiny, skin healthy, and everyone smelling like coconuts. Because the products we use for our pets should be as good as the products we use for ourselves," founders Michelle and Sally explain on the Rowan e-store.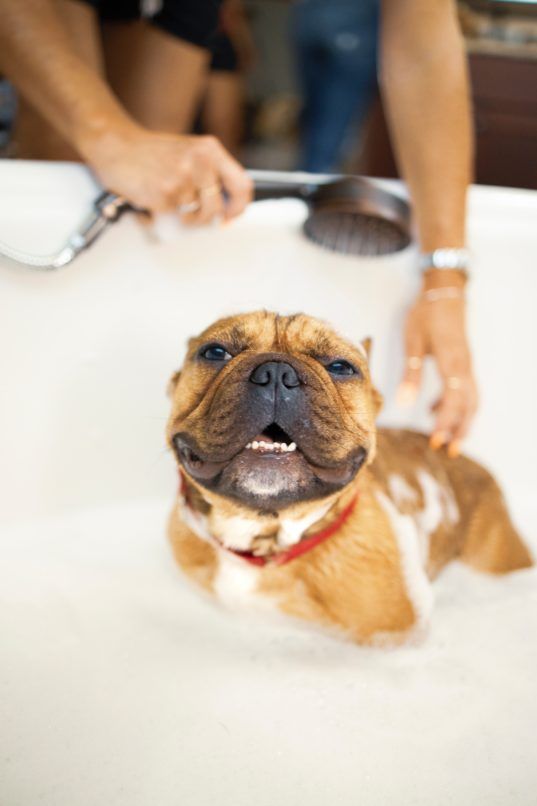 Clean care for fur and hair
On the brand's website, shoppers can browse and buy products for dogs' skin, fur and hair — that's right, because fur and hair are two different things. Product formulations are free from sulfates, parabens, silicones and dyes. With star ingredients like coconut oil, argan oil, avocado oil and aloe vera, dogs now can enjoy the same beauty benefits as humans. They can even experience the joys of dry shampoo for a quick refresh when they're not in the mood for getting wet. All the brand's products are made with ethically sourced ingredients and are manufactured in small batches in California. And obviously, they're not tested on animals.
While Rowan specializes in "clean coat care," it's not the only brand selling eco-friendly grooming products for dogs. The internet is now bursting with such products, from vegan shampoo bars with organic shea butter to shampoo and conditioner formulated with natural ingredients, and paw balm made with different types of butters — also found in our beauty essentials. It's enough to kit out your own home grooming parlor, all while respecting the planet and your dog's skin/fur/hair.
This article is published via AFP Relaxnews.