There's no time like the present to play Gloria Gaynor's I will Survive on repeat.
Just three days ago, the World Health Organisation officially declared COVID-19 a pandemic, and more than ever we need to prepare ourselves and do our part in preventing a further spread. Beyond stocking up on toilet paper (let's save that discussion for another day), a key measure to do this is by regularly washing your hands.
And yet whilst washing your hands should be amongst the top 10 things you learn to do as soon as you get to an age where you can do things, there is actually a right and wrong way to cleanse your paws. For one, you definitely need to use soap (or sanitiser, if unavailable) and you definitely need to scrub for a significant amount of time. But that's where it gets kind of fun.
[Featured image credit: Curology/Unsplash; hero image credit: Christian Mackie/Unsplash]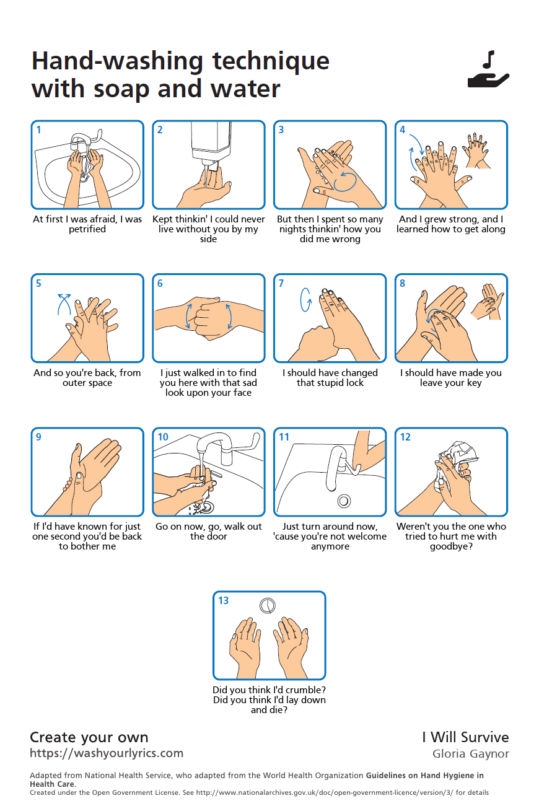 Whilst we're still on the wall about how respectful making Coronavirus playlists on Spotify is, it has long been a known technique to use a song or rhyme to ensure you wash your hands for the right amount of time. In the past, this was usually a nursery rhyme or cute children's song (we recall Happy Birthday being the go-to during SARS), yet we seem to have graduated from kindergarten to take a whole new route this decade.
Making use of the viral Wash Your Lyrics website, we asked the Lifestyle Asia Bangkok team to give us their preferred song for hand washing. Put together in handy infographics in true millennial form, scroll down to see what we're washing our hands to — and goodness, please, to a song or not, go ahead and wash yours too.
Alisha Pawa, Arts & Culture Writer
Alisha is Lifestyle Asia Bangkok's resident arts and culture writer, but also an avid dancer in her free time. It comes as no surprise, then, that Dance Monkey by Tonic & I was her first choice. It's quite interesting, given that even Coronavirus dances are getting many views on TikTok and YouTube, as we're all clearly trying to make light of the situation. As in the lyrics of Miley Cyrus, the whole thing did kind of come in like a wrecking ball after all. Now, we're all suddenly taking greater care of our personal hygiene (as we should), which Alisha reflects about with Taylor Swift's Look What You Made Me Do.
Kankanit Wichiantanon, Dining & Interiors Writer
Kankanit got her hand washing song inspiration straight from the symptoms. Whilst Katy Perry's Hot n Cold wasn't referring to a fever and chills in the original version, we really love our Dining Writer's interpretation of it. There's a beautiful sense of unity in that we can fight this pandemic together, as shown in Kankanit's choice of Formation by Beyonce, as well as her romantic idea of staying in during the quarantine with Sam Smith's Stay with Me.
Karn Chatikavanij, Style Writer
Our Style Writer Karn takes us on an instructive and classic route with The Beatles' Twist and Shout, which is really cheery to implement while washing your hands (and twisting and shouting). Back to the current decade though, her choice of Yummy by Justin Bieber reflects her great taste in food — especially when it comes to ordering takeout, since we're all staying in more. There's no denying that with the constant flow of media, we're all having a lot of thoughts and feelings, for which Karn turns to Drake with In My Feelings. "Kiki, do you love me?" Sure — but only if you wash your hands.
Lisa Gries, Managing Editor
Our Managing Editor feels really old at the thought that no one else from the team knows the catchy title that is Don't Stand So Close to Me by The Police. It really is catchy though, and mirrors her anxious thoughts every time she gets into the office elevator at rush hour. Love Lockdown refers to her evenings this past week, locked into the apartment as opposed to out at events, cooking meals with her beloved and watching action thrillers. The last one is just for laughs, and probably the most practical and fun to conduct. One more time for the people in the back: Hey ya! Wash your hands!