Have you pampered yourself during this stay-at-home period? We think a cosy at-home spa experience might just give you the 'me-time' you need.
Social distancing is not about isolating yourself at home, but rather a stay-home period that will allow you to rediscover yourself all over again. It's the time to practice self-care and self-love — something we often neglect during our long working hours at the office. When was the last time you did something purely for yourself?
Give your body, mind, and soul a boost of that long-overdue TLC. Here's a six-step itinerary inspired by our favourite spa hotels to creating your own magical home-day spa experience.
[Featured and Hero image credit: Capella Singapore]
Meditation at 7 am
Kickstart your morning with Singita's inspiring sunrise meditation for a relaxing, de-stressed day ahead. Singita's Wellness Manager, Renée Rosettenstein, ensures us that this session is the ultimate way to welcome a new day by revitalising your mind and body. Imagine the beauty of rising sun with a backdrop of the expansive African wilderness (where the real resort is located) while meditating. 
Prep at 10 am
Create a homely sanctuary for yourself. The utmost important thing is to have the right scent to create the best spa experience. Our pick? The Volcanic Stone Diffuser from Curators Collective in Jugiong, NSW, because it diffuses the essential oils of amber and spices. Just add a few drops of essential oil to these black volcanic stones so it could imbue the air with its calming, therapeutic fragrance. Then put on your favourite pair of pyjamas.
Order your scent from Curators Collective. 
Hydrate your Face at 11 am
It's always a good idea to start with a face mist to rejuvenate and refresh your skin. You can prep your own bottle of Cucumber Mint Face Mist with a simple recipe from Capella Singapore. Simply use natural ingredients such as cucumber, mint, and lemon. Why? Cucumber contains vitamin C that helps soothe our skin and keep it revitalised, whereas lemon helps even skin tone, and mint has anti-inflammatory properties. Altogether it's a perfect combination to keep that healthy glow on your face and stay makeup-free.
Recipe of Cucumber Mint Face Mist
Ingredients:
1 cucumber, chopped
1/2 lemon
1 bag of mint tea
1/2 cup distilled water
1 spray bottle
Instructions:
Juice the cucumber and add in the lemon juice.
Steep the mint tea bag in hot water for 5 minutes. Allow tea to cool.
Combine the cucumber-lemon juice and cooled tea together in a spray bottle.
Store in a spray bottle in the refrigerator.
Use to start and end the day and as many times in-between
Scrub at 1pm
A spa without a scrub is like a movie without popcorn. It's essential to have a luxurious body scrub to keep your skin soft, smooth, and hydrated. Not only does it keep that glow, but it also aids in stimulating blood circulation and improve the overall health of your skin. Capella Singapore reveals the recipe to their Himalayan Salt Scrub and it includes ingredients like grapefruit essential oil that helps eliminate excess water and stimulate the lymphatic system. In fact, it is said to also boost circulation and reduces the appearance of cellulite. 
Recipe of Himalayan Salt Scrub
Ingredients:
1 Cup Himalayan Salt
½ Cup Coconut Oil
1-2 Tbsp Olive Oil
5 drops Grapefruit Essential Oil
Container or Jar
Instructions:
Combine Salt, Coconut Oil and Olive Oil together in a bowl.
Add in Grapefruit Essential Oil to your preference.
Put mixture into a container.
To use take into shower and apply to body in circular motions. Focus on elbows, knees, feet etc. as needed. Rinse with lukewarm water.
*Note of Caution as this has oil it can make surfaces slippery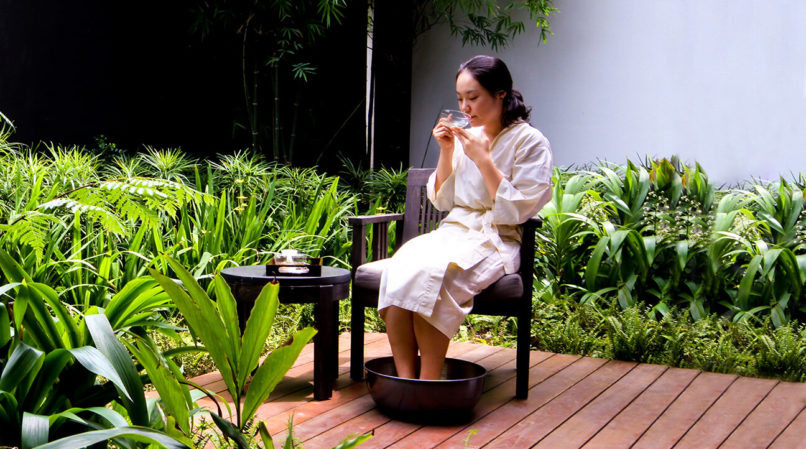 Keep your skin glowing at 3 pm
Love your skin and splurge into that Endota Spa's Brightening New Age Mini Kit, that comes with a cleansing gel, a detox mask, brightening serum, eye cream, and firming moisturiser so you could get a facial just like in the salon.
Grab your Brightening New Age Mini Kit at Endota Spa
Eat at 5 pm
A satisfying meal is always the quintessential way to make our body and soul content. Have a nutritious meal inspired by nature to end your spa delight on the right note. Singita's menu offers a variety of vegetarian and vegan dishes, as well as healthy bowls, natural infusions, and loose-leaf teas. Get creative and re-create the taste of Singita with the Sweni Lodge Beetroot Tart. This might just transport you back to the African wilderness.
Recipe of Sweni Lodge Beetroot Tart
Ingredients:
250g cooked whole beetroot, boiled and peeled
50ml red wine vinegar
2 tablespoons treacle sugar
The juice of 1 orange
1 sheet of puff pastry
1 sprig of rosemary
1 egg, whisked
Method:
Place the vinegar, orange juice, sugar, and rosemary into a small pan and simmer over a very low heat for roughly 5 minutes or until you have a syrupy consistency. Allow to cool.
Scoop out 8 "balls" of cooked beetroot using a melon baller and place them into the vinegar and orange juice mixture. Coat the beetroot evenly with the syrup.
Place your puff pastry on a floured work surface. Using a round template (e.g. a tea cup, saucer, or side plate) cut out a round piece of puff pastry. Remember the size of your template will determine the size of your tart!
Next brush the round of puff pastry with the egg wash and place on a greased baking tray.
Place your beetroot balls on top of the puff pastry, arranging them in a symmetrical pattern. Keep any leftover vinegar and orange mix for plating.
Place the tray in a preheated oven at 180°C for ± 10 – 12 min or until the puff pastry is golden brown.
Remove from oven and allow to cool on a wire rack.
And now… happy relaxing.