It's a merry season to watch ICONSIAM light up the city with its golden touch. 
As the rollercoaster ride of 2020 slowly comes to an end, it's time to raise our spirits and celebrate the coming of 2021 in full rhythm. After a successful celebration last year, ICONSIAM brings back their striking illumination festival on the banks of the Chao Phraya River to spruce up our holiday season.
[All images courtesy of ICONSIAM]
International art installations
For the first time ever, you'll also get to witness a world-class art installation at the festival, featuring a creative sculpture created by New York-based artist "SOFTlab." It is entitled "Infinity Forest" and will be located on the sky terrace on the 7th floor, as a showcase that can be enjoyed through a series of mirrors. It is designed for viewers to admire the beauty of life from different angles through the 'Droste Effect'. At night, the mirrors will display LED lights that move to the rhythm of music, too.
Featuring more art installations, Australian visual artist Amanda Parer brings his fabulous 'Fantastic Planet' figures to Bangkok, with "Peeping Corner" and "What's that." The pieces are 8 metres tall, and were inspired by the Czech/French film Fantastic Planet from 1973, which tells the story of humans living on a strange planet dominated by giant humanoid aliens.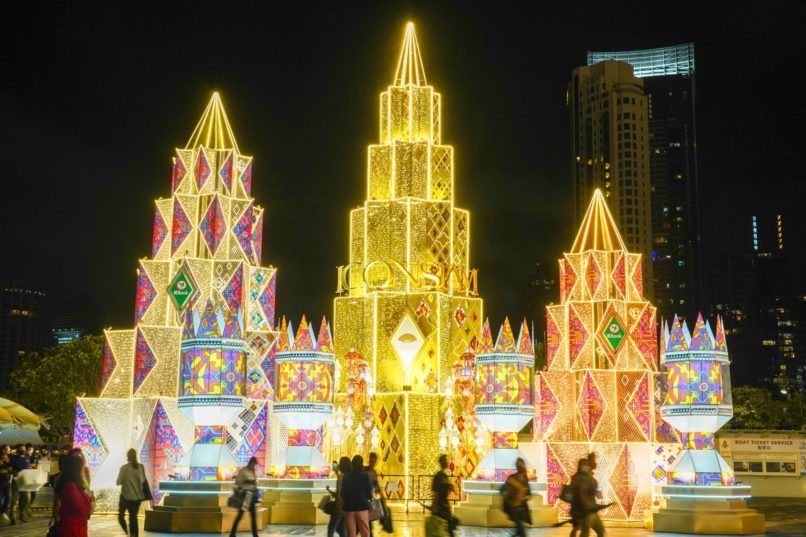 Extravagant Christmas Trees
Designed by world-renowned graphic designer Mike Perry, a selection of intricately-designed Thai and International patterns will be displayed on special Christmas trees. Coupling the themes of Thai Energy flows with Thai lotus flower motifs for "Celebration of Life" patterns, there'll be everything from stained glass decoration to a 20-meter Thai-inspired Christmas tree at River Park. Embracing Thai contemporary culture, we can tell that ICONSIAM is going to make sure Bangkok's festive celebration is truly one-of-a-kind.
Expect to revel in the light decorations and bright Christmas Trees from now to 30 December 2020. Whilst you enjoy gazing over the lights, don't forget to witness the the ICONIC Multimedia Water Features and snap some pictures with their vivid background for your 'gram.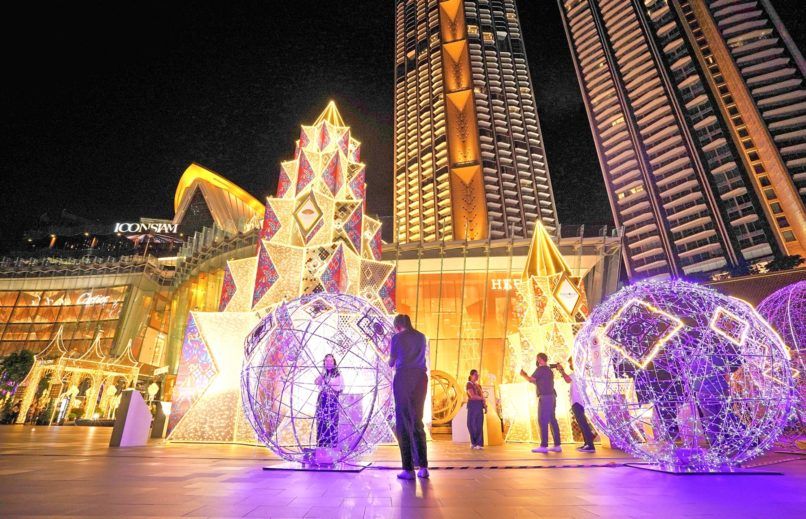 ICON OF HAPPINESS
But that's not all. As the world-class landmark celebrates its second anniversary, Bangkok Illumination 2020 under the theme of "Magic Comes Alive" takes it up a notch this year with ICON OF HAPPINESS, featuring some fun-filled entertainment from now to 15 November 2020. As a token of appreciation for all the loyal customers, here's the line-up for the event:
14 November: Bel Supol
15 November: Ice Saranyoo, Praew Kanitkul
Exclusive discount
For all the shopaholics out there, "ICONSIAM Magic Comes Alive Celebrating 2020" is ending the year with a bang with some special discounts from now  to 10 January 2021. Simply spend THB 4,000 or more to redeem a Siam Gift Card valued at THB 200. When you spend THB 6,000 or more, redeem a Siam Gift Card valued at THB 500. If you spend THB 50,000 or more, then you'll get to receive free parking at ICONSIAM for three months (at THB 9,000 worth).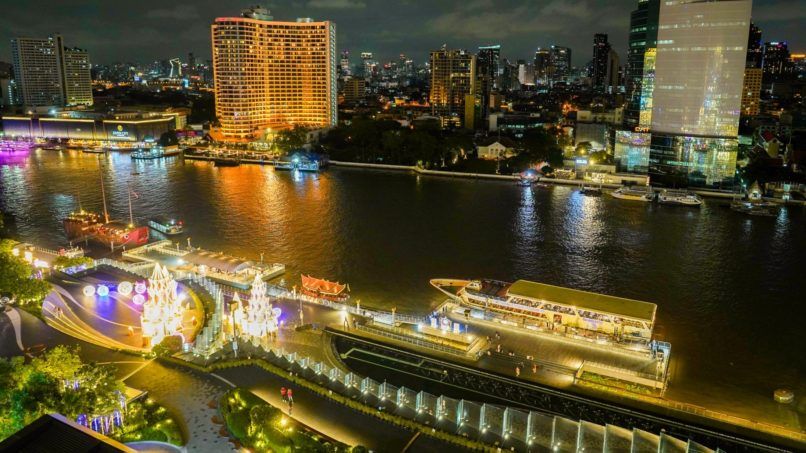 This exciting event is brought together by ICONSIAM and their collaborating partners, The ICON Siam Superlux Residence Corporation Company Limited, and The Icon Siam Residence Corporation Limited. Be sure not to miss out on ICONSIAM's Bangkok Illumination 2020 and "ICONSIAM Magic Comes Alive Celebrating 2020" to rejoice Christmas and New Year season in full swing from today to 30 December 2020. 
ICONSIAM, 299 Charoen Nakhon Rd, Khlong Ton Sai, Khlong San, Bangkok. For more information, please call 1388 or visit www.iconsiam.com.