Loy Krathong is drawing near and if you're looking for a special place to celebrate the annual festival in town, there's no place more splendid to do so than at ICONSIAM.
This year, together with The Tourism Authority of Thailand, The ICONSIAM Residence Corporation Ltd., and The ICONSIAM Superlux Residence Corporation Ltd., the riverside destination is commemorating Loy Krathong with a prestigious event entitled "ICONSIAM Chao Phraya River of Eternal Prosperity." Here, city dwellers can bask in the joy of day with a lineup of activities at River Park ICONSIAM by the Chao Phraya River on Saturday 31 October 2020 from 5 pm onwards.
[All images courtesy of ICONSIAM]
Apart from the beauty of the full moon and the candle-lit river during the orb of night, the occasion serves mainly as a day of gratitude where we give thanks to the goddess of water, Pra Mae Khongkha, as well as asking her for forgiveness for polluting the water.
And with the goal to raise awareness of cultural and environmental conservation, the event invites guests to wear traditional Thai outfits. It is also set under an environmentally-responsible theme, so expect to see completely eco-friendly krathongs crafted out of natural materials like ice, banana leaves and flowers.
The International Exhibition of Krathong
ICONSIAM takes the ritual a step further this year with The International Exhibition of Krathong Lanterns. It features a showcase of lanterns crafted by officials and members of 16 participating embassies, with each one depicting the country's identity and landmarks through the delicate art of paper-cutting using eco-friendly materials. Taking place at Tara Hall, M floor, ICONSIAM, the exhibition will take place from 24 October to 1 November 2020.
Nang Noppamas
The Loy Krathong festival is not complete without Nang Noppamas, a lady who represents Princess Srijuralak, the first inventor of the krathong as a medium to pay respect to the goddess of water. Presenting herself as Nang Noppamas this year is the famed actress, Ranee "Bella" Campen, who will be elegantly attired in a traditional Thai dress costume and precious jewellery.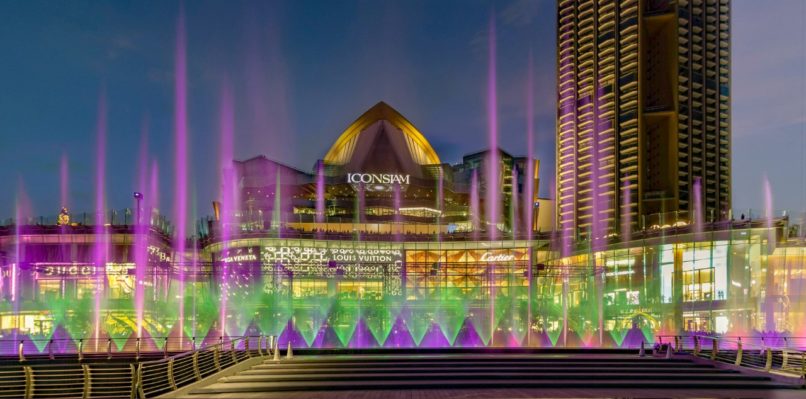 Shows and Concert
Showcasing the evolution of Loy Krathong customs from past to present, the Show of Eternal Prosperity taking place at the River Park features Sukhothai-style dance performance as well as a mesmerising light and sound show. It aims to portray the story of rich tradition, carried across generations. There will also be a concert by singer Aof-Pongsak and the ICONIC Multimedia Water Features, which is the longest dancing fountain show in Southeast Asia.
Activities at SOOKSIAM
For some indoor fun, SOOKSIAM also invites guests to partake in the glory of Loy Krathong through a "Reun Rerng Saeng Sin Amazing SOOKSIAM" event held from 30 October to 1 November, where there's a showcase of unique krathongs from the four regions of Thailand as well as krathong making art by the Mae Klong community from Samut Songkram. There will also be a Nang Noppamas beauty contest consisting of mother-daughter or grandmother-granddaughter teams, which you definitely should not miss.
Getting there
You can easily get to River Park, ICONSIAM for the Loy Krathong celebration by BTS. Hop out at Saphan Thaksin BTS Station Exit 2 and get a free shuttle boat from Sriphraya Pier, Sathorn Pier, and CAT Pier, which will drop you right off at the pier in front of ICONSIAM. You can also get off at Krung Thon Buri and Wongwian Yai BTS Station Exit 1 and a get a free shuttle bus to the mall.
To find out more, visit iconsiam.com, or call 1338.