Gift your loved ones something sweet this holiday season and bid goodbye to 2020 in style with ICONSIAM.
As we move into a fresh new beginning and welcome 2021, there's no doubt that the celebration would be incomplete without some meaningful presents for your friends and family. If you're hunting down that perfect gift for your family members and can't decide where to start, then you've come to the right place. We know just the perfect spot.
[All images courtesy of ICONSIAM]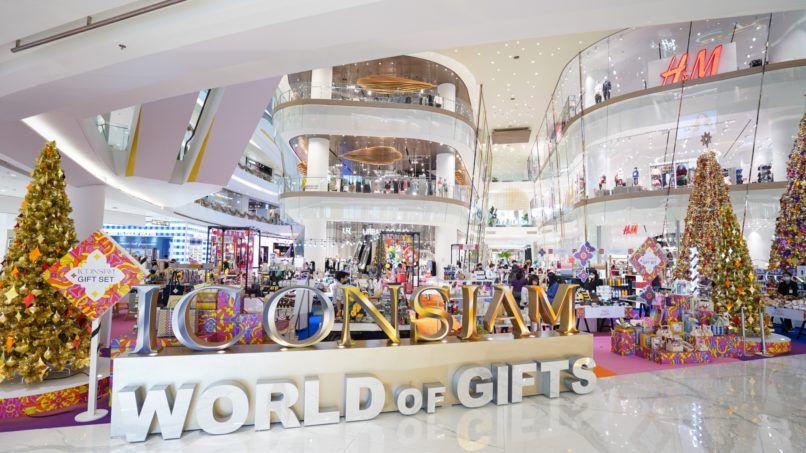 'ICONSIAM World of Gifts' offers over 1,000,000 gift items to choose from, and is really the largest gift destination you could find in the city during the festive season. More than just a large number, it's certainly great in terms of sentimental values as well. A gift should always be meaningful because it's really the intention that matters the most. Because there are so many options to choose from, we've made it easier for you by rounding up all the types of gifts you can select based on your preferences.
SOOKSIAM
If you're after delicate, artisanal items, then head to SOOKSIAM. The local products here have all been assembled from all four regions in Thailand. The gifts here have a signature quality and it follows the following themes: Thai Charm, Thai Taste, Thai Fun, Thai Creativity, Thai Friendship, Thai Sustainability, and Thai Hope.
Dear Tummy
Need an international flair to your gift? Expect to find an assorted bundle at Dear Tummy where you can personalise as per your desire. From food, beverages, and delicacies, to fresh produce, all of them can be combined to create a bespoke festive basket. Our advice? Choose the sweet treat basket for your family member who has a sweet tooth or a healthy farm-to-shop basket if they're health-conscious.
SIAM Takashimaya
Are you a fan of Japanese gifts? Get a taste of the Japanese culture at SIAM Takashimaya where you can dive into a myriad of gift bundles and individually packed gifts. From snacks and imported fruits to hampers, all can be wrapped in the beautiful Furoshiki textile wrap.
Loft
We all know that when it comes to chic and quirky gift items, there's no better place than the Loft. This time, 'Loft The World of Ultimate Gifts', is showcasing a parade of items like stationery, home decor items, electronic gadgets, and beauty accessories. Not to mention, the Only@Loft collection also presents some of the most trending items and exclusively imported items from Japan. Once you buy your desired item, the Loft also offers a gift-wrapping service in every shape and style.
ICONCRAFT
If you have a soft spot for delicately-crafted goods, then head over to ICONCRAFT. Just like its namesake, the local artisan products and handmade items here are quite iconic and unique. ICONSIAM proudly supports local craftsmen therewith. Don't miss out on the exceptional textile gifts from the Queen Sirikit Museum of Textiles and get crafty with the DIY gift baskets here.
Thai Gifts Premiums and Decorative Association
Since you're splurging this season, why not opt for locally produced skincare and healthy goods that are not unique but budget-friendly too? The Thai Gifts Premiums and Decorative Association should be your go-to.
Gift Wrapping Services
There's no doubt that having a beautifully wrapped gift seems to be more charming and adds value to the gift. Lucky for us, ICONSIAM is also providing gift wrapping services for customers to add on their own finishing touch.
'Tis the season to surprise your loved ones with a meaningful gift. Now you know where to find them.
Celebrate the festive season at ICONSIAM World of Gifts from today until 5 January 2021. For more information, call 1338 or visit www.iconsiam.com.