There is only one exclusive unit left for sale in the whole of 98 Wireless; a last chance to become a resident of exquisite style on Witthayu Road. And after a private tour of place and personality here, it is not difficult to see why this is extremely tempting.
We arrive to a bright and quiet lobby, and are welcomed by a personal butler dressed to the nines in suit and tie.
There is a calming air of exclusivity in the Gampu Lounge, between high ceilings and a lot of natural light. There are a lot of thoughtful touches in this arrival area, such as a book on 1920s-inspired cocktails perched on a mahogany and brass roundtable that dates back to the nineteenth century. It is wholly fitting, as tonight, we plan to host an extravagant dinner. There is still plenty to be done, but at 98 Wireless you'll find you'll always be the hostess with the mostest. As residents on the inside, let us let you in on the secret.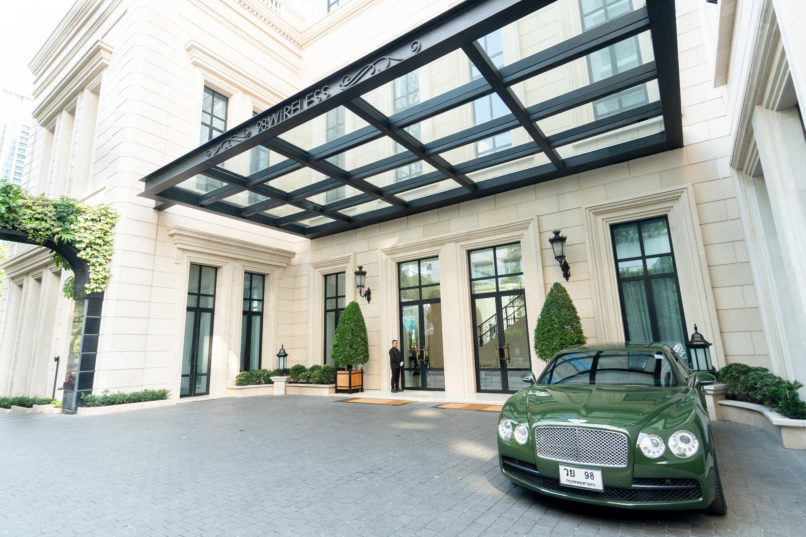 Breakfast fit for a champion
The elevator ride up to the apartment is quiet, as the lifts at 98 Wireless are designed to accommodate only one resident and his or her guests at a time. This brings about a great sense of privacy and intimacy, even though almost all units — except for the one — have been sold to many an exclusive buyer.
The Lift Hall in itself is a design marvel, consisting of a D-shape mahogany console, which dates back to the end of the Regency period. The natural stone top is made by Gillows, a legendary maker of the golden age of cabinet makers. We've got a little bit of a knack for history, and particularly also love the European 19th century mirror on the first floor. There's a real sense of time and story, even just in the Lift Hall on our way up. 
Outside lie the gardens of the American ambassador's residence, with a few cars promenading down Witthayu Road towards the luxury shopping district just ahead. We have breakfast in our residence. A fresh espresso in hand, we pause for a moment of awe as we admire our white lilies against this background. Wait, did we get flowers for the party?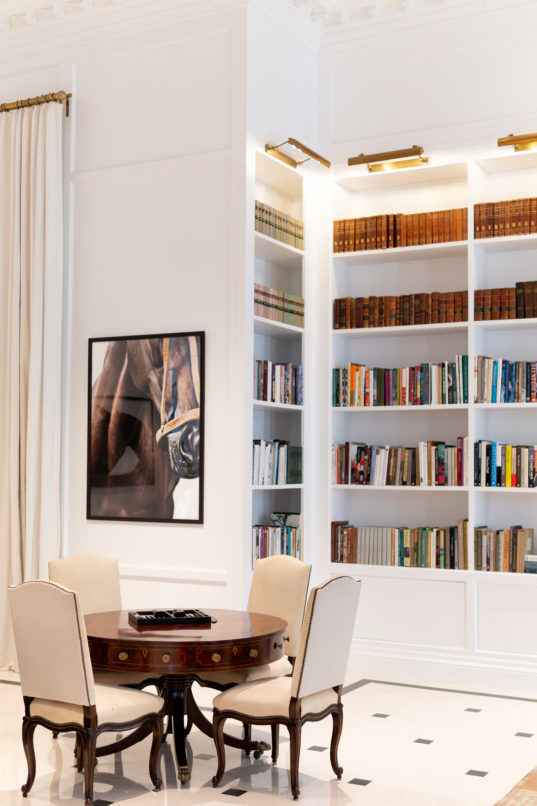 What about the flowers? 
We head to our home office to check the laptop. Did we put in an order for roses for tonight's event? It may have slipped our mind. Luckily, the concierge in the building is always a saviour. A quick change of shoes in the shoe closet, and we'll be down in just a few minutes. 
We head down to the Embassy Hall, which is where the reception is located. At the heart of the lobby lies a centre hall table in the same neo-classic style we admire throughout the property, made in 1815 from rosewood and inlaid with brass. It's always a welcoming sight to see. This morning, however, we sit at the French coffee table. Each apartment at 98 Wireless has their own personal butler, and we ask to speak with ours. Luckily, he had already made the floral arrangements for tonight. We let out a sigh of relief; there is never a need to worry.
We pick up our notebook from the glossy table top and head to our next appointment.
A meeting on dark leather
The overall aesthetic at 98 Wireless is warm and classic, with a distinctly metropolitan yet residential feel. It is no coincidence, given that the space was designed by the renowned Anne Carson of Anne Carson Interiors, who has designed many of Ralph Lauren's most notable showrooms, too. It is evident that each piece of art and furniture has been handpicked by the designer, with a keen eye for a British aesthetic. 
Along this tangent, interestingly, the business lounge is actually our favourite space within the building. Here we meet with the planners for tonight's event, discussing a few final touches. Did you get the pistachio macarons? Do we have enough champagne? How shall we seat the guests? 
The black and white automobile-themed photographs frame the meeting room most fittingly, as we sit on dark leather couches to go over the smaller details. We could also close off one of the meeting rooms so that we'd have more privacy, but there's something very cosy about sitting in the library area, too. We'd love to stay longer and chat, but it's noon, and we've booked a pampering session upstairs at the spa. 
A pamper session pre-party
There is something so wonderful about having a wholly dedicated spa within your own building. Strolling past the gym, and waving a quick hello to the kids in the Kid's Club, we head to the quiet sanctuary for a massage to soothe our muscles pre-party. We've asked our favourite masseuse about town to come in for the afternoon, and we've booked the spa completely for ourselves.
Is there time for a quick dip and lap in the pool afterwards? There's always something quite magical about a late midday swim in the heart of the city, surrounded by its iconic skyscrapers, yet soothed by the greenery around us, and the charmingly striped sun loungers. 
Time flies, and it is already 5 pm. We slip on a robe and head back to the in-house parlour to complete our look for the evening. 
A sneak peek behind the scenes
For tonight, we've invited one of Bangkok's top chefs to cook for us, and we can't help but sneak a peek into the service kitchen for a teaser taste. It is essential for anyone throwing a lavish soiree to keep the stresses behind the scenes separate from the guests. At 98 Wireless, this works seamlessly. 
We head to the tea room, where one of Bangkok's most beloved mixologists is here for the night, already prepping a few concoctions for us to try. There's nothing quite like an in-house bar. We love this touch. 
As we head to the powder room to touch up on lipstick just once more, we can hear the pianist start to play on the grand piano in the room. The evening is about to begin. 
Invitation Only
Are we in Paris? Are we in Rome? 
Over an Old Fashioned and a Manhattan, our guests are mingling and sharing stories by the bar and on the plush white sofas in the tea room. The atmosphere is intimate and yet lively, which is what any good hostess would wish for. There's a 19th century oil painting of a ship in the tea room that becomes a massive conversation piece at the party. Life imitates art. We're having a blast. 
A few canapés and cocktails later, we head to the dining suite just ahead. Fitted in darker woods, it is a small dinner amongst friends around an Irish mahogany table. It comes from the reign of King William the Fourth, making all of our guests feel rightfully regal. Anecdotes, little memories, funny stories; we share them over sherry and sorbet. There is something really special and homely about 98 Wireless. We feel like we are the only residents here. We feel entirely at home.
The hours pass, the candles flicker, and the stars twinkle outside above Witthayu Road. The city seems to breathe an air of calm as we slip into the late of the night, and we see the moon's reflection in the antique mirror that warms the space. Sleepy eyes and smiles, we say goodbye to our guests, as their cars arrive at the lobby to pick them up. "Get back safe," we say, as we watch them be driven out of the grand entrance way. 
Champagne and cake at midnight
The dinner party was a success, and we never even had to leave the premises. We check in with our starred chef in the kitchen, and thank him for the incredible tasting menu. Is there any cake left? We have it delivered upstairs to our apartment. It arrives even before us, via the service lift. Perfect timing.
As we enjoy a sweet late night treat on our private balcony upstairs, we ponder what it really means to live a life of luxury. We sink deep into the Egyptian cotton sheets in the master bedroom. The lights dim, and we sleep easy. 
Tomorrow, we'll wake up and do it all again. Tomorrow, as every day at 98 Wireless, the best really does come as standard. 
www.98wireless.com or call 1685