It's yet another great month for sneaker lovers.
All the most hyped sneaker drops, under-the-radar gems expected to garner skyrocketing prices and rumoured releases to check out this month, from our contributor, Sneaker Surge HK's Mira Uttamchandani.
Plenty of anticipated collaborations and special edition sneakers abound this October: From kicks tied tightly to the NBA schedule, that coveted Prada x Adidas pair (in case you missed it), more than one pair of fresh kicks from Off-White, a new plant-based shoe, and plus, a few excellent evergreen options to add to your day to day rotation.
Scroll through to find our top 10 picks of the best new sneaker drops to know about this month.
This article first appeared on Lifestyle Asia Hong Kong.
1
Air Jordan 1 Retro High OG Women's 'Lucky Green'
It's been a big year for the Boston Celtics, having made it all the way to Game Six of the NBA Eastern Conference Finals. At the same time, Jordan brand will also be launching the Air Jordan 1 High OG Women's 'Lucky Green' to commemorate Michael Jordan's 63-point playoff game in Boston in 1986, where he set a post-season scoring record, despite having lost the game. The shoe has a raw unfinished construction used to represent 'progress' as opposed to perfection. The insoles include a parquet floor print that is similar to the old Celtics court.
Release date
15 October 2020
Price
US$330 (Approx. THB 10,435) from Goat.com
Shop here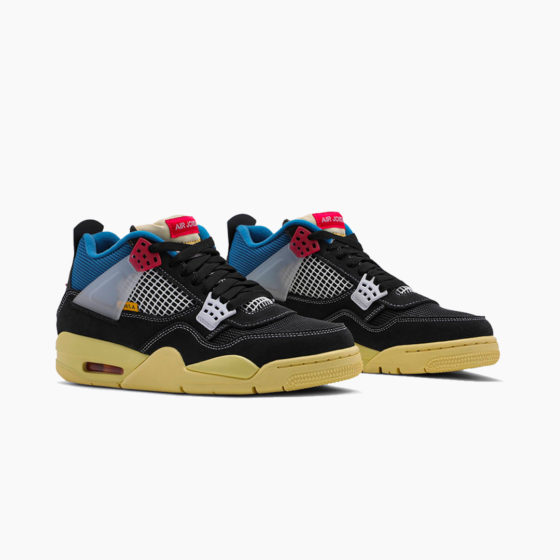 2
Union x Air Jordan 4 Retro 'Off-Noir'
Los Angeles' Union is something of a streetwear and footwear destination, and owner Chris Gibbs is set to release four collaborations with Off-White in 2020. The first is a set of Air Jordan 4's in two colourways, 'Guava Ice' and 'Off-Noir' (pictured). "Back in the day, I always liked to wear my Air Jordan 4s with a short tongue, so I would fold them over themselves and tie them down," Gibbs said. Harking back to his childhood, Gibbs implements this same idea by creating a customisable tongue on these new pairs: When purchased, the tongue is initially stitched down. Dare to cut the threads and you'll unfold a normal-sized tongue with Air Jordan branding. 

The million-dollar question is how to cop this pair: To beat the bots typically used by flippers, Gibbs has reportedly worked with Shopify to create a multilayered check-out method, which presumably might make it easier for you to nab a pair.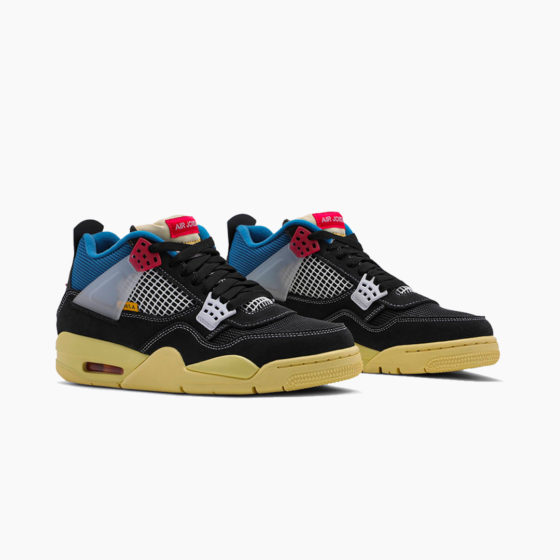 Release date
16 October 2020
Shop here
3
Chanel Leather, Nylon & Grosgrain Sneakers
After three years in the market, the chunky 'Dad' sneaker style has made it to runway shows, on the streets, and even on the red carpet, and it seems to be here to stay. Several luxury brands have adopted this silhouette. For women who may have found it difficult to replace our stilettos with a pair of sneakers, these Chanel retro-inspired chunky kicks make it easy to do so. Chanel uses premium materials for this sneaker, including suede and calfskin with Chanel branding on the lateral sides of the shoe, making it a worthy (and comfortable) contender for whether you're rocking them to a meeting or for cocktail hour.
Price
Approx. THB 25,315 from Chanel
Shop here
4
Off-White 'Out of Office' Collection
When 'WFH' has become the new normal and we're struggling to separate 'work' from 'play,' trust Virgil Abloh to come to the rescue. Virgil Abloh has launched a new campaign dubbed 'Out of Office' as a vehicle for everybody to escape their current monotonous lifestyles. A part of his campaign is a pair of kicks that is designed using both basketball and running silhouettes, and comes in multiple colourways including muted tones such as pale blue and tan, as well as sharper iterations in red and green — just in time for the holiday season!
Farfetch
5
Prada x Adidas 'Superstar' Sneakers
A success story in how a US$80 sneaker sells for US$500 — and every customer believes it's worth it. Like most noteworthy kicks, the Adidas Superstar has long been championed by both athletes and musicians, but it was Run-DMC who made it a cultural icon with the release of his song 'My Adidas.' As 2020 marks the 50th anniversary of the shoe, Adidas celebrates the milestone by joining hands with Prada to commemorate this classic pair. A testament to both houses' craftsmanship, each shoe is made in Italy using premium full-grain Italian leather, passing through the hands of 100 employees just to make one pair. The shoe initially dropped in all-white version on 4 December 2019, which was accompanied by a Bowling Bag and limited it to 700 pieces. The second round dropped again earlier in September to much fanfare, with three additional colourways: all black, black and white, and chrome silver and white. 
Missed it in early September? You can still cop it from various online retailers around town.
Price
Approx. THB 14,425 from Farfetch
Shop here
6
Off-White x Nike Air Rubber Dunk, 'University Blue'
We've talked about how Nike Dunks are the silhouette of the year: With multiple collaborations being launched this season, we can't leave the renowned Virgil Abloh off the list. The Air Rubber Dunk is a fully new creation by Virgil Abloh, incorporating elements of both the Nike SB Dunk and another Nike silhouette, the P-6000. The shoe will release in three colourways: the first 'University Blue' (pictured) being a nod to Jordan's college team colours, followed by a 'Green Strike' with a pop of orange and 'University Gold.'
Release date
1 October 2020
Price
Official retail at US$190 (Approx. THB 6,000)
7
New Balance x Staud
If you find yourself running from a workout, to meetings to dinner with the girls and need the perfect look for all three occasions, this Staud x New Balance collab shoe has got you covered. The LA-based fashion brand worked with New Balance to launch an elevated athleisure collection, with everyday essentials for a more active lifestyle. The collection comes in autumnal tones, complete with long-sleeve crops, leggings, vintage inspired sweatshirts. The core of the collection is none other than the reimagined New Balance 327 sneaker, which features an oversized "N" logo in Bordeaux leather and contrast stitching.
Shop here
8
Reebok 'Forever Floatride Grow'
What do you get when you mix castor bean oil, eucalyptus tree, algae and natural rubber? The world's first plant-based running shoe. The 'Forever Floatride' is a development from Reebok's Cotton + Corn collection, which had a goal of making shoes from things that grow. Reebok did face some challenges when attempting to meet the high-performance needs of athletes using these materials, however after three years of developing the sneaker, they managed to create something that met, if not beat, these standards. 

Watch this video for more on the R&D process.
Release date:
1 October 2020
Price:
US$120 (Approx. THB 3,795)
9
Air Jordan 1 'Dark Mocha'
If you couldn't get your hands on the Travis Scott x Air Jordan 1 collab, Christmas has come early for you: Jordan brand is releasing the Air Jordan 1 High OG 'Dark Mocha' as part of their Holiday 2020 lineup, and this pair will be one of the first to launch end October. The pair is almost entirely inspired by the Air Jordan 1 x Cactus Jack collaboration by Travis Scott — these days, the pair is reselling at almost US$1,500.
Release date
31 October 2020
Price
US$170 (Approx. THB 5,377) from Nike.com
Shop here
10
Nike Air Force 1 Low 'Toll Free' Pack
When Nike calls, you answer; the Nike Air Force 1 has become one of the brand's longstanding mainstays with its clean silhouette and canvas-like minimalism that allows for virtually any kind of design collaboration. The latest design is inspired by the fast-fading cultural phenomenon of the '1-800-Toll Free Hotline,' and comes in two colourways and silhouettes. The AF1 Low comes in a white leather, whilst the Hi comes in a black with an all-over reflective print leather that reads 'toll-free,' 'call-today' and 'Air Force.' The shoelace dubrae for both shoes has also been replaced with retro telephone key shapes that read 'Air.'
Release date
TBA; Fall 2020
Price
US$130 (Approx. THB 4,111) from Nike.com
Shop here