For a Business Meeting
Her:
You'll never go wrong with Issey Miyake pleats. Boasting a fun-loving yet professional flair, bring the beach to the business meeting in colour-blocking shades of sea blue and sun yellow. Your positivity will shine so hard, your boss won't know what hit them.
Him:
There's nothing quite like a crisp white shirt on a man. We love the playful touch of the embroidery on the bottom of this Jacquemus piece, pairing well on a similarly cheeky tangent with the signature skulls on the Alexander McQueen shorts. A true exemplar of at-home business casual.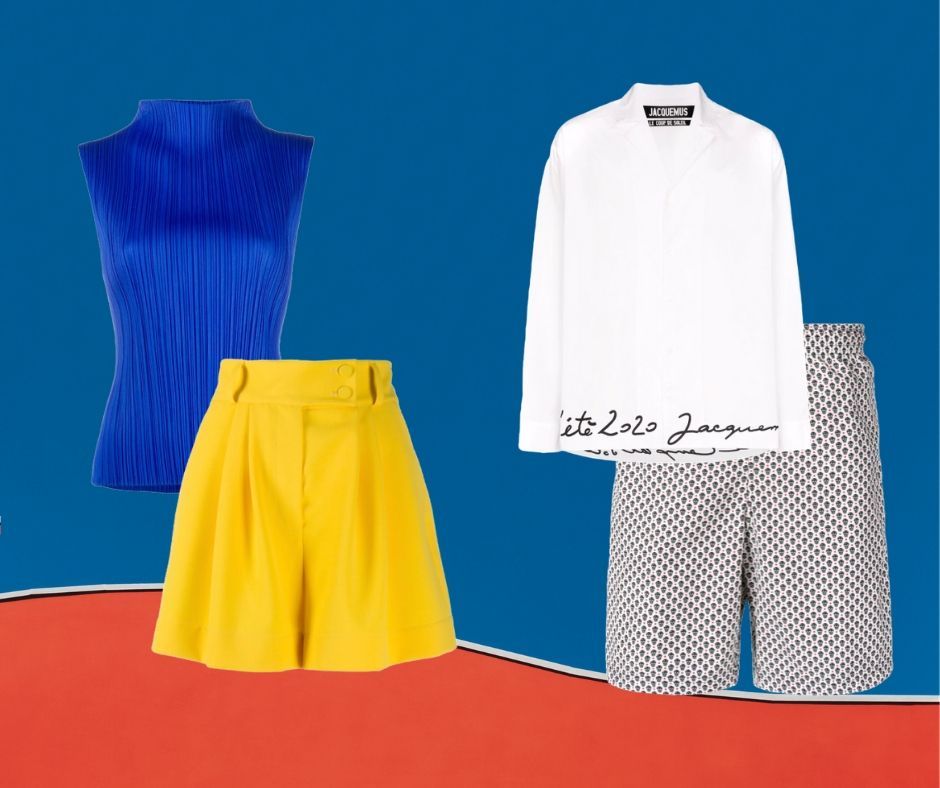 For a Virtual Dinner with Friends
Her:
Elegant is she who wears a shimmery one-shoulder top. Paired with the mother of elegance that is velvet (in the at-home version of short shorts), here's a look that feels timeless — and yet is very current.
Him:
He goes down a more casual route for this virtual dinner with friends. Very Santorini, these Kenzo shorts bring out the best in a tan, and playfully match the Amiri shirt. Whilst it appears laid-back, the shirt is actually made of silk, and thereby scores very high in sophisticated style points.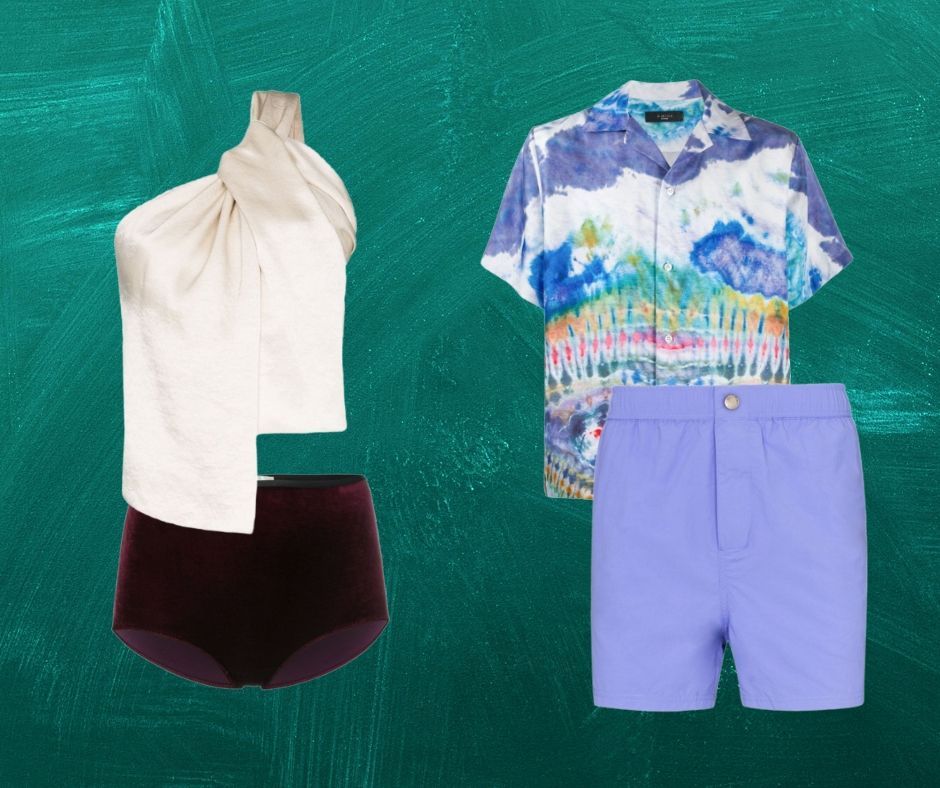 For a Romantic Online Date
Her:
She brings the romance (or the cold shoulder?) with a top by Rotate, paired with romantic roses on bikini bottoms by Dolce & Gabbana. Feminine and dreamy.
Him:
For him, we continue on the casual route with a polo shirt in beige to highlight chocolate brown eyes, paired with handsomely patterned Timo Trunks. Charming.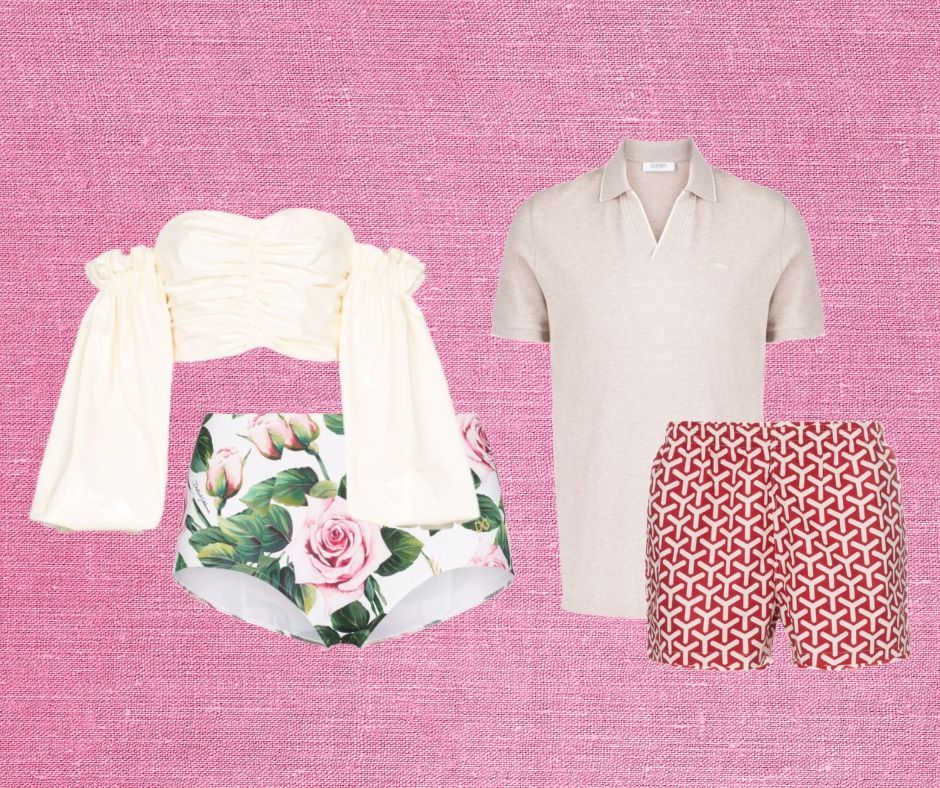 For Calling Your Mother
Her:
On the phone to Mum, she is the epitome of innocence with a white embroidered top with vintage-style frills. The bottoms offer a summery burst of colour that remind us of weekends in Samui and the Seychelles. A girl can dream.
Him:
There's nothing quite like a matching shirt and shorts. He is light and lax in a two-piece co-ord set by Jacquemus for ultimate favourite child points.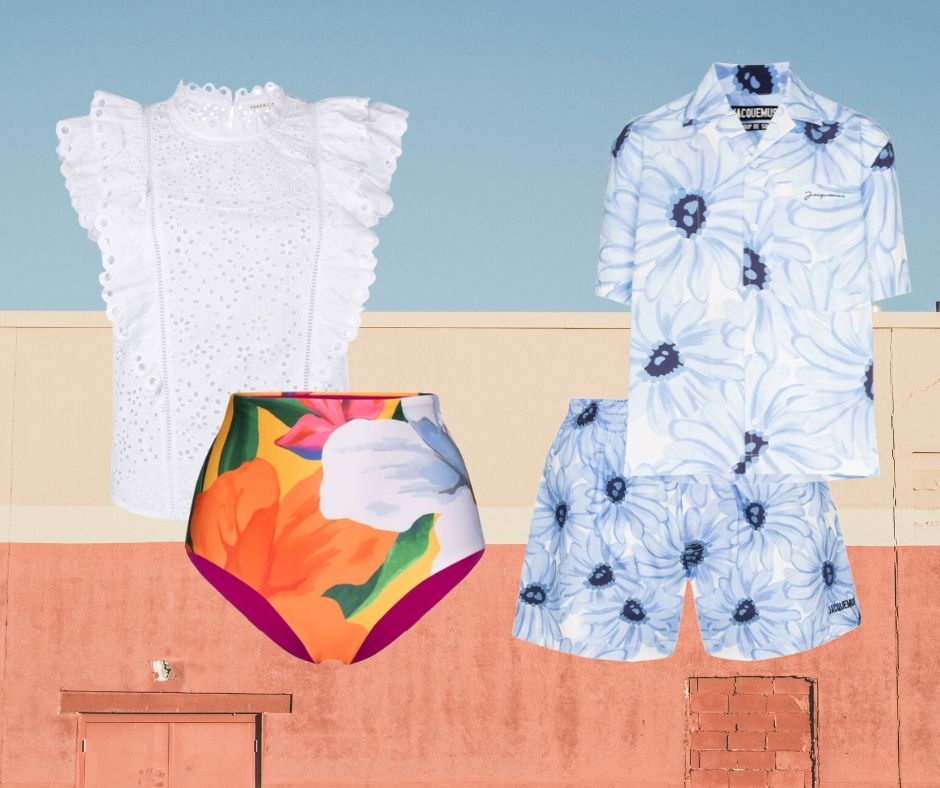 For a Pretend Vacation on Zoom
Her:
You can't get cooler than Peggy Gou's Kirin brand. Rock a red kimono with Versace's signature jungle print on a bra top and pair with Dolce Gabbana's iconic blue sequin shorts. Vacation cancelled because of COVID-19? No problem, we've still got style.
Him:
Not one to be overshadowed, he stands out just as bright in these red Tom Ford shorts paired with an artfully bold shirt. Cocktails, anyone?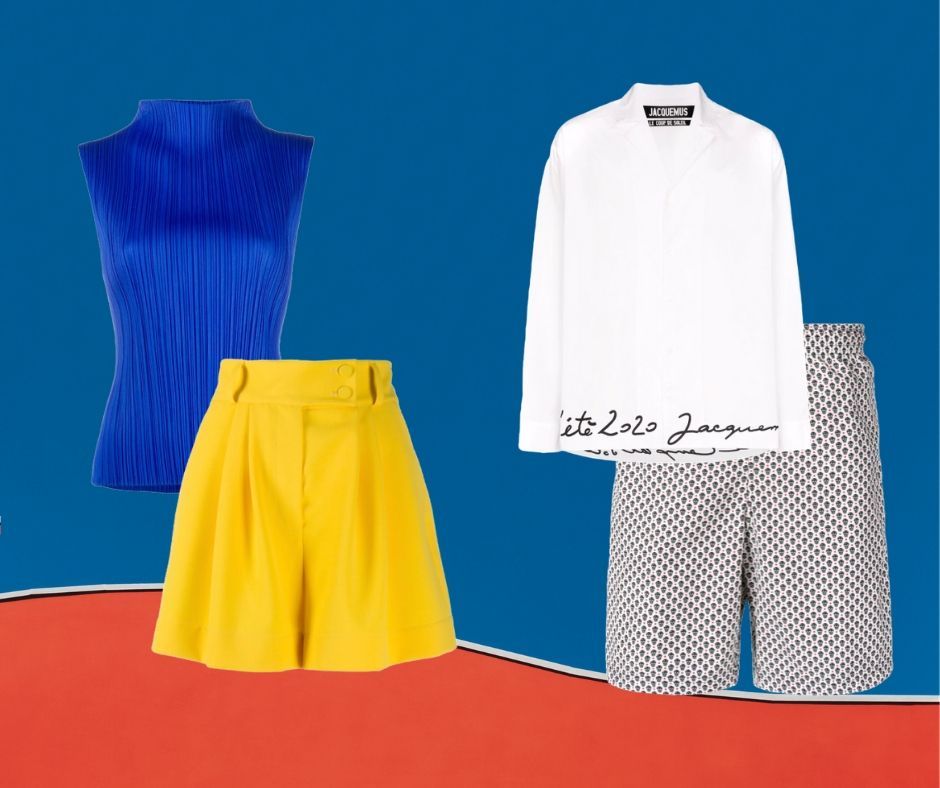 You've finished this slideshow
Shop all looks
Back to article
Dressing from the waist up: 5 cheeky style ideas for your next video call
Be honest: have you been wearing pants lately?
As we embrace the Great Indoors and are staying home to practice social distancing in the wake of the COVID-19 pandemic, there's no denying that our style has significantly changed.
Most of us are wearing a lot more loungewear. Many of us are wearing a lot less makeup. And some of us have called it quits on certain items of clothing completely. This gallery is kind of for all three types of people.
Designed for those occasions when you do have to get social and show your face on Line, Zoom, Teams, or Skype, there's an art to dressing from the waist up. After all, people can only see half of you on the screen. You could be a business discussion on the top and a not-so-much-business party on the bottom. Hey, at least you put on a shirt?
Jokingly and not really jokingly, here we've put together our cheekiest selections for half-dressing for that next big video call. Proceed at your own naked risk.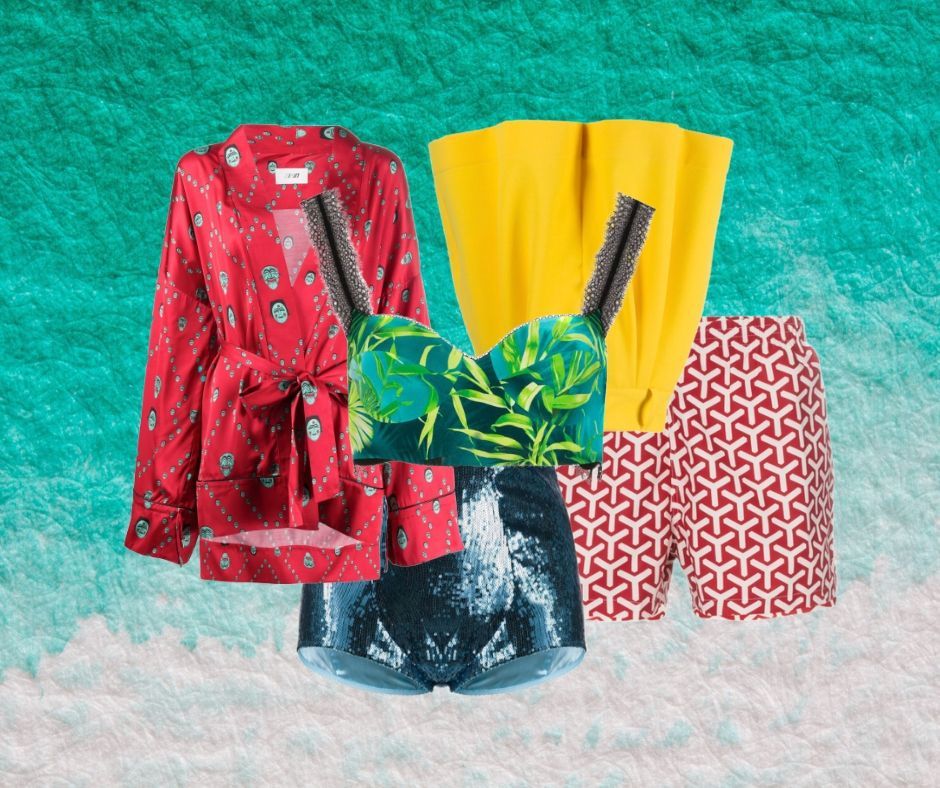 Lisa is the Creative Content Director at Lifestyle Asia Thailand. When she's not knees-deep in SEO analysis or editorial calendars, you'll likely find her in downward-facing dog at the yoga studio, or immersed in conversation at a secret bar in China town. Lisa writes mostly on dining, travel, and pop-culture, and is a huge fan of soup dumplings, Riesling, and power napping — in exactly that order.
---