When it comes to bags in fashion, one of the biggest questions surrounds whether you should invest in timeless classics or contemporary 'it' bags.
This is a story about the latter.
Owing to their unconventional silhouette and a wide range of colour schemes, French designer Simon Porte Jacquemus' Le Chiquito bags have not just become a favourite of some of the Gen-Z fashion fixtures but have also been granted approval by Hollywood's biggest tastemakers. From an army of models and celebs such as Emily Ratajkowski, the entire Kardashian clan, Hailey Baldwin, Rihanna, Lizzo, and Bella Hadid, everyone has been carrying them. Jacquemus made his Paris Fashion Week debut in 2012 and gained support from the likes of Rei Kawakubo (iconic fashion designer), Adrian Joffe (President, Comme des Garçons International and Dover Street Market International), and Karl Lagerfeld. Over the years he explored a fresh aesthetic inspired by old French cinema and the spirit of independence with an artistic undertone. His contemporary approach to the classic Gallic aesthetic was redefined by his idea of deconstruction and experiments with proportion, case in point being his micro-sized bags and his oversized straw hats. However, one of his most coveted pieces took to the runway in SS'18. The unassuming silhouette of Le Chiquito bag grabbed attention from the fashion insiders. Defined by its gold-tone hardware, round top handle, a square body with a detachable and adjustable shoulder strap, a chic foldover top, and a logo plaque, Le Chiquito bag gained instant success. In the age of Instagram, it had all the makings of a social media icon. Favoured by leading fashion influencers such as Camille Charrière, Susie Lau to Blanca Miró, the brand and the bag was all over Instagram and since then, has become an industry favourite.
Given Le Chiquito's success, Jacquemus soon launched a mini version of the same. For his Fall'19 runway show, the designer rolled out a tiny rendition of the bag, Mini Le Chiquito measuring just 5.3cm x 4.3cm x 1.5cm and needless to say, once again became an overnight success.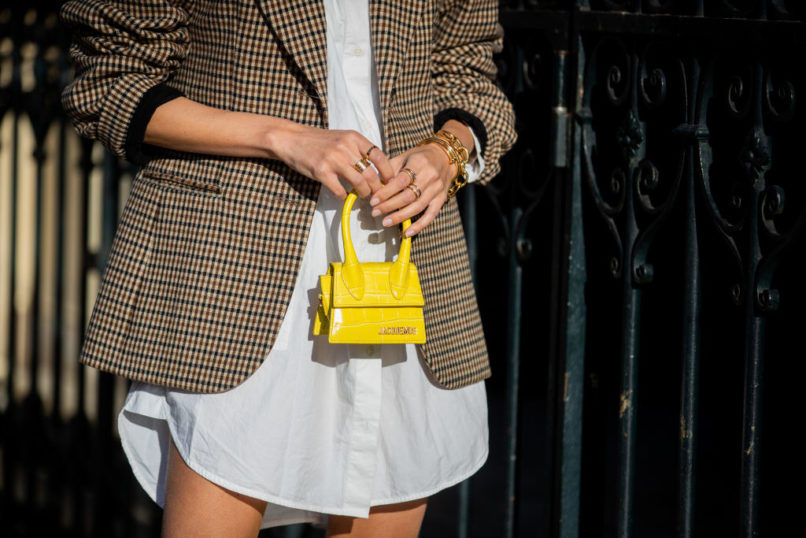 Over the past two years, Jacquemus has rolled out a couple of renditions of his Le Chiquito bag such as Le Grand Chiquito priced at $768 ( Rs 58,000 approx), the standard Le Chiquito at $510 (Rs 38,000 approx), and Le Petit Chiquito at $270 (Rs 20,000 approx). One might wonder, what makes these standard and mini-sized bags expensive. We would say, their chic appeal and a refined sense of luxury that takes inspiration from street style. Unlike other bags, the silhouette is rather simply infused by the idea of Parisian chic. Without being gaudy and loaded with hardware and pockets on the exterior, the bag has come to define what modern-day luxury can look like. Besides Le Chiquito's impeccable construction in calf leather and its portable, boxy silhouette measuring 22cm x 18cm stood out in a market cluttered with oversized handbags. The idea was to bag all essentials in one bag and give shoppers something comfortable. Besides this, Le Chiquito also gained fame due to its availability in a variety of colour schemes; think rust, canary yellows, pinks, and tones of blue. After the launch of Mini Le Chiquito, Jacquemus catapulted to global fame, thanks to his idea of small handbags. And mixed reviews from fashion critics did not stop from Jacquemus lovers from splurging in his mini luxury bags.
If you want to grab Le Chiquito, you can pick from an array of choices at Jacquemus.com, Farfetch.com, Lyst.com, and NET-A-PORTER.COM.
This article first appeared on Lifestyle Asia India on 20 May 2020.