Remember when we started wearing masks due to PM 2.5? Yeah well, the pandemic has taken the mask fashion to a whole new level.
There's no doubt that we all crib inside and feel restrictive when we have to wear a mask everywhere we go. It is surely ruining our beauty routines because who is going to see that new rose pink lip shade we just bought? Nevertheless, it's mandatory to wear face masks during this time of uncertainty, and having understood this, many designer labels have used this opportunity to turn them into an ultra-chic fashion accessory if not outright luxurious. So, what is this whole vibe really?
The face mask as fashion is nothing new
Some designers were offering their customers top-of-the-range protective masks well ahead of the global pandemic, banking on their anti-pollution virtues or more simply on a purely aesthetic aspect. An amazing thought as it is now mandatory to wear it in a large number of public places, with varying degrees of acceptance by the general public throughout the world. Off-White and Marine Serre, two of the most popular labels today, notably among generations Y and Z, are pioneers in this field.
Off-White's logo mask, which was the most popular men's item in the first and second quarter of 2020 according to recent figures provided by the Lyst platform, no longer needs any introduction, especially among the fashion crowd. One only need visit the e-shop of the label founded by Virgil Abloh to see the success of the mask, with almost all models of it simply "sold out." And yet the price of the Off-White mask is about 12 times higher than that of a classic cloth mask, bought elsewhere, i.e., 105 dollars, versus about 7 dollars. The same is true for Marine Serre's mask, initially thought to be an anti-pollution mask, flanked by the signature crescent moon pattern, offered at more than 250 euros online — which has not stopped it from also being "sold out."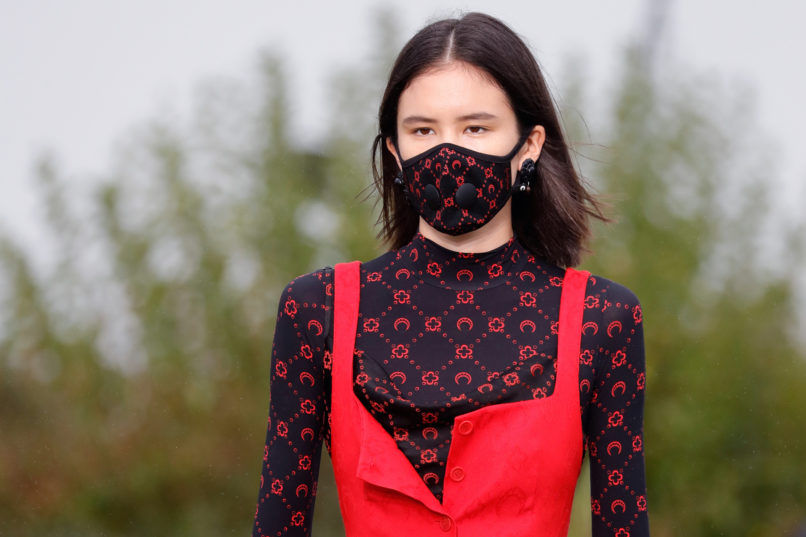 A new luxury accessory?
Combining useful with a pleasing aesthetic: this is what the biggest fashion houses are proposing by presenting ultra-trendy masks to match their new collections. Burberry has just unveiled its own collection of reusable masks, in two colours, with the iconic print found on its trench coats. The collection is available for 90 pounds/100 euros each. A piece that comes at a pricy cost, part of which will go to support the most vulnerable communities affected by the global pandemic.
While few major houses have so far launched masks featuring their colours, prints or signature logos — at least for sale — there is no doubt that these new luxury accessories should multiply in the coming months.
A mask priced at over a million
If you think the protective masks of luxury designers and houses are expensive, hang on to your seat — or whatever you can touch — before you discover the price of the most expensive mask in the world (for now): $1.5 million. Designed by Israel-based jewellery house Yvel, and more specifically by Orna and Isaac Levy, it consists of 250 grams of 18 karat pure gold set with 3,608 diamonds for a total weight of approximately 210 carats. Ordered by a billionaire customer, the mask is not simply decorative but maintains its primary function: to protect against coronavirus by guaranteeing "the highest level of filtration (N-99)", as the company states on its website.
This article is published via AFP Relaxnews.