From Saint Laurent to Moschino, designer brands worldwide are getting ready to welcome the Lunar New Year, with a series of stylish limited-edition collections.
Chinese New Year is just around the corner, and luxury fashion brands worldwide have gotten the memo, revealing this year's line-up of vivid colours and exciting new designs to celebrate the occasion. With the tiger as the Chinese zodiac sign for 2022, expect to see tiger prints all around, along with vibrant prints evoking the strength behind the fiery and fierce animal. We've rounded up the best of this year's limited-edition Chinese New Year collections, to help you celebrate the occasion in style.
[Featured image credit: Dolce & Gabbana; Hero image credit: Salvatore Ferragamo]
Balenciaga
Balenciaga's Year of the Tiger series puts family at the forefront, with a launch campaign that was all about the joys of spending time with loved ones at home. The tiger sign, of course, plays a big role in this collection. Twisted dresses come in tiger-striped orange or taupe, while a new sport-inspired Balenciaga logo is complemented by a flashy big cat silhouette, splashed across hoodies, T-shirts, backpacks and caps. Hourglass, Gossip, and Le Cagole bags come tiger-striped, in orange, or both, while the classic Master boots are accentuated by orange laces that are so daringly bright, we cannot help but love. The ever-popular Mallorca sandals come in faux tiger fur, and you can even get baby tiger Happy Charms on various jewellery styles.
Discover more at Balenciaga.
Disaya
This Lunar New Year, Disaya unveils an utterly dreamy collection of five items inspired from the Cheongsam. Chinese-style collars and buttons are given a modern twist — paired with the brand's feminine silhouette, and finally topped off with lace and special weaving techniques for a truly whimsical experience. Perfect for ladies who revel in their femininity, each design features 3D peonies, coming in a pastel palette of white, pink, and green. Three looks represent different personas, going from a short dress paired with lace shorts, to a sleeveless lace shirt and matching long lace pants, and finally, a charming white lace dress, complete with doll sleeves.
Discover more at Disaya.
Saint Laurent
Saint Laurent's limited edition for the Lunar New Year features the wildness of the zodiac sign with lively tiger prints on the Cardigan in Tiger Jacquard and their Teddy Derbies. For the darker colours, see their black Classic Hoodie with Printed Panther Tiger which stars a cheeky cartoon character at the back. For ready-to-wear accessories, the Baby Niki Chain Bag and Manhattan Small Shoulder Bag are also available for those who prefer a more casual and neutral interpretation of the theme.
Discover more at Saint Laurent.
Dior
Inspired by the water tiger, Dior Homme's Kim Jones together with American artist Kenny Scharf take the Dior men's collection for this Lunar New Year to a more serene side. Prime examples include the Kenny Scharf Bermuda shorts, cardigan, shirt, t-shirt and sweater, dominated by white and blue colour. More traditional, on the other hand, the Kenny Scharf jacket and sweatshirt still inherit the prominent red, more classic to the Lunar New Year.
Discover more at Dior.
Gucci
Gucci joined the Lion's Share Fund in 2020, and its effort to protect endangered wildlife started officially since last year. In honour of their loving bond with the felines, the collection dedicated to the Year of Tiger is vast and abundant, from the Gucci Tiger Jacquard Cardigan to the Gucci Tiger Interlocking G T-shirt, and from the Gucci-pattern Gucci Tiger GG Medium Tote Bag to the Gucci Tiger GG Modal Shawl.
Discover more at Gucci.
Bottega Veneta
Bottega Veneta opens the Chinese New Year 2022 campaign with a flamboyant orange collection. Starring in the campaign are two top Asian models, He Cong and Wang Chenming. Although some items are not available in Thailand just yet, you can check out the women's ready-to-wear pieces and Shearling Mini Jodie handbag now in select stores in Bangkok.
Discover more at Bottega Veneta.
Prada
Prada's take on Lunar New Year fashion is a little different. By launching their Action in the Year of the Tiger campaign, Prada hopes to raise awareness towards the threatened big cat species. The activist campaign features Li Yifeng and Chun Xia, an actor and actress from China, in a photo series produced in partnership with Liu Song. In addition to fashion campaign, Prada has also initiated an art project inviting art schools students to create artworks with their own interpretation of the tiger. The selected pieces will be used in other campaigns to come in 2022.
Discover more at Prada.
Alexander McQueen
Alexander McQueen has long been known for its outlandish designs and unconventional shows, never failing to wow its audience. This year, Alexander McQueen's Chinese New Year collection is characterised primarily by scarlet red and metallic tones. These are best evidenced in the two highlight pieces: the Curve Mini Bags and the Oversized Sneaker. Both goods are available in leather or embellished all over with crystals. For those looking for something less contemporary, there's also a quilted metallic leather purse, credit card holder, and leather coin purse that complete the capsule.
Discover more at Alexander McQueen.
Dolce & Gabbana
The tiger is celebrated exclusively in this Lunar New Year collection by Dolce & Gabbana. The collection presents a wild combination of vivid colours, tiger prints, and, of course, a unique D&G animalistic print. Fine examples of craftsmanship or Fatto a Mano, the Dolce & Gabbana Lunar New Year collection is available for men, women and kids.
Discover more at Dolce & Gabbana.
Salvatore Ferragamo
In order to celebrate the Year of the Tiger, Ferragamo has launched a digital campaign that paints a magical spring season using surreal cinematography. The 'Tiger in Wonderland' campaign sees Sun Yuan and Peng Yu, two Chinese artists, creating a print design that appears on the highlights of this collection – the Silk Foulard and Ferragamo Studio Bag. Other noteworthy items include an imaginative Trifolio handbag, Chelsea boots, and Gancini sneakers.
Discover more at Ferragamo website.
Miu Miu
In this celebration of the new year to come, Miu Miu's campaign story unveils a meeting of minds, bringing together two distinct personalities and styles to cross paths for the Chinese New Year. As the connection grows, the physical manifestation develops into the pastel Miu Wander bag, a retro varsity cardigan, and golden hair clips as the highlights.
Discover more at Miu Miu.
Off-White
The Lunar New Year capsule from Off-White is inspired by the bliss of weekend vacation featuring a jubilant water tiger. The star of this collection is the Burrow Bag in bright red, Off-White's classic shoulder bag made special with the words "Special Edition © 2022" embossed at the front. There is also a small tiger charm at the side. Other highlights include a cotton shirt designed by Virgil Abloh, a checkered foulard, and a red bracelet with the tiger charm. Finally, touching on the weekend vacation theme, an orange U-shaped pillow and a sleep mask imprinted with "FOR TRAVEL" conclude the collection.
Discover more at Line Official @offwhitebangkok.
Versace
Versace presents new styles as well as reimagined favourites incorporating the spiritual tiger in their Lunar New Year Capsule Collection. The tiger appears across soft jersey sweats and t-shirts and as an embroidery detail on jackets and knit sweaters. For those who are fans of Versace's signature La Greca print, you'll love the red variation played out in the short-sleeve dresses, sweaters, skirts, men's coated canvas backpack, and pouch.
Discover more at Versace.
Tory Burch
Celebrate the Lunar New Year with red and brown items from Tory Burch's Holiday/Resort 2022 collection. The limited edition features Tanya the Tiger, T Monogram and the iconic Double T logo on various pieces. The examples are crafted Tiger Jacquard Sweater, Tiger Patch Cashmere Cardigan, T Monogram Jacquard Embroidered Shoulder Bag, Roxanne Chain Bracelet and Stud Earring Set amongst others. On top of that, Ang Bao set will also be gifted as a present for customers spending pass the store's minimum.
Discover more at Line Official @toryburchthailand
Kenzo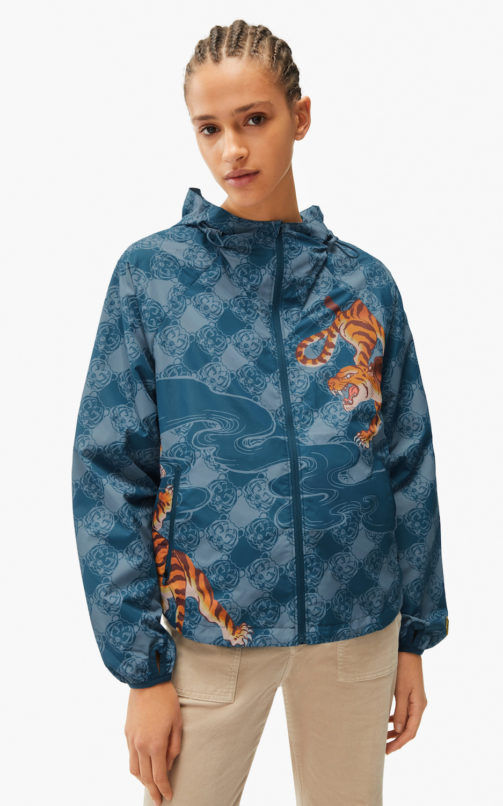 This year's zodiac animal is the tiger — Kenzo's signature animal. Celebrating the power and strength behind the sign, Kenzo reveals a limited capsule collection featuring a new, vibrant print where a tiger leaps forwards, ready to seize the day with its claws. For the very first time, this print — symbolizing authority, bravery, and protection — is given a streetwear edge, appearing across line of unisex ready-to-wear pieces and accessories. These range from sweatshirts, to jeans, a cropped bomber jacket, jumpers, and jogger sets, forming a line-up that's all about comfort, versatility, and adventures on-the-go. A golden Tiger Crest can be found on bucket hats, while a 3D version is embossed across Kenzo smartphone cases. Palette-wise, the Kenzo Chinese New Year capsule is available in a range of popping, prosperous colours — cue medium reds to golden yellow — as well as more classic hues including peacock and navy blue.
Discover more at Kenzo.
Moschino
True to its fun, free-spirited identity, Moschino celebrates the Lunar New Year with a 16-piece capsule collection featuring Tony the Tiger — that's right, the beloved cartoon mascot for Kellogg's breakfast cereal. In a daringly playful move, the childhood icon is seen donning Moschino's iconic logo gold chain and peace sign pendant, printed across both oversized and fitted tees. Other designs in the collection put spontaneity and comfort at the forefront, and go from hoodie sweat-pant sets, to hooded dresses, sweatshirt-athletic short sets, and our personal favourite — a statement-making tiger stripe denim jacket, shorts, and jeans.
Discover more at Moschino.
H&M
Celebrating the occasion with a chic, contemporary twist, H&M's Chinese New Year Collection is all about mixing-and-matching, with a colour palette that's dominated by bold splashes of prosperous red. On the womenswear front, classic pieces are spiced up with fun prints, from coloured tiger stripes, to hand-drawn patterns and playful cartoon graphics. Pieces pay ode to the hope and energy of the coming Lunar Year, while accessories range from a beret, to beanies and bag accessories — reminding women to be bold, brave, and unabashedly themselves. For menswear, H&M combines vintage aesthetic styles with streetwear, opting for a palette that includes red, denim, dark green and orange, accentuated by splashes of bright yellow and striking prints. Pieces range from everyday essentials, to statement jackets and printed shirts. There's even a line-up of kidswear pieces, including a cardigan and white shirt with Cheongsam buckle details, and tiger-striped jackets.
Discover more at H&M.
Pomelo
This Lunar New Year, Pomelo's collection is all about upholding tradition with a modern twist. The Cheongsam-inspired dresses ring with feminine florals, while auspicious hues and prints are splashed across bold silhouettes. A midi dress comes with Chinese collar details, and the blouses sport puffed sleeves for the perfect Lunar New Year statement look.
Discover more at Pomelo.
This story first appeared on Prestige Online Thailand.