Chloé + Corita Kent Large Leather-trimmed Printed Canvas Tote
Featuring Sister Mary Corita Kent's 'Hope' piece from 1965, this Chloé tote pays homage to the 'Pop Art nun' by using a fun graphic design on canvas. Extremely durable and accompanied by topstitched leather straps, we like the rustic-meets-playful flair of this number. It can carry a large load too, which makes it ideal for food shopping.
Pair with: A linen or cotton dress, maybe a straw hat?
Shopping list: Greek yogurt (no sugar) and some fun granola, also a daily newspaper
[Image Credit: Net-a-Porter]
Gucci Monte Carlo Leather-trimmed Embroidered Macramé Tote
Inspired by everybody's undying desire for travel, Gucci's 'Resort Tote' collection is influenced by various vibrant destinations around the globe. The 'Monte Carlo' style comes embroidered with the 'GG' logo, and is trimmed with white leather. We love that it could be a beach bag as much as it could be our trusted farmer's market companion.
Pair with: Muted tones as pictured, or go all out with bright summer colours
Shopping list: Whatever fruit is currently in season
[Image Credit: Net-a-Porter]
Tom Ford T Screw Shopper Medium Leather-trimmed Canvas Tote
A bit more along a classic tangent, Tom Ford's T Screw shopper comes in a cream cotton-canvas that has the designer's label stamped at the front. The brown leather top handles and the gold-tone embellishments give this tote a warm feel. There are also adjustable shoulder straps for heavier shopping days.
Pair with: Statement sunglasses
Shopping list: Fresh French bread, maybe some cheese and charcuterie too
[Image Credit: Net-a-Porter]
Marni Leather-trimmed Printed Coated-PVC Tote
Who said you can't carry a PVC tote to go shopping? Not us. We're obsessed with this mustard PVC bag by Marni, featuring the classic shopper silhouette and contrasting leather top handles. There's also a removable embossed key tag for extra cool points, though if you're the type to carry this, you probably don't need even more points.
Pair with: Why not go all the way and pair with PVC clothing?
Shopping list: Art supplies for your new hobbies
[Image Credit: Net-a-Porter]
Isabel Marant Woom Printed Nylon Tote
We wanted to feature something that was still reminiscent of the everyday tote bags everyone is familiar with. Enter Isabel Marant's nylon tote. Featuring a neon sign-style rendition of the label's logo, this lightweight shopping bag is perfect for those days when you want to go for a walk pre- or post-shopping. It also fits into your daytime clutch, for impromptu shopping days.
Pair with: Ugly sandals, as pictured
Shopping list: Different types of pasta and some herbs (nothing too heavy)
[Image Credit: Net-a-Porter]
Anya Hindmarch + Net Sustain I Am A Plastic Bag Large Leather-trimmed Printed Coated-Canvas Tote
Don't let the text scare you. Whilst this is a plastic bag, it's kind of a revolutionary one. Anya Hindmarch designed this bag using 32 half-litre bottles found in landfills. A great one for those who want to be extra eco-friendly, and preach reuse and up-cycling. We love the bright orange colour especially, as well as the spacious inside.
Pair with: An all-white outfit, and let the bag do the talking
Shopping list: Plant-based meat substitutes
[Image Credit: Net-a-Porter]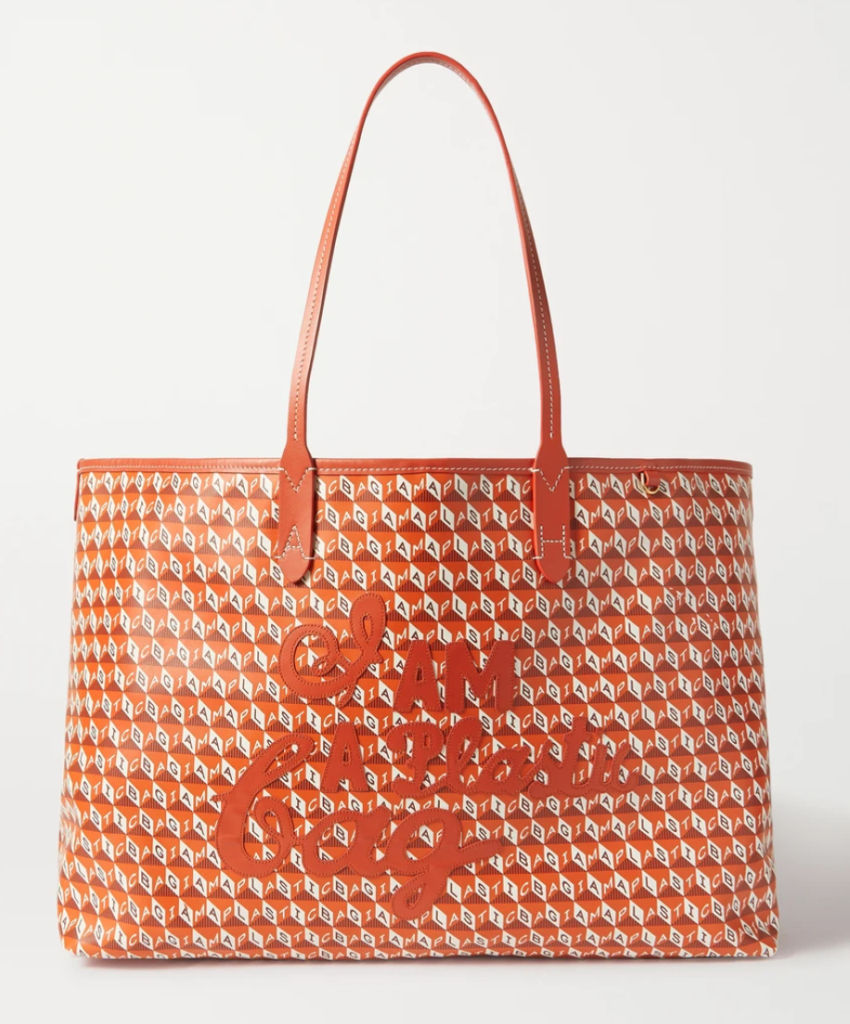 Anya Hindmarch + Net Sustain I Am A Plastic Bag Large Leather-trimmed Printed Coated-Canvas Tote
Approx. THB 28,083
Shop now
Isabel Marant Warden Striped Canvas Tote
Another tote that can take you from beach to grocery store, Isabel Marant's Warden bag is made from lightweight canvas and is printed with vivid stripes. There's a special interior pouch with a zip, too, so whilst all your groceries can take up as much space as they need, your essentials are still easily reachable. We imagine ourselves doing the groceries for our holiday house in Cha Am for this one.
Pair with: Cool denim
Shopping list: Some bath salts and oils for your evening pampering
[Image Credit: Net-a-Porter]
Loewe + Paula's Ibiza Slit Leather-trimmed Fringed Raffia Tote
Ending our list with some drama, it's hard not to love anything from the Loewe and Paula's Ibiza collab. The Slit tote is no exception. Made using woven natural raffia, we like the wild fringing and the exotic aura this bag gives off. There's also a shoulder strap, but we kind love the extravagance of carrying it in hand.
Pair with: Anything at all, everyone will just stare at your bag anyway
Shopping list: Something gluten-free
[Image Credit: Net-a-Porter]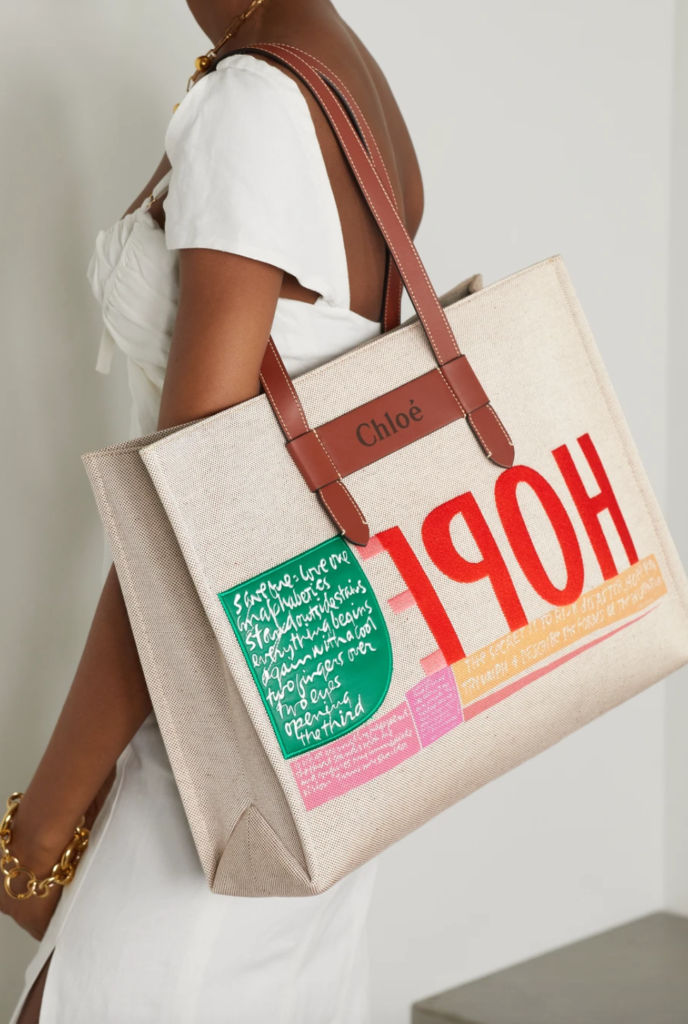 You've finished this slideshow
Shop all looks
Back to article
8 designer shopping bags so you can be elegant and eco-friendly at the supermarket
8 designer shopping bags so you can be elegant and eco-friendly at the supermarket
Plastic bags for groceries are not cute, but designer shopping bags can be.
As we're all putting in more effort to be kinder to the environment, a reusable shopping bag has become an essential item to have in your home. Yet there's no law that states your shopping bag needs to be boring.
Lightweight, durable, and extra spacious, here we've rounded up our favourite designer shopping bags to carry this season. Whether you prefer canvas or nylon, hand grip or shoulder strap, there's a little something for every taste.
Granted, these aren't suited to carry an entire week's worth of groceries, but consider them for everyday essentials. You get the gist. Shop on.
[Featured Image Credit: Gucci; Hero Image Credit: Anya Hindmarch] Fashion Style Bags Affiliate Hidden Lisa Gries
Creative Content Director, Bangkok
Lisa is the Creative Content Director at Lifestyle Asia Thailand. When she's not knees-deep in SEO analysis or editorial calendars, you'll likely find her in downward-facing dog at the yoga studio, or immersed in conversation at a secret bar in China town. Lisa writes mostly on dining, travel, and pop-culture, and is a huge fan of soup dumplings, Riesling, and power napping — in exactly that order.
---