2020, what a year.
Each month this 2020, we will be celebrating a particular theme; be it private jet etiquette in the summer, or how to adequately pair chocolate and champagne during the festive season. For September, we're sticking to a theme that is pretty conventional for September in the publishing world, but we're adding a twist to it. We want you to get undressed this month. It's fashion month. 
Our "Fashion Fever" theme felt predictable when we set it for Month 9 at the beginning of the year, but now it has an even deeper ring to it given the global health crisis. The fashion world has changed for the foreseeable future, what with digital (or phygital) fashion shows becoming a norm, overseas production becoming a greater issue, and trends suddenly finding new and unexpected forms. 
[Hero Image Credit: Morning Brew/Unsplash; Featured Image Credit: Steve Barker/Unsplash]
For our September theme, we want to touch on all these aspects. You'll find buzzwords like 'homegrown brands' and 'sustainable shopping' around here, as we ask questions and explore all things pertaining to fashion during these feverish times. You'll find the usual fashion week coverage, as well as articles drawing on the effect of the COVID-19 pandemic on this event. How do you dress during a pandemic? Is athleisure the future? How do we feel about online runways? And what is all this going to evolve into? 
Fashion Fever: find all our stories and updates linked below.
While many have questioned its frenetic rhythm and wasteful over-production for years, few big-name insiders dared openly to question the hamster wheel of spring/summer, autumn/winter, cruise and pre-fall shows, as well as the now mandatory capsule collections.
The first cracks in the facade began to appear last month, when Saint Laurent designer Anthony Vaccarello said he was pulling out of Paris fashion week this year. Henceforth "the brand will lead its own rhythm… and take control of its pace and reshape its schedule," he declared.
Often merely recycled from glasses or sunglass chains, we're really loving the rising mask chain trend of the minute. Here, we've put together a few spots where you can easily order them online. If you're one for trends and always want to be ahead of them, here's your calling. See you (safely and securely) out there.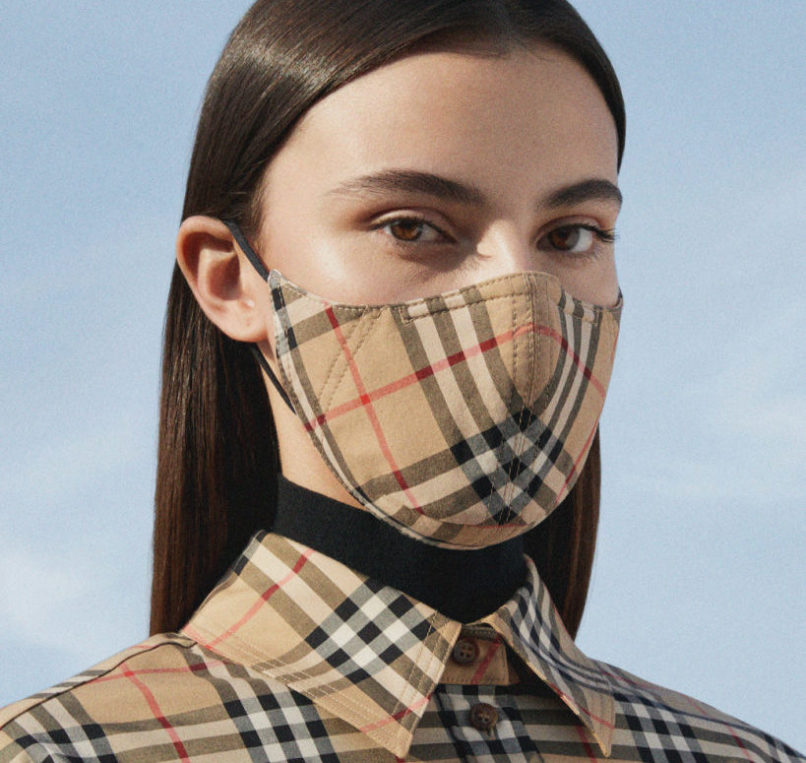 Burberry is now the latest brand to jump on the bandwagon of selling designer masks, this year's most ubiquitous accessory. And they're as Burberry as it gets: the new face masks feature the British brand's famous Vintage check, which has graced everything from handbags to Beyoncé's bodysuit, in the neutral hues of beige and pale blue.
stains, streaks, foundation and lipstick-stained face masks are just some of the issues coming to light when a full face of makeup meets a sheath over half your face in a hot and humid climate. Every problem needs an expert solution, so for the big question of "how to wear makeup with a face mask on", we've asked Singaporean makeup artist, Tinoq Goh, for his two cents. Read on for his tips.
Given that we live in one of the most tropical countries, we can't escape the sweat and heat. And fearing that your makeup can leave a stain on your mask is a real thing. Whilst wearing a face mask is essential right, there are certain downfalls of having to wear one round-the-clock. Yes, your foundation easily gets trapped onto your face mask, and then it looks ugly unless the foundation is transfer-proof. We've rounded up 6 best transfer-proof foundations you can get in Bangkok to glam up and keep that stain away from your face mask.
The Gen-Z German new school luxury brand knows how to connect the dots between fashion and technology, this time by tying them to the concept of traveling — and it's quite a visual treat for us. Travel is surely the keyword for this new collection and propelling the brand forward, the new MCM AW20 collection entitled 'Hypertechnoreality' challenges the kind of adventurer you are or could be in this fashion world. 
The Italian Fashion house Valentino decided to give Paris a break and instead present its new spring and summer collection in Milan given the coronavirus pandemic situation. For years a regular at the Paris Fashion Week, the designer brand cited the "unprecedented times" brought about by the coronavirus pandemic for the change of venue.
What may have looked like the perfect addition to your wardrobe at the beginning of the year, may no longer have the same appeal. Between mask wearing and changing behaviors, some pieces seem obsolete before they even reach the shelves of the biggest retailers. This is notably the case of the statement jewelry and the balaclava, which the mask will totally eclipse.

Whilst many of us have been whining about how wearing a mask has disrupted out beauty routines, it's hard to deny that staying home has also pushed our sophisticated clothing back to our wardrobes. Did you just buy a new elegant pair of stilettos that you were hoping to rock this season? It seems like pantsuits, ties, and stilettos have become the first victims of this undesirable revolution, meanwhile, athleisure is making a major comeback.
The shield can be adjusted to be worn as a visor, and it comes with a transition lens technology that turns the plastic clear or dark, depending on the sunlight. (It'll come in handy for beach days when this pandemic is over.) The whole thing is held together by golden studs engraved with the Louis Vuitton logo.
Long our favourite kind of earring, this has given the statement earring in 2020 a new definition. They're simultaneously minimalist (think, cuffs, climbers, and crawlers) and bold (think, studded cuffs, odd shapes, and mismatched pairings). They look like they don't sit entirely right or comfortably, but somehow they make it work. In many ways, they're a metaphor for how we feel in this wicked-and-wild year.
While brands are not yet proposing 12-cm stilettos to gentlemen — though that said, why aren't they? — there are numerous designers who are creating masculine versions of models originally designed for their female clients. Ballet slippers are a notable example and have been for a few months a key accessory for some stylish men, who seem to appreciate the comfort and timeless look they offer.