Before we begin: we assume you already own a snazzy AirPods case. This is not a story about snazzy AirPods cases or chains. This is a story about AirPod earrings, which could possibly be the most beautiful and millennial marriage between jewellery and technology.
As Bangkok falls into yet another lockdown and even more strict restrictions, working from home is starting to feel less like a cutesy marvel and more like a monotonous movie with no end. Yes, we've tried different backgrounds and filters on our video calls. Yes, we've flashed everybody because we forgot to wear pants. Yes, we know when to unmute and mute ourselves so nobody knows we're actually compulsive snackers.
Working from home — and we can't believe we're already saying this — is starting to get really old.
Beyond investing in new home office wallpaper and ordering pet-friendly plants on Instagram, imagine our surprise, then, when we spotted AirPod earrings on a night of fashion stalking online.
[Hero and Featured Image Credit: Misho Designs]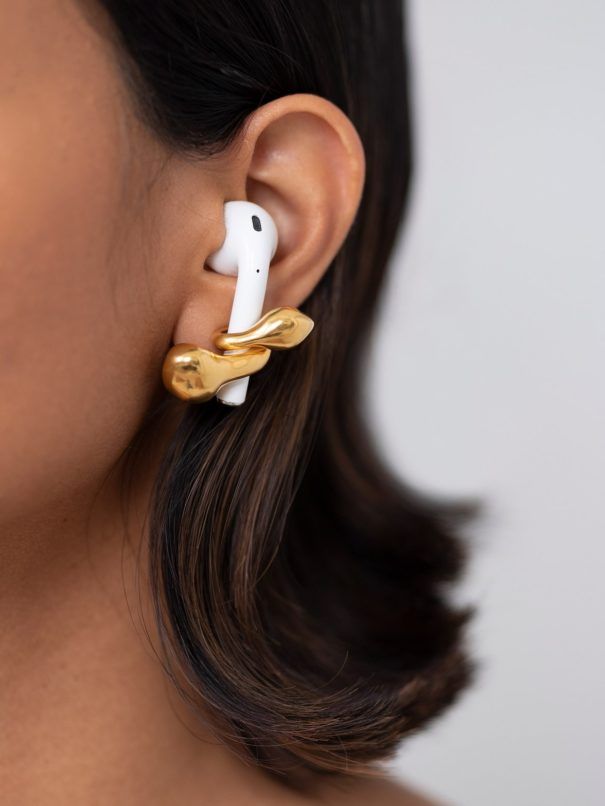 Delivering both fashion and function, AirPod earrings are a quiet rising trend for those who want to personalise their AirPods but also keep them neatly tucked in place. We first saw them in European style vlogs, and we have a feeling they could soon translate to the local scene. Even if only to spice up our regular Zoom calls.
A hop and skip away from regular ear cuffs, AirPod or earphone earrings are designed to help your headphones sit in place, safely securing them with a regular earring fastener (a butterfly, some call it a butterfly). It's a clever, almost sneaky accessory, which happens to facilitate a lot of our human connections at this time — even if those connections are largely with our boss.
Here, we've put together a list of online stores where you can purchase these little wonders. Interestingly, Louis Vuitton already makes a luxuriously dangling pair, and we have a feeling other brands could soon follow suit. We couldn't quite find a local Thai brand that makes them just yet, but maybe we'll pitch it on our next con call. What do you think?
Jump To / Table of Contents