Dolce & Gabbana Leverback Earrings
Dolce & Gabbana has long romanced us with its Mediterranean charm, and these leverback earrings (approx. THB 89,977) continue in the same southern European fairytale flair. The 18k gold accessories are composed of five coral elements, flowing from a clover of round cabochon-cut corals into a rose, two beads, and another smaller rose. A beautiful addition to any dress, and very much suited to any sweet dinner dates or spring soirees this year.
Oscar de la Renta Coral Short Tassel Earrings
Pantone describes living coral as a fun-loving hue, and if there's a pair of living coral earrings that really know how to party in style, it's these Oscar de la Renta Coral Short Tassel Earrings (THB 11,912). Made with glass beads, the shorter version of Oscar de la Renta's iconic statement earrings, glimmer and glow and delicately sway to the movements of its wearer. A stunning way to glam up your look for cocktails on the beach or lunching on a yacht.
Gucci Anger Forest Beaded Necklace in Silver
For those who love a striking spritz of colour in their jewellery, this Gucci Anger Forest Beaded Necklace in Silver (approx. THB 29,778) is an ideal fit. Inspired by Gucci's mystical Spring Summer 2018 collection vibe, the chain necklace comes with tinted red coral beads in different sizes, separated by metal feline heads. Cut-throat and a little bit punk rock, who said living coral couldn't be kind of hardcore?
Haus of Jewelry K Ing Yolwaree Coral Earring
Thai jewellery brand Haus of Jewelry truly takes to the seas with these K Ing Yolwaree Coral Earrings (THB 11,200). Made using genuine red coral and fresh water pearls, the shape of the delicate earrings sweetly mimic the form of real coral. A perfect addition to any resort wear look, or as casual wear back in the city, as you daydream of the beach.
Chanel Brooch
Is there anything more elegant than a Chanel pearl brooch? The French fashion powerhouse weaves Pantone's Colour of the Year into its design using calfskin, interwoven between glass pearls and strass in a chic brooch (approx. THB 17,610). Sophisticated yet playful with its lively pop of colour, here's a jewellery box must-have that beautifully manages to look both classic and contemporary.
Pomellato Ring Rouge Passion
Pomellato's Rouge Passion collection was designed to embody love and passion through warm hues and seductive and curvaceous structures. And indeed, the trio of synthetic orange sapphire and synthetic ruby cabochons in this ring (approx. THB 73,640) provide much to fall head over heels for. Boasting the living coral colour in its darker and lighter shades, the powerfully feminine ring makes for a romantic yet strong style statement.
Cartier High Jewellery Bracelet
For those looking to enter any room and truly make a captivating coral entrance, this Cartier High Jewellery Bracelet (price on request) is your go-to. The 18k white gold bracelet features coral and diamonds creatively set in eye-catching geometric forms, drawing any and all attention directly to the striking wrist cuff. Part of the Cartier Royal Collection, the bracelet is inspired by natural beauty, and designed to represent rigour, curiosity, and passion.
Pomelo Blossom Drop Earrings
Living coral florals? For Spring? Groundbreaking. Shimmery and feminine, Thailand's very own Pomelo Fashion embraces living coral with these mixed metal drop earrings (THB 390) in a fun and easy-to-wear accessory. A light way to wear Pantone's 2019 colour in a form that is not too overwhelming, pair with other pastel hues for a graceful and dreamy look.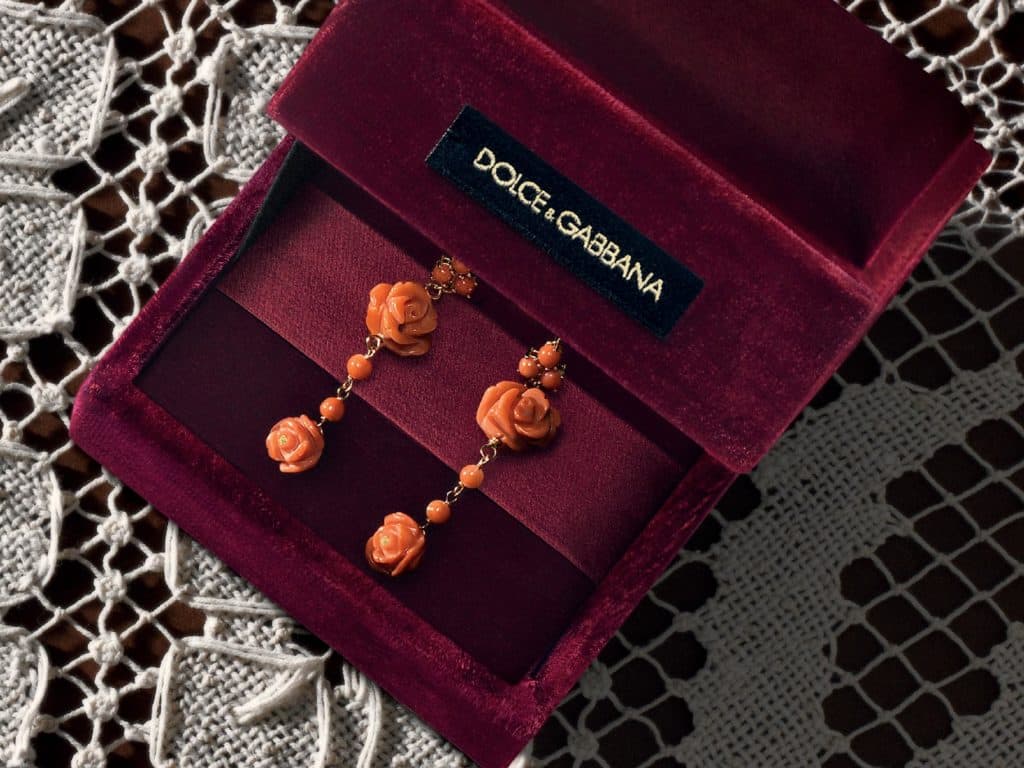 You've finished this slideshow
Shop all looks
Back to article
How to rock Pantone's Colour of the Year with living coral jewellery
If there is one colour every fashionista about town needs to be sporting and strutting this year, it is this one: living coral. Hot off Pantone's announcement that the pinkish peach orange shade has been crowned the Colour of the Year 2019, the warm and joyful hue has been slowly and sneakily cropping up everywhere from interior design to fashion hot lists. Described as a playful and energising colour, we've put together six different ways you can rock living coral jewellery and always step out with high sartorial style points this year.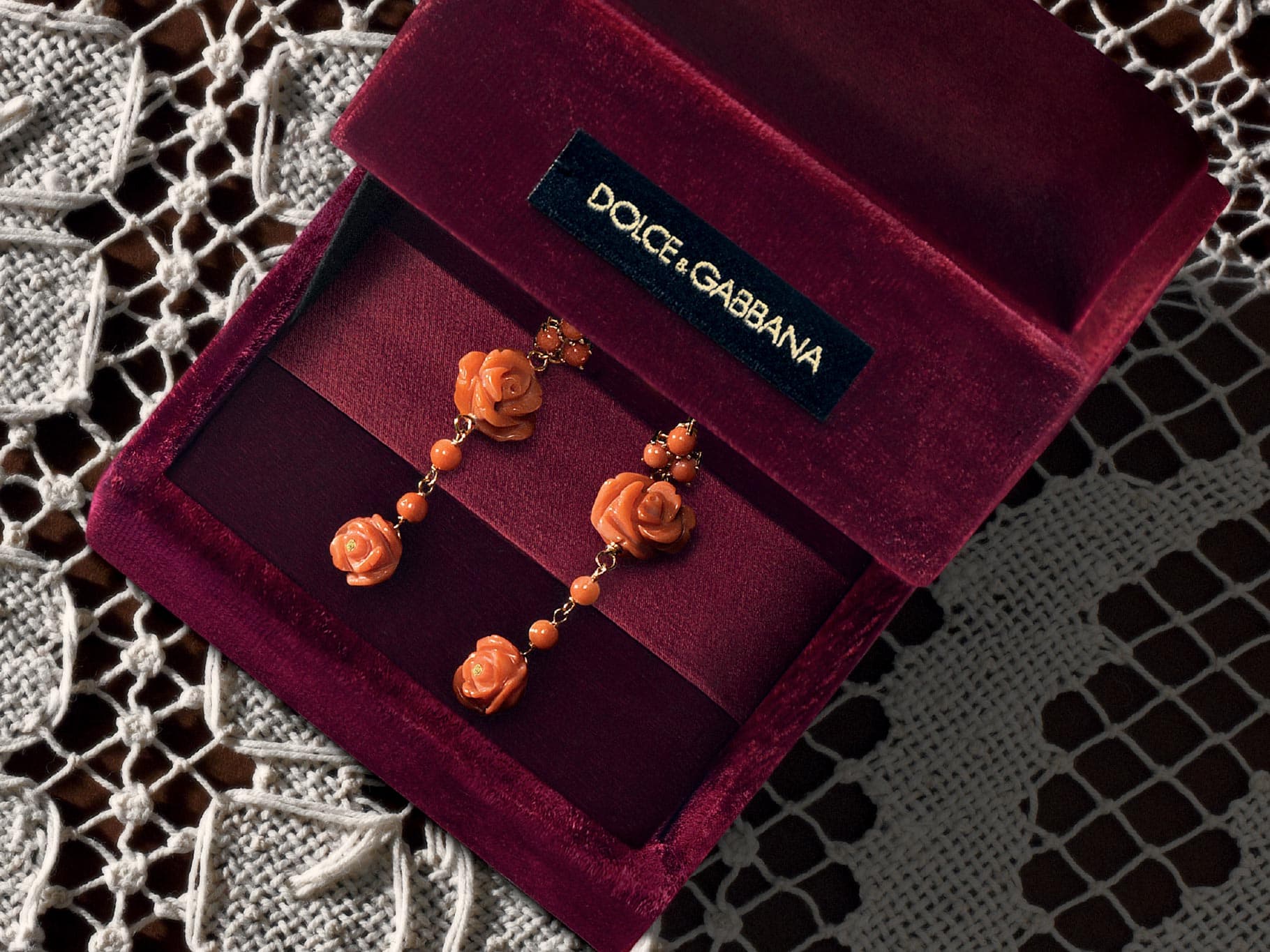 Jewellery Chanel Dolce & Gabbana Gucci Pomellato Oscar de la Renta Cartier Fine Jewellery Pantone Pomelo Fashion Haus of Jewelry Living Coral pantone colour of the year 2019
Lisa Gries
Creative Content Director, Bangkok
Lisa loves to travel, and is always on the lookout for the world's best nap spots. She's a serious Asian art history nerd, and has a knack for languages and coffee table books. She hopes to publish her own novels one day, one of which will likely be called 'All The Great Conversations I Had In A Bangkok Speakeasy.' It's a work in progress.