Although the saying goes "no man is an island", we here at Lifestyle Asia firmly believe that all should at least spend some amount of time every year on one. Escape the hustle and bustle of inner-city vibes; recharge; recalibrate and surround yourself in oxygen-rich lush greenery and nothing but turquoise waters and azure horizons for as far as the eye can see. More importantly, fill your Instagram feed with gorgeous and heart-worthy photos that will not only make others green with envy but add to the legacy of your time here on planet earth. Because, if you weren't living it up on a private island, were you really ever living at all?
Owning your own private island is of course one of life's most liberating luxuries yet it is, nonetheless, not necessary, as there are so many out there you can visit around the world without the burdens of "island-housekeeping". Simply put, if you can't run a household, perhaps it's best to skip on running an island, unless you're a good delegator. We've curated a special list of private islands relatively nearby – well, in Southeast Asia – that we adore. These ones will be sure to not only bless your feed with gorgeous photos and stories but also fill your life with once-in-a-lifetime memories that you will forever cherish. Here's to private island hopping!
Hero image: courtesy of Song Saa, Cambodia
#1: Koh Rang Noi, Thailand The closest of our private islands – if you're living in Thailand, that is ­– would have to be Phuket's very own small luxury private island, Koh Rang Noi, which is Thai for for small island nest. Far enough away from civilisation without being too remote, this island is especially ideal for yacht lovers being located some six kilometres from Phuket's renowned Royal Phuket Marina. The tropical paradise showcases the very best of what Thailand is known for: gorgeous ocean vistas, exotic marine and wildlife and delightful Thai and international cusine.
For whole island, prices range from approx. THB 1.3M to THB 2M daily. For more information, please visit www.luxuryretreats.com.
#2: Bawah Island, Indonesia Why go to Bali when you can go to Bawah? Located some 300km northeast of Singapore in Indonesia's remote Anambas Archipelago, Bawah Reserve – comprised of six islands, three lagoons and 13 beaches – rests in carefree seclusion in the midst of lush tropical greenery and crystal-clear ocean waters. With blue lagoons and coral reefs all around, the untouched and previously uninhabited marine conservation area is perfect for paradise seekers. This is a car-free island so everything can be accessed by foot or with a pair of flippers.
Suites prices range from approx. THB 58,000 up to THB 74,000 daily. For more information, please visit www.bawahreserve.com.
#3: Song Saa, Cambodia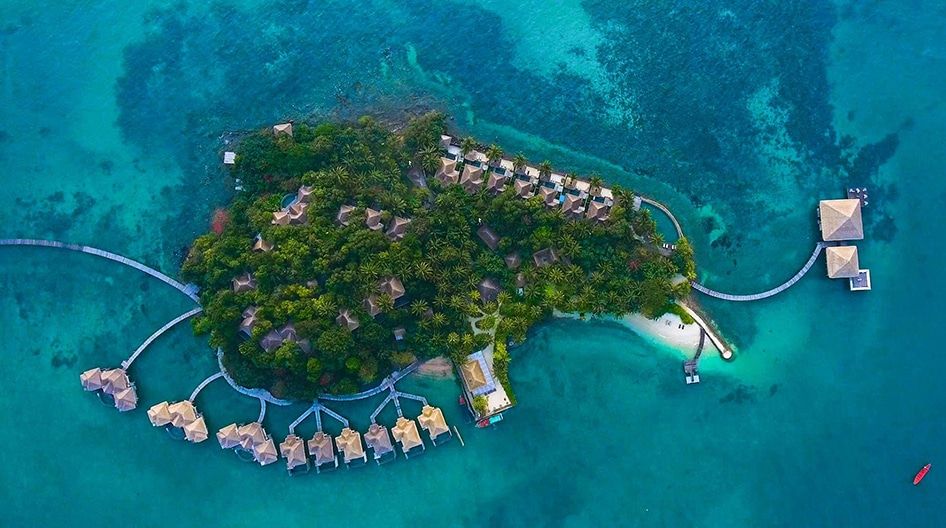 Based in the Koh Rong Archipelago of Cambodia, Song Saa Private Island opened in March 2012 as the country's first ethical coastal luxury resort. Surrounded by substantial azure-ocean panoramas accessible only by Song Saa's private boat – with champagne in hand of course – from Sihanoukville pier in Sihanoukville – the private island features 24 villas inspired by the rich culture and heritage of Cambodia. Song Saa recently announced its appointment of Jeremy Simeon as the all new Executive Chef who brings with him 25 years of culinary experience, having worked primarily in New Zealand and Australia.
Villas prices range from approx. THB 30,000 up to THB 118,000 daily. For more information, please visit www.songsaa.com.
#4: Macleod Island, Myanmar A private island retreat located in Myanmar's Mergui Archipelago, Macleod Island is home to Myanmar Andaman Resort, one of only two operating resorts among 800 virtually completely uninhabited islands. Surrounded by gorgeous white sand beaches, Myanmar Andaman Resort offers all its guests that exceptional private island experience only top dollars can buy, with twenty-two bungalows either facing the island's bay and beaches. Myanmar Andaman Resort provides a unique chance for guests to see firsthand the way of life of native tribes, experiencing Mergui culture and exploring Gypsy villages and their trading points.
Accomodation prices range from approx. THB 6,000 Baht to THB 16,000 daily. For more information, please visit www.myanmarandamanresort.com.
#5: Amanpulo, The Philippines No one executes luxury like Aman Resorts so you can imagine what happens when the luxury hotel group gets its own private island. On top of its other private island locations – see Amanwana, Indonesia – we always end up re-visiting Amanpulo, situated on the island of Pamalican in the Philippines, designed by Filipino architect Bobby Mañosa. The Amanpulo is a luxury beachfront resort accessible only by private plane and is set on a private island in the Sulu Sea, peppered with stylish island-style cottages that overlook the emerald green hues of the ocean to the front against a backdrop of gorgeous forest views behind.
Prices for a casita range from approx. THB 43,000 to THB 57,000 daily. For more information, please visit www.aman.com.
#6: Six Senses Con Dao, Vietnam Con Dao Islands, also known as Con Dao National park, are an archipelago of 16 mostly unpeopled islets just off the southern coast of Vietnam, each of which offer sprawling white sand beaches shaded with evergreen trees. True to renowned hotel operator Six Senses' mantra of selecting remote yet accessible locations in areas of exceptional natural beauty, Con Dao is a stunning gem of a private island, primarily because it has been protected for decades as a national and marine park. Reflective of the island's archipelago's traditional fishing village roots, the newly renovated Six Senses Con Dao also espouses a contemporary design element.
Villa prices range from approx. THB 21,000 to THB 95,000 daily. For more information, please visit www.sixsenses.grandluxuryhotels.com.