If, like us, your face is a heart-eye emoji at the thought that you can currently get to Samui for some unbelievably friendly price points, we speak the same language.
Especially with the current government travel scheme (but also even without it), getting to Samui has never been so affordable. On a bittersweet note, it has also never been so beautiful. It is really, honestly, the best time to go; between all-time-low ticket fares and a severe lack of crowds.
The latter is a bit of a sad fact to consider, but Mother Nature sends its thanks: both coral and beaches are significantly cleaner, and the wildlife seems to be slowly returning. Hence, we too are returning to Samui, previously too often swayed by the likes of Bali or the Maldives, as the international airport is yet to open for international tourism.
A great way to support the local tourism industry, and experience Thailand's charms all for yourself before the outsiders come back in, here we've put together a list of some of our favourite Samui resorts of the minute. There's a little something for everyone on the island. Read on to see what suits your vibe and tribe.
[Hero and Featured Image Credit: W Koh Samui]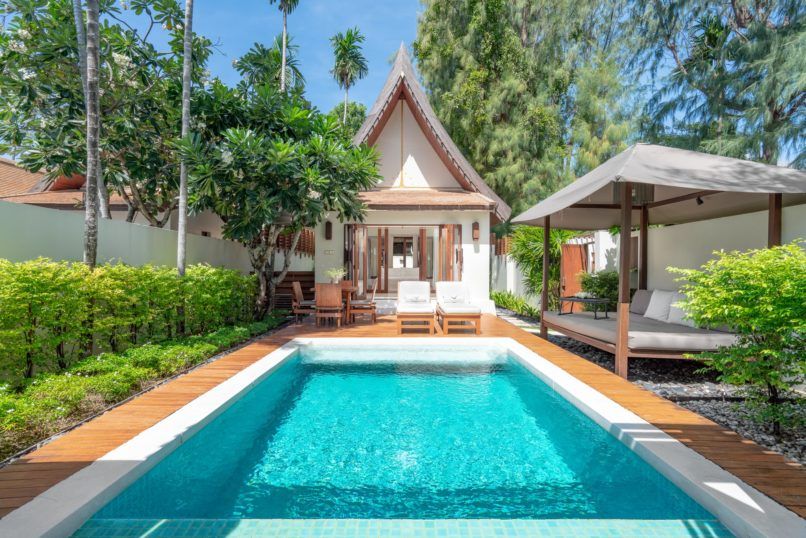 Buzz about town: Sala Samui
Is there a place more buzzed about than Sala Samui? Alongside Silavadee, we are seeing it everywhere on our feeds, and we do kind of get the hype. Extremely photogenic surroundings are matched with small yet charming pool villas and scenic pools, perfect for those who like to do it for the 'gram. Whilst facilities aren't as sprawling as at some of the other resorts, they offer the essential beach activities (kayaking and paddle boarding is essential in Samui), as well as daily yoga and a gym. If you're into boutique-y hotels, this one's for you. Young and fun: W Koh Samui
Our Managing Editor spent her birthday here, so it holds a special place. And beyond a villa filled with balloons and a cake and a teddy bear, there is a lot to like about the W Koh Samui, a lot of it stemming from the simple fact that it is quite different. Contemporary design, fun colours and perks, and a 'Sweet Spot' with unlimited ice cream and drinks 24-hours-round are just some of these. Here's a place you probably wouldn't take your family, but should probably take your friends and boyfriends and girlfriends. It's unlike anywhere else, and just as its playlist that seems to be playing everywhere, is very millennial and very eclectic.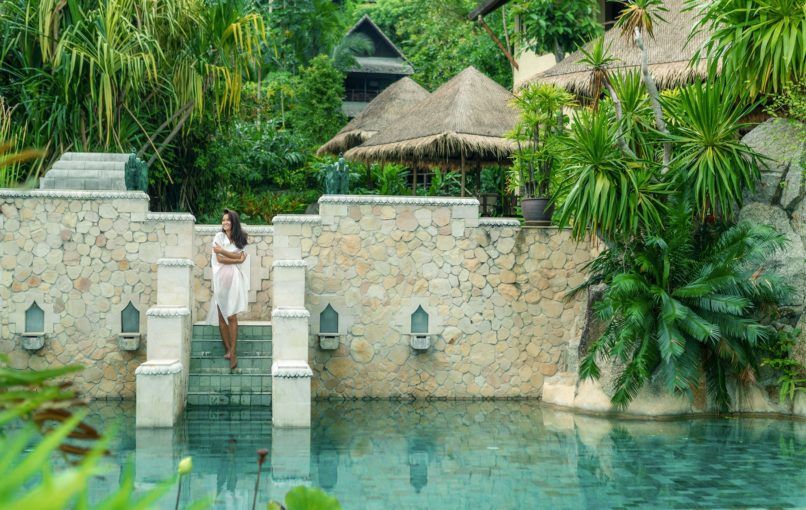 Detox from city life: Kamalaya
If you're looking for an escape from your buzzing iPhone and need to cut down a little on the foie gras burgers, it's time to head to Kamalaya. The peaceful sanctuary offers wholly immersive and wonderfully transformative detox journeys, ranging from sleep therapy to immunity and resilience programs — just to name a few. There's no time like the present to really pay attention to your health, and there's no place like this one to surround yourself with nature's beauty to do so. Get your mental, physical, and emotional health back in check, and return far more refreshed than after just a random kombucha sip at brunch in Bangkok. They've also got a lot of interesting offers during this time, so keep your — sleep deprived or not — eyes peeled.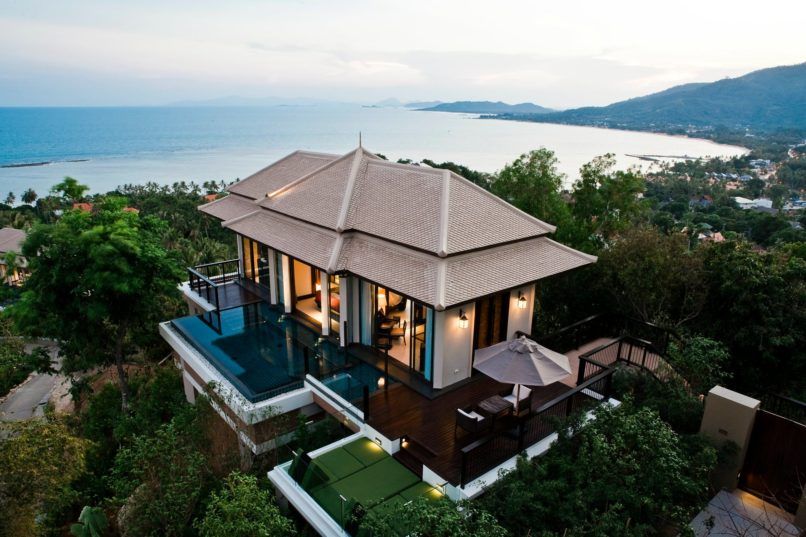 Best villas on the island: Banyan Tree Koh Samui
It is seldom that we are so swayed by a private villa, because private villas are becoming a huge (also socially-distanced) trend. But the Banyan Tree Koh Samui manages to combine intimacy and design to near perfection. Villa types vary only very slightly, with price ranges dependent on the view. Every villa has a large private pool (with some boasting hot tubs too), and everyone gets access to the beautiful private beach. Imagine the kind of location where you don't even mind that it rains. Imagine the kind of location where you're tucked between sheets and just watching it drizzle onto the sprawling blue directly outside…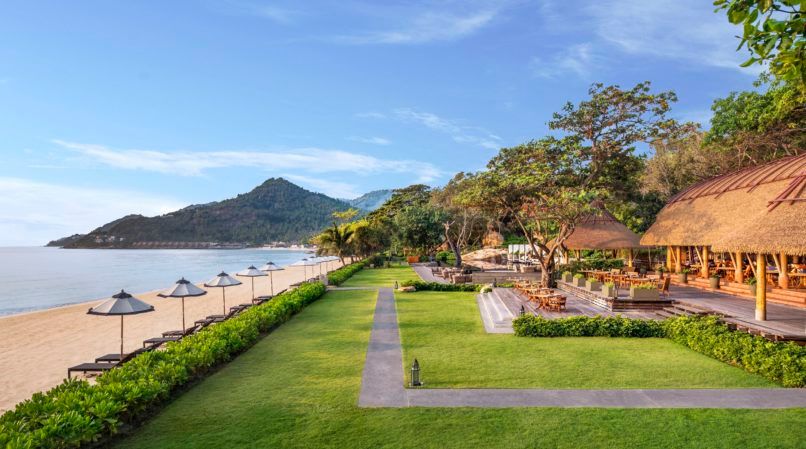 Best beach on the island: Vana Belle, A Luxury Collection Resort
If you hadn't previously heard of Vana Belle, that is kind of the point. Part of Marriott's group of top-tier hotels, Vana Belle lies nestled within its own tropical forest of sorts, inspired by mythical creatures and the legends of the land. Here, we found one of the best beaches on the island at Chaweng Noi, making it both a romantic and relaxing getaway destination. Whilst Samui has many private-ish beaches right now, the one that stretches before Vana Belle boasts both the soft sand and the clear waters that so many postcards dream of.
Vana Belle, A Luxury Collection Resort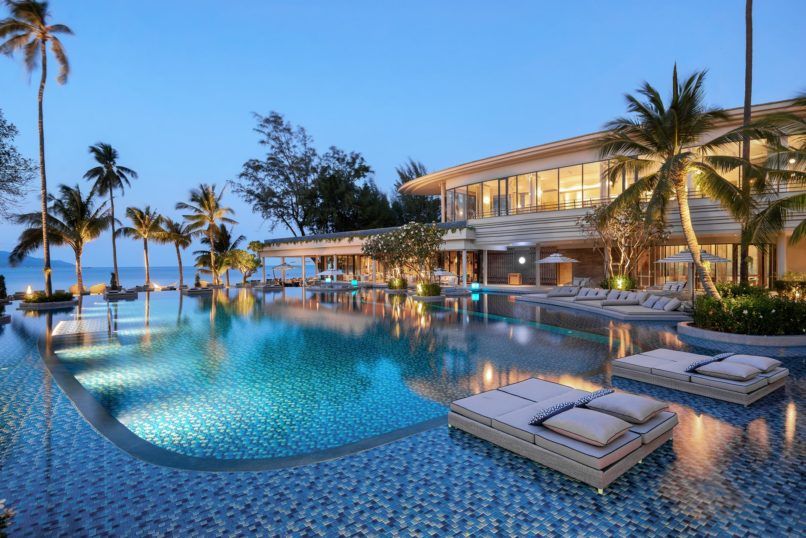 New kid on the block: Melia Koh Samui
If you've been to Spain before, it's likely you've heard of Melia. The Spanish hotel group only just came to Thailand at the beginning of the year, opening a nautical-inspired resort on Choeng Mon Beach. Whether you're on a couples' retreat and want to seek out the intimate boat suites (housed in actual river barges!) or a family looking to enjoy the waters (there's a loop pool and an impressive kids' club), Melia defines what it means to be a real family-oriented resort. They also offer charcuterie on the beach at breakfast, and if that doesn't persuade you, we're not sure what else will.