Dear Bangkokians, it's time to start planning your travels for next year.
As we bounce into 2020, we need to embark on some new experiences to feed our adventurous souls with that curiosity and excitement. Planning a trip is always a tricky one because we are spoiled with so many choices. Whether you are on the lookout for a tranquil getaway on a tropical island or want to explore the hidden gems of nature, we've put together a list of Instagram-worthy places for everyone here.
Here are some of the world's most unspoiled treasures and the ultimate destinations. They should definitely be on your 2020 travel bucket list.
[Hero Image Credit: Unsplash/Mesut Kaya; Feature Image Credit: Bucketlisters]
Dead Sea, Israel and Jordan
Are you ready to float on the Dead Sea? It's a must-do when you're in Israel. The Dead Sea is a landlocked salt sea sitting between Israel and Jordan. The mysterious-looking water is surrounded by golden-brown hills that make it a fascinating place to visit. Also, it's famed for being one of the world's saltiest bodies of water, meaning that you'll float right on it. Very cool.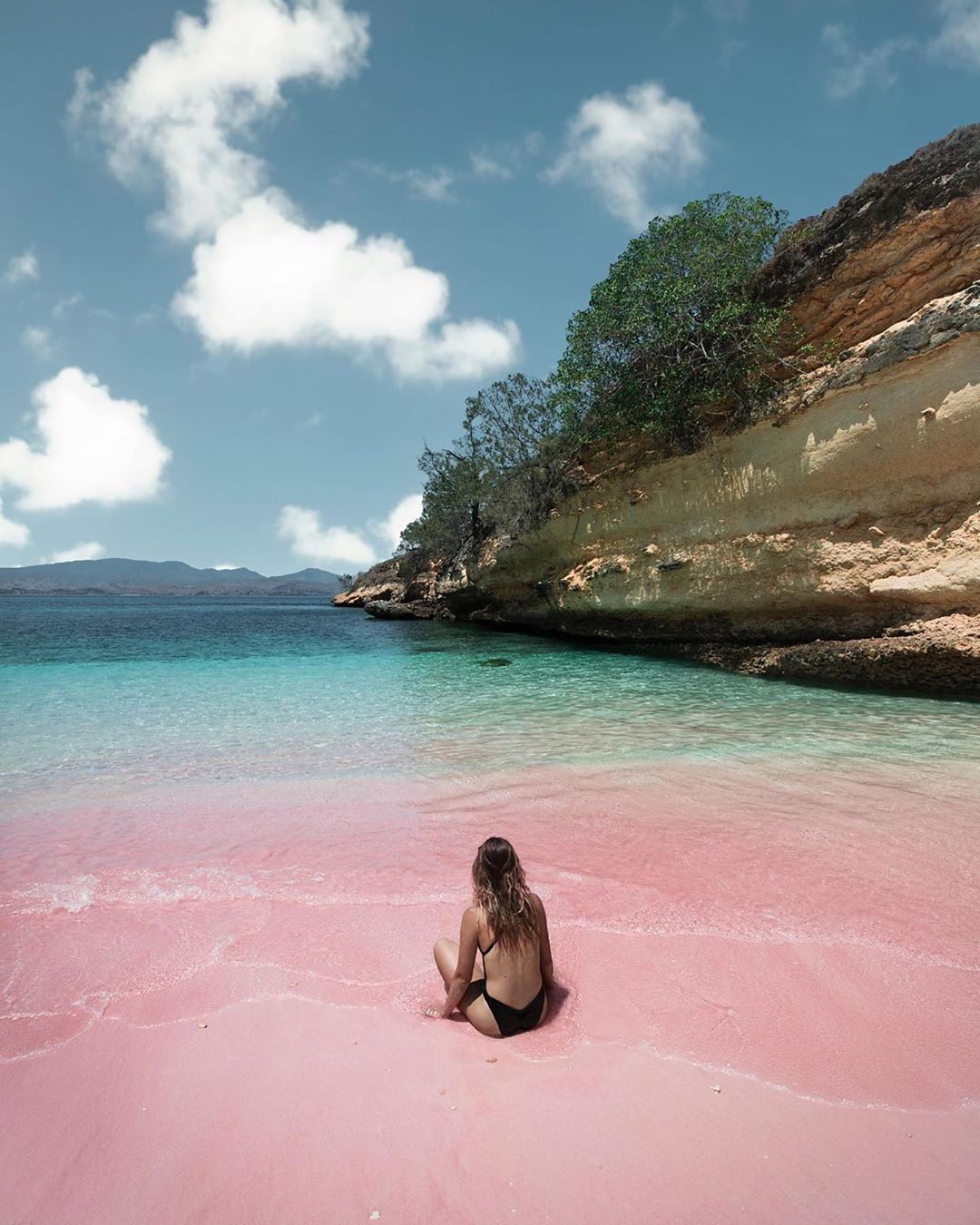 Pink Beach on Komodo Island, Indonesia
Pink sand beaches? Very dreamy. The Pink Beach on Komodo Island, Indonesia, also called "Pantai Merah" in the local language, gets its stunning colours from microscopic animals like Foraminifera that produces red pigments on coral reefs. A great one for the 'gram
Golden Bridge, Vietnam
Is Vietnam on your bucket list? Because it needs to be. Visit the Golden Bridge, which pretty much looks like it is being held aloft by two giant stone hands, right outside Da Nang in Vietnam. The green hands sit as high as 1,400m above sea level and the bridge is 150m long.
Yellowstone National Park, Wyoming
How magical is this? Find every colour of the rainbow at Yellowstone National Park, which spreads from Wyoming into parts of Montana and Idaho. You can't miss out on the bubbling geysers and sizzling hot springs.
Rain Vortex, Singapore's Changi Airport
Waterfall inside an airport? Last year,
Singapore's
Changi Airport took things to the next level with the world's tallest indoor waterfall. If you're visiting Singapore any time soon, there's no way you are going to miss out on the 40-meter high Rain Vortex. It's ridiculously fascinating.
Kakslauttanen Arctic Resort, Finland
Fancy dozing off under the enchanting beauty of the northern lights? Explore the arctic wilderness by immersing yourself into these cosy glass igloos in Finland. Definitely a one-of-a-kind experience that needs to be on your bucket list. Very mesmerising.
Minnehaha Falls, Minnesota
The Minnehaha Falls takes an otherworldly shape when frozen. The surreal technicolour blue lighting magically lightens up the waterfall and looks like an enormous icicle. Sounds magical.
The Maldives
Stunning golden and white pristine beaches are calling you. The picture-perfect coral islands' sandy beaches and the magical sea life is an idyllic retreat for your soul. If you haven't visited the Maldives, you'll be missing out on one of the world's most beautiful destinations.
Cappadocia, Turkey
Turkey's very own fairy kingdom, Cappadocia, is the most popular location for watching the air balloons over its famed fairy chimneys. The breathtaking panorama view of this city is just something else. 
Sakura at the Mount Fuji, Japan
Is Japan on your bucket list? Tick off this absolute must-visit destination from your bucket list. Be dazzled by the beauty of Sakura cherry blossom as it sweeps the city with a dreamy pinkish hue — an iconic experience at Mount Fuji.