Bangkok is a living and breathing creature in its own right. It grows with new spots and hidden treasures popping up everywhere everyday. It's a city for everybody: every neighbourhood, every street, every road has a different personality to offer. And it's truly worth exploring them all.
The LSA Neighbourhood Guides aim to help you get started towards exploring the various wonders around Bangkok. For this edition, we're heading the things to do on Convent Road.
From morning until late night, Convent Road is abuzz with all kinds of crowds. School kids, bankers, party-goers, and the occasional nun can be found on the sweet street that pulls together the Sathorn and Silom neighbourhoods.
And yet, the road that runs parallel to the jam-packed Narathiwas on one side and Rama 4 on the other, has a calming air about it. Tall trees line the road, and there's a signpost at its entry that points to both the eponymous convent and a world-renowned bar all within the same space.
It's a really homey and cosy road, all the while being a global destination for food and drink, too. There's a massage parlour and a 7-11 (much like everywhere else in central Bangkok), and a Never Say Cutz for hair. There's a plethora of street food to enjoy, but also a select few fine dining establishments. It's unpretentious, but it's also nothing short of excellence. There's a church and a monastery on this street, and if you're religiously into exploring the best of Bangkok, here's why Convent Road should be one of your callings.
[Featured and Hero Image Credit: Vesper Cocktail Bar]
What is Convent road famous for?
Convent Road is famous for its church and convent, but now even more famous for its range of dining options, and close proximity to both Sathorn and Silom.
Is Convent road safe?
Convent Road is considered relatively safe and is walkable between the two neighbourhoods of Sathorn and Silom around it.
What is there to do in Convent road at night?
There is plenty to do on Convent Road at night, between visiting the bars like Vesper, and going for dinner at places like Eat Me or Indigo. There is also a wealth of street food options.
What is the best time to go to Convent road?
It is best to visit Convent after 5 pm, as this is when the dining establishments start to really come to life.
Can you get to Convent road by BTS?
You can get to Convent Road by BTS, either from Sala Daeng station (which is closer) or from Chong Nonsi station.
1. The calm between two storms known as Sathorn and Silom
Convent Road is that sweet spot between the entertainment district of Silom and the business district of Sathorn; that means you have more things to do here. It's beautiful because it's perfectly walkable between the two, what with leafy trees to either side, and a calming vibe in comparison to its two noisy neighbours. It's also a fine shortcut to get from the aforementioned entertainment side to its serious concrete jungle sibling.
2. Vibing at Vesper, of course
Perhaps the most famous establishment on Convent Road is Vesper. The cocktail bar which belongs to the beloved Foodie Collection ranks high on the list for Asia's 50 Best Bars, and is home to an inspired cocktail menu. With interiors that have a London-like feel to them by the dark green marble bar, you'll often find a cool crowd here, with a snazzy playlist to suit.
Vesper Cocktail Bar, 10/15 Convent Road, Silom, +66 2 235 2777.
3. Pasta and a Negroni at 1919 Italian Bar & Restaurant
If Vesper is not your vibe, 1919 may just be. After all, it's hard to fault comfort Italian food, especially when it's with a highly 'grammable red neon light sign nearby and in super chill surroundings. The new-ish restaurant celebrates the Negroni cocktail and Campari in various ways, making it a fine spot to both twirl a wagyu bolognese around your fork while enjoying a great drink, too.
1919 Italian Bar & Restaurant, 10/15 Convent Road, Silom, Bangkok, +66 2 236 5558.
4. The best street food in the area
Whilst Convent Road is dotted with cute eateries, it's actually also really famous for its street food. Nearer to the side that leads to the Silom area, street food stalls line both sides of the road, boasting everything from fried goods (we too are impartial to a crunchy spring roll), to chicken rice and noodles. There's also the infamous Yentafo Convent (a must-try), as well as Kuay Teow Khae and Som Tam Convent. You could do a walking/eating tour all in one. You could do it after drinking, too. Satisfying to the bone.
5. Finer dining date night and drinks
Granted, this one doesn't really sit on Convent Road, but it's really, really close. One of the most famous restaurants in the area, Eat Me has long been a beloved late-night haunt for the who's who that is bored by the sparkles of Sukhumvit. Extremely moody and broody, the interiors are sexy in a sophisticated way, with a menu curated by the infamous Tim Butler. The cuisine is modern, international, and progressive, though we love this for continuity: there's actually a cocktail named after the afore-mentioned Yentafo Convent here too.
Eat Me Restaurant, 1/6 Soi Phiphat 2, Silom, Bangkok, +66 2 238 0931.
6. Celebrate pride
Silom has long been known as a hub for the LGBT community in Bangkok, and now, it often comes out to celebrate this spirit at Kika. Once a tapas and wine bar we loved for their happy hour, the gay social bar now shines a brighter spotlight on cocktails and organic wine in vibrant celebration of gay pride. They're open from Thursday to Sunday with live entertainment and a colourful crowd to suit.
Kika Bangkok Gay Social Bar,14/2-3 Convent Road, Silom, Bangkok, +66 88 665 9986.
7. Mundane but useful: a really good print shop
After a listing of restaurants and bars, a print shop feels really mundane, but it is actually extremely useful, as anyone in their moment of need will let you know. A personal favourite, Copy+Paste sits nearing Vesper, and is a godsend for all things that need printing, from regular A4 sheets to waterproof stickers. Often times printed on the same day as your request, the staff is friendly (which is weirdly rare for a print shop) and prices are similarly friendly, too.
Copy+Paste, 12/1 Convent Rd., Silom, Bangkok, +66 92 495 5521.
8. Not really mundane and also really useful: BNH Hospital
A popular hospital for many expats, Convent Road is also home to the BNH Hospital, known for being the first international private hospital in Thailand. Whilst they cater to many needs, they describe themselves as specialists in women's health, and the fields of maternity care, paediatrics, and gynaecology. A fun fact? BNH stands for what it was formerly known as: Bangkok Nursing Home.
BNH Hospital, 9/1 Convent Rd., Silom, Bangkok, +66 2022 0700.
9. Arguably the best burger in town (also beer)
There are a lot of really good burger joints about town, and we could get into long discussions about who does it best. But when it comes to a beer and burger combination that is killer, MASH tops the list for us. Mouthwatering dishes are met with a great selection of brews in a comforting and cosy environment. We also love the wordplay: mash refers to food (read: mashed potatoes) and also beer (mashing means to mix crushed malt with hot water). Clever, and delicious.
MASH Craft Brews & Bites, 2/3 Convent Rd., Silom, Bangkok, +66 2 288 0682.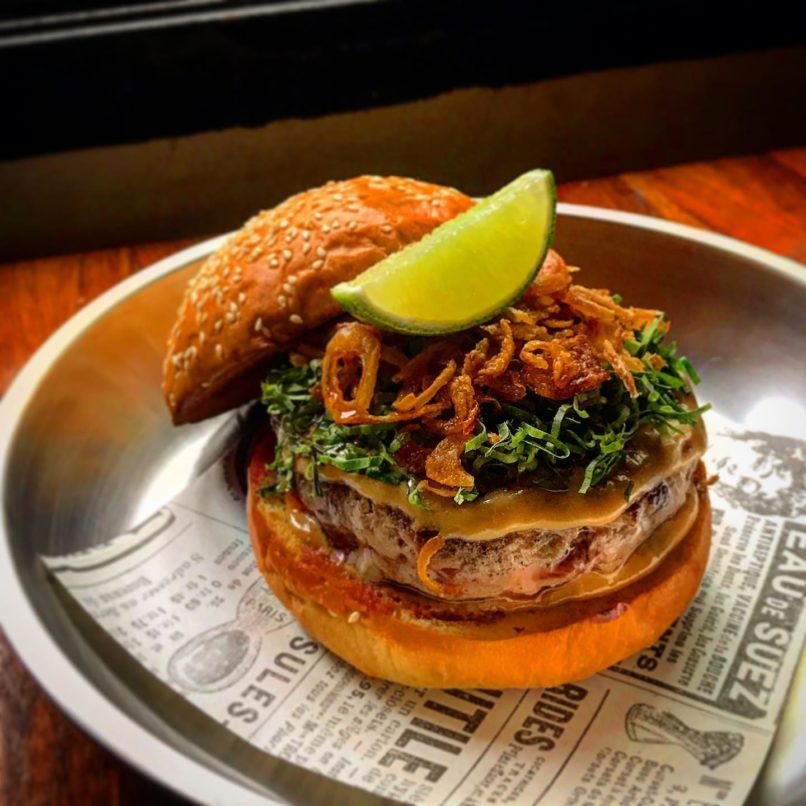 10. We say 'Bon Appetit' around here
Do not forget that this neighbourhood is very French. One of the many French eateries around Sathorn and Silom, Indigo is known as one of its most iconic. A bit more finer dining than a few of the others, we love the lunch set here (at a nice THB 480), which includes a starter and main or a main and dessert. It doesn't fall short, with options like duck confit and pan-roasted sea bass on this menu, and a white table cloth and calming garden surroundings to suit. Of course, you could also come by for dinner if a rendezvous is what you fancy.
You know all your options for the after-dinner drink on the same road now, too.
Indigo Bangkok, 6 Convent Rd., Silom, Bangkok, +66 2 235 3268.