Most people think of Siem Reap when they think of Cambodia, and we can't truly blame them. The beautiful city sits as a direct gateway to the ancient temples of Angkor, and makes for both a historically and culturally enriching weekend trip.
However, if you've done the 4am sunrise tour at Angkor Wat and explored Siem Reap to it's fullest, and are seeking a destination a little less mainstream, and a little more undiscovered (yet all the while still very interesting), Phnom Penh may be your calling.
The Cambodian capital is very quickly catching up to its Siem Reap sister, emerging as a must-visit destination too for history and culture, but also as a thriving culinary hub. Between the Raffles Hotel Le Royal and the Rosewood Phnom Penh, the capital is experiencing somewhat a renaissance, and this has extended to the repertoire of restaurants, too. From traditional Fish Amok curry over to stuffed snails, deep-fried tarantulas, and royal lobster, scroll ahead for five of the best restaurants in Phnom Penh.
This article first appeared on Lifestyle Asia Singapore. 
[Featured image credit: Raffles Hotel Le Royal]
At Malis Restaurant, Cambodian chef Luu Meng made it his goal to preserve traditional recipes lost during the Khmer Rouge regime. He dubs his food 'living Cambodian cuisine' — which sees fine-dining renditions of classic Khmer dishes using modern techniques and local ingredients. Fish amok, a popular dish of spiced fish paste steamed in banana leaves, is reinterpreted here as a glorious marriage of fermented fish, local herbs and minced pork. Also worth looking out for here is the Kampot crab fried rice, brightened with kaffir lime, fresh local crab and a good amount of wokhei.
La'Baab is an anachronistic haven hidden within Phnom Penh's chaotic CBD. The restaurant is decked out in traditional Cambodian designs and furnishings — a reflection of the restaurant owner's reverence for ancient temples and architecture. The menu pays homage to everyday recipes from the Lower Mekong and sees a natural fusion of Vietnamese and Cambodian flavours. Diners here can start with samlor kako soup of Cambodian herbs, fish paste and vegetables then move on to a Vietnamese speciality of snails stuffed with minced pork and lemongrass.
Eating insects in Phnom Penh may seem like a novelty to most tourists. But for Cambodians, these are reminders of the famine suffered during the Khmer Rouge regime. Even so, the practise of eating insects has become a part of life and turned into a street snack rather than necessary nourishment. Romdeng would be the perfect restaurant to head to if you're in for an authentic culinary take on these insects. One of the most famous starters here is the deep-fried tarantula, seasoned with just a touch of Kampot black pepper and lime juice. There's also red tree ants stir-fried with basil and slices of beef. Those who aren't too keen with these ingredients will find solace in other great dishes like roast pork belly with morning glory salad and smoked duck breast larb. Dining at Romdeng is for a good cause too: the restaurant doubles as vocational training for formerly homeless children.
Since opening up to the world, Phnom Penh has also welcomed a variety of international cuisines and aspiring chefs. Japanese restaurants are not uncommon in the city, promising fresh fish from the other side of the globe. Le Broken Plate aims to play the game a little differently. Chef Narith Plong weaves in seasonal ingredients from both Japan and Cambodia's fecund rivers to his omakase menus. Expect items like fresh local oysters and miso soup featuring Mekong lobster alongside sushi and sashimi.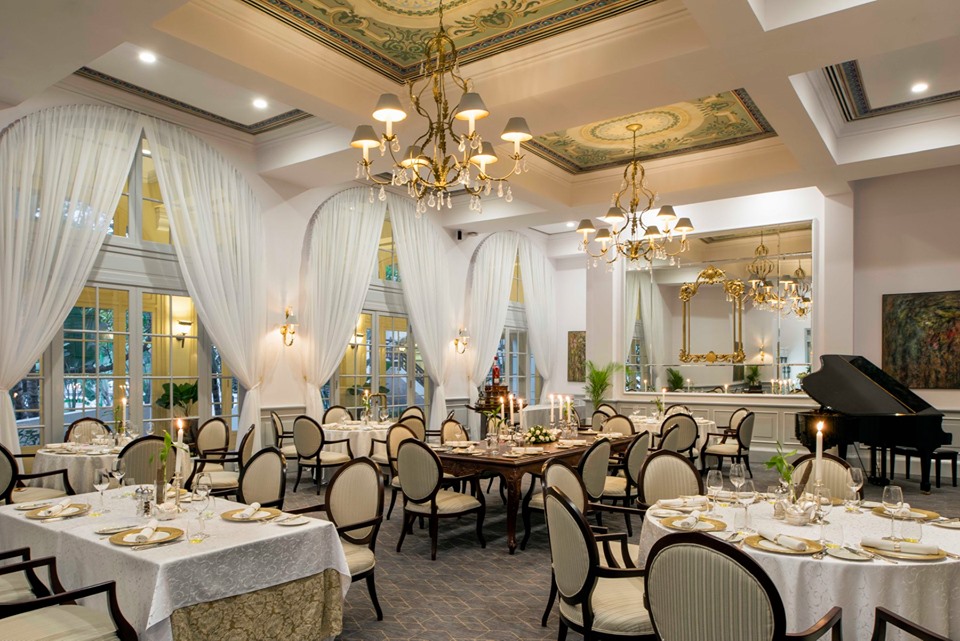 After a massive revamp, the Raffles Hotel Le Royal has come back with an update to its iconic dining establishment, Restaurant Le Royal. Befitting of its name and origins, the restaurant will now be sharing a taste of Royal Khmer cuisine with diners. All recipes are personally shared by the decree of the Royal Palace of Cambodia, recreated in Restaurant Le Royal with care. Diners can choose to enjoy three, four or five course, and pick from options like green mango salad with grilled scallops or Mekong lobster amok. It's still food fit for kings: the Cambodian royal family is said to have made this restaurant their regular haunt.