Travelling solo is quite possibly one of the most exhilarating experiences you can have.
Don't get us wrong — we're all for margarita-drenched girls trips to Mexico and holing up with an SO in a romantic Paris hotel room. But there's no denying that real travel — those journeys that move you not only geographically, but spiritually too — is best done on your own. 
The daily grind, the same social scene, even the family at home: all these factors can fix your sense of identity and inhibit you from really freeing yourself. As much as we may love our friends and family, sometimes it can be truly liberating to spend time on your own and get to know yourself more. And there's no way more fun, exciting, and educational than travelling solo. 
There are lots of advantages to travelling by yourself. For starters, you can do whatever you want. Don't feel like visiting those over-hyped, over-touristy spots? Visit those low-key boutique stores and independent galleries you know you'd love. Want to have a bottle of Pinot Noir, even though it's only lunchtime? Do it. Solo travel means spending your days as you please.
There's also the simple fact that travelling by yourself helps you to be more independent and learn more about yourself. You might realise you're not a fan of big club nights after all, and prefer more intimate drinks and conversation at a bar. You might discover that you're great at cooking, climbing, or whatever new activity you throw yourself into. 
But solo travel can, of course, also come with its own perils. Particularly if you're a lone female traveller, taking care to choose the right destinations can be vital. Although travel disasters and learning to deal with them yourself can be essential parts of the journey, you still want to make it back in one piece. 
So, in order to help you choose the ideal solo travel destinations for you, we've put together a varied list of places for all types of solo travellers. Whether you're looking for cultural discovery, a buzzing social hub, or some time to be at one with nature, solo travel is definitely something you need to try at least once in your lifetime. Here, check out our guide to the best solo travel destinations in 2020.
1. Stockholm, Sweden
Best for: a friendly welcome
Known for their cute and colourful architecture that looks like something straight out of a children's fairytale, Stockholm is just as friendly and wholesome as it looks. Whether you're shopping in a trendy Scandi fashion store, visiting a Viking museum, or sipping coffee in a hipster café, everyone you meet will be smiley and chatty with you.
2. London, England
Best for: contemplation in museums and galleries
Considering that London is home to some of the world's most valuable artefacts and paintings, it's pretty incredible that nearly all of its museums and galleries are free entry. Head to the Tate Modern to see some famed modern pieces from Pablo Picasso to Bridget Riley to David Hockney, or the British Museum to come face-to-face with real Egyptian mummies. There are dozens of world famous museums here that won't cost you a penny — a perfect way to while away afternoons by yourself.
3. Kyoto, Japan
Best for: a meditative time out
The country of all things zen, peaceful, and reflective — anywhere in Japan makes a good choice for a solo travel destination. But Kyoto stands out to us for the small-to-medium size of its quaint town, making it perfect to explore entirely with just your feet as company. Map out yourself a walking tour of the temples, shrines, boutique shops, and tea houses, and be sure to make plenty of stops for soft-serve ice creams and roasted sweet potatoes.
4. Bali, Indonesia
Best for: adventures in nature
Is there any place more iconic than Bali for a holiday in natural surroundings? The great thing about Bali (besides, of course, it's gorgeous beaches, stunning green landscapes, and exciting nightlife) is that there's a great experience for every party size. Going solo means you'll probably be able to appreciate the beautiful scenery of Ubud's famous rice paddy fields or the sweeping views of Seminyak beach even more than if you were there with a big group.
5. Melbourne, Australia
Best for: socialising and café hopping
If there's one thing we know for sure about Australians is that they're super easy to get along with. Friendly, energetic, upbeat, and highly outgoing, the people here are sure to make you forget you came to the country alone. If you're after a chill holiday to explore a city, perhaps maybe a "working out of office" vibe, you couldn't do much better than hopping from one world-renowned Australian brunch café to another. You'll probably come back healthier and more sociable than ever before. We can't vouch for the work productivity, though.
6. New Zealand
Best for: a solo action-filled adventure
Friendly, safe, green, and full of adventure — New Zealand is one of the best solo travel destinations of all time, for both men and women alike. It's an absolute must for outdoorsy solo travellers, since there are endless amounts of green walking trails (yes, Hobbit-style) and rivers for rafting. Even in the centre of big cities like Auckland you can find thrilling outdoor adventures like the iconic Aukland Bridge bungy jump. Now that's an exhilarating solo travel experience.
6. Amsterdam, Netherlands
Best for: The safe (yet still pretty lit) party scene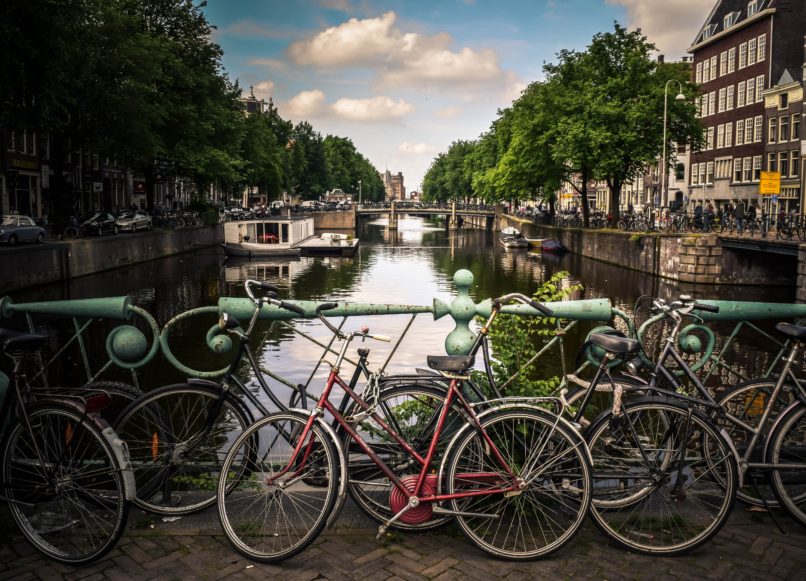 You already know Amsterdam pretty well — the city of canals, bikes, cheese, and um, let's call them "health" shops. Needless to say, this is a city that knows how to strike the right balance between a wild party and a safe, wholesome time. And isn't that the perfect formula for when you're travelling on your own?