Though we totally visited this not-so-standard hotel for its photogenic retro American vibes (hello striped umbrellas and poolside chairs), The Standard shows us Hua Hin has more than it's letting on.
As part of the Good Life Awards, we have recognised The Standard Hua Hin as 2021's Good Life Gourmet. Click here to view our other Good Life Awards honorees who embody Lifestyle Asia's good life ethos.
A long-time weekend destination for the well-heeled, Hua Hin typically attracts those looking for a quick escape from Bangkok's hustle and bustle. But as the young and hip increasingly flock to this beach town for a girls (or guys) weekend, it's time for Hua Hin to open itself up to this additional group of soon to be frequent visitors.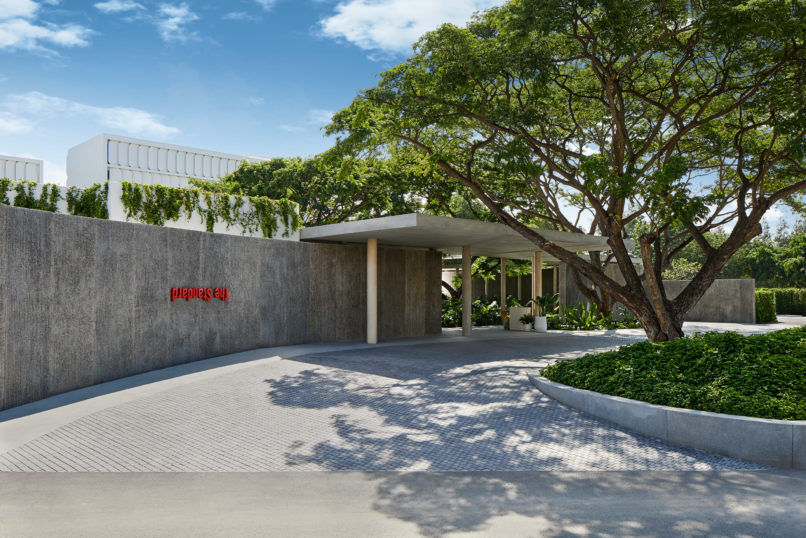 The Standard's arrival means it'll be the first of Hua Hin's many hotels catering to the young crowd. At the mention of The Standard, we all know the cheeky hospitality brand embodies anything but its own name. Alternatively, you can even say they're here to set a new standard in Hua Hin. As part of The Standard's target crowd, we also had the chance to preview this trendy addition to Hua Hin.
[All images courtesy of The Standard Hua Hin]
Getting there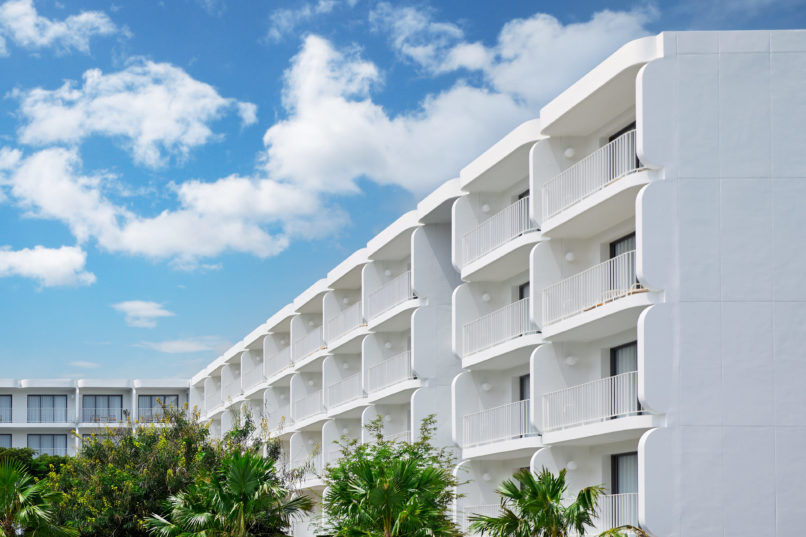 Black Alphards awaited us in front of the Mahanakhon Bangkok (and soon to open Standard Bangkok) and we were soon whisked away to Hua Hin.
3 hours and a few naps later, I arrived and stepped inside with the honour of being The Standard Hua Hin's first official guest. As we sipped on the pink welcome drinks prepared for arriving guests, we were treated to the sight of lush greenery and a minimal, almost-Brutalist white façade.
First impressions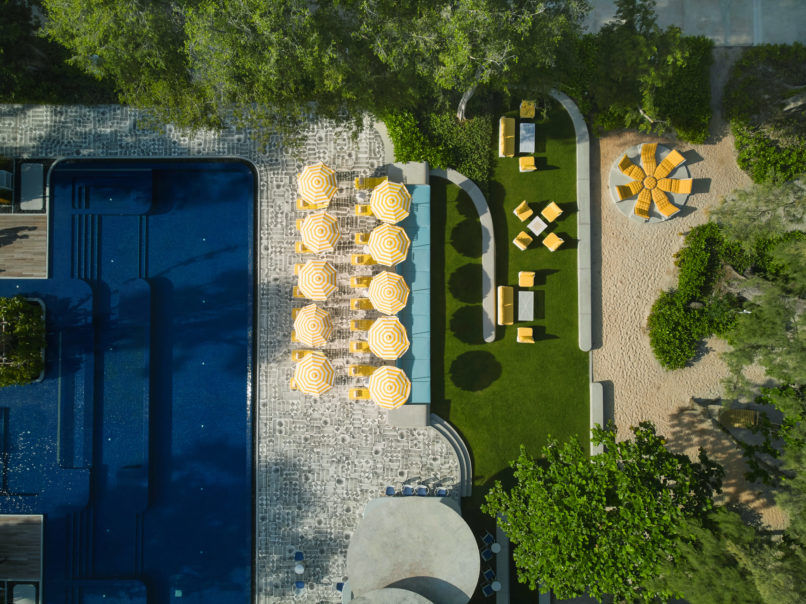 Boasting an array of teak-coloured furniture, the mid-century style open-air lobby was a warm and welcoming sight. The gift shop to the right is fully stocked with a curated selection of accessories and tchotchkes fit for the hotel's beach-chic aesthetic. To the left, a vinyl store-inspired juice bar (more on that later) is waiting to be swarming. We're already getting a sense of the clientele The Standard, Hua Hin is catering to: the modern, upbeat, beach-'gramming, brunch-loving cool cats.
Accommodations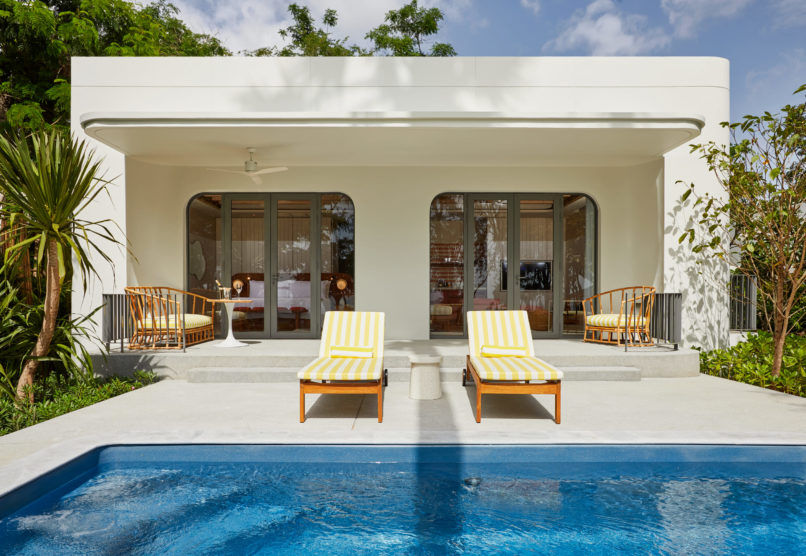 As we continue on our tour of the rooms, I noticed how the California beach house vibes are apparent throughout not only the property's 178 standard (no pun intended) rooms and suites but also its 21 villas. A special mention goes to the party-ready Bayside Villa, where I discover what could possibly be the biggest shower I've ever seen, disco balls over the bathtub, and a private pool facing the hotel's main pool area. It's exactly the kind of place to throw your bachelorette party, and I'm fully taking notes.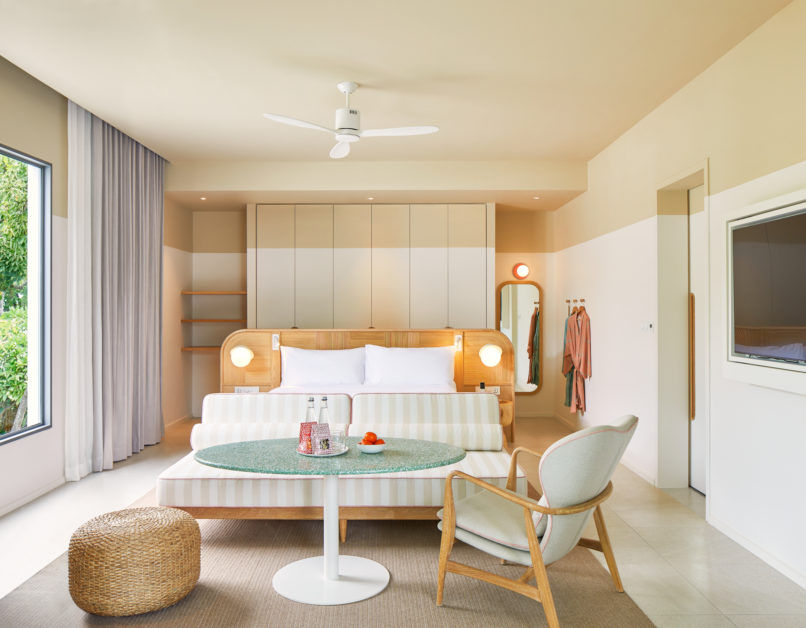 I eventually make my way to my own canopy villa, a spacious second-floor suite with a panoramic view of the sky. Walking upstairs, I'm greeted by the sight of adorable sheep on the faux grass-carpeted rooftops of the other villas. Besides this quirky and unexpected touch, I was also delighted to discover a giant disco ball suspended over my bathtub. It's truly a nod to The Standard's brand of mixing fun with functionality throughout its spaces.
Dining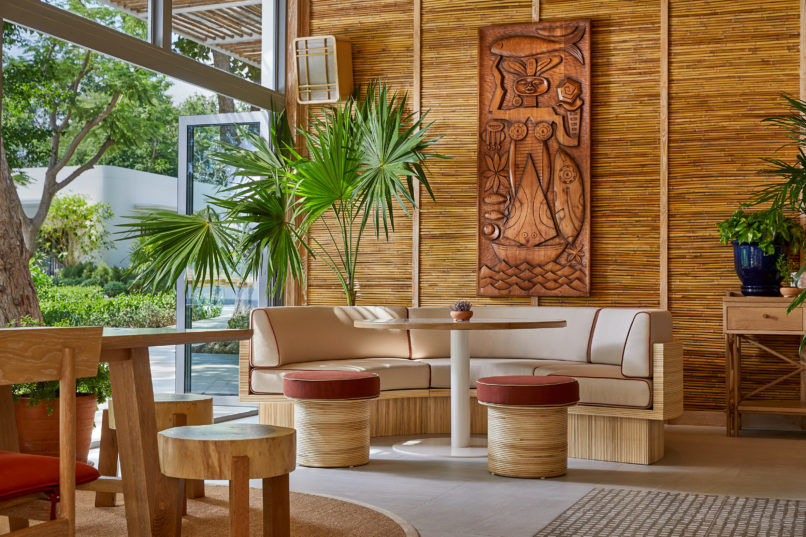 Earlier in the day, I was treated to lunch at Lido where I enjoyed a citrusy crab and chilli angel hair pasta that did not disappoint. Since Lido is also where breakfast is served, my lunch gave me some clue of what to expect for breakfast – an equally delicious buffet spread. Besides Lido, we experienced a Thai-style izakaya in the form of Praça, a preserved, colonial-era structure where the drinks flow as quickly as the food. While the array of shareable mhieng and shrimp were interpreted in Praça's own style, the flavours were unmistakably authentic and unapologetically spice-filled.
Before I forget the juice café mentioned earlier, I must say it's definitely the fun F&B outlet that no other hotel has their own version of. There, you can sift through a selection of vintage vinyl records and play your favourite tunes on the record player while your juice is being served up.
Experiences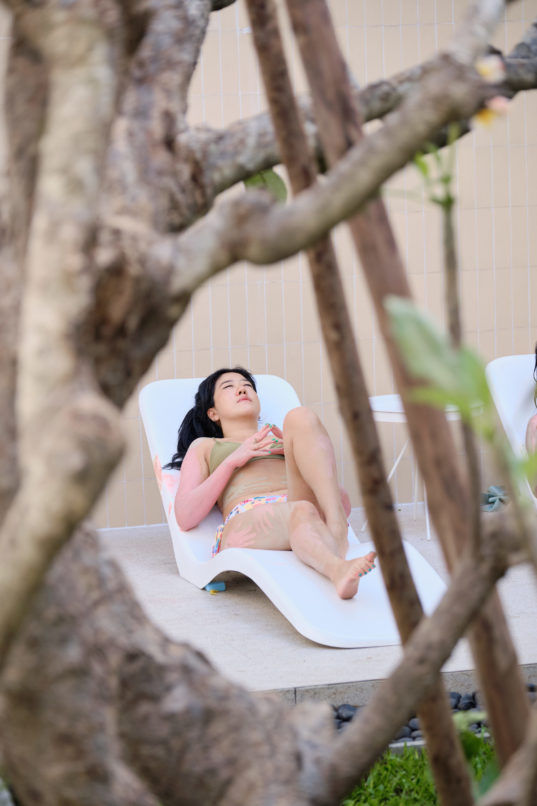 But what is a trip to The Standard, Hua Hin without visiting the spa? The Mud Lounge experience has made its way to Thailand all the way from Miami, where it was conceived. Admittedly, I didn't give the mud lounge a try but the idea is simple: slather yourself in different coloured clay muds, each containing a different skin-loving property, and let yourself bake under the sun while the mud works its magic on your skin.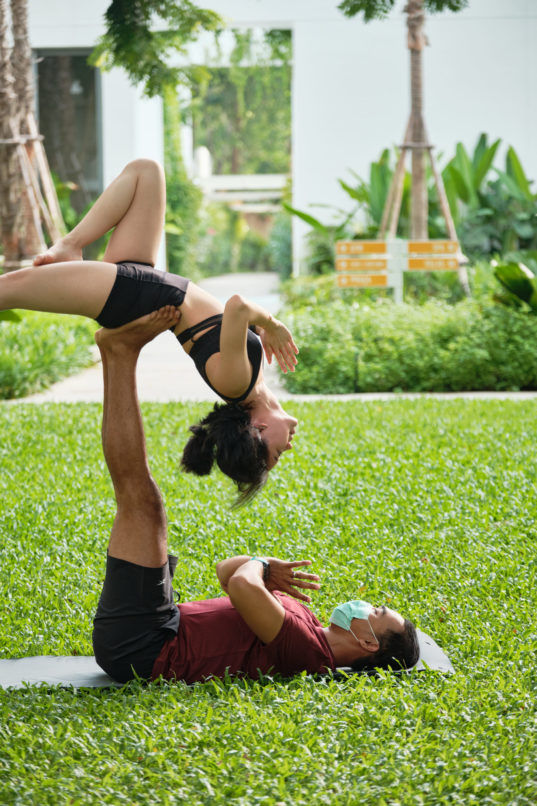 I decidedly went for The Standard, Hua Hin's wellness offerings that were a bit more up my alley: the beach bootcamp and outdoor yoga classes. Both were equally sweat-inducing and rejuvenating and made me sleep a little better at night. But they've got more than just workout classes for fitness devotees. With plenty of offerings like wake surfing and stand-up paddleboarding, there's quite the variety to satisfy both water sports enthusiasts and adrenaline junkies alike.
Closing notes
Sure, Hua Hin is littered with countless hotels (and trust us when we say there's always a new one opening at every corner). But new players in the game know it's time to shake things up a bit, and that's exactly what The Standard is doing for this small-town weekend destination. For those who aren't too keen on flying all the way down south to Phuket or Samui for a getaway with friends, it's nice to know there are places like The Standard bringing the fun closer to Bangkok. I'm definitely keeping The Standard in mind for a weekend getaway with my besties. Because if showering is a disco ball-filled party, I definitely want to party here.
The Standard, 59 Naresdamri Rd, Hua Hin, Hua Hin District, Prachuap Khiri Khan 77110; +66 32 535 999.