A cruise ship is probably not the best suggested place to be right now, but Koh Samui could be. And a little travel inspiration is always handy, especially as we're eagerly bookmarking-ing our next trips for the near future.
Leading Spanish hotel brand Melia has set its sights on the idyllic island of Samui, opening its first ever outlet in Thailand with the Melia Koh Samui on Choeng Mon Beach. Just an hour's flight away, we recently got a chance to check in for a weekend of beachside bliss. Here's how its Spanish charms rock the boat, and why you'll love it for a family vacation or a couples' retreat, too. 
[All images courtesy of Melia Koh Samui]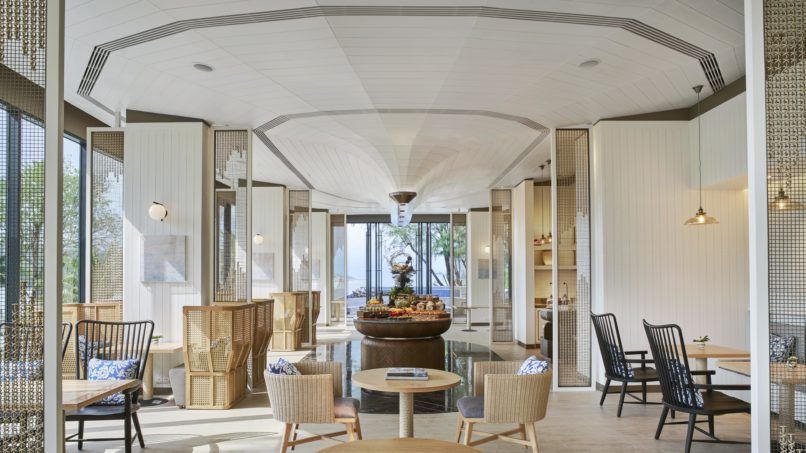 Location
The Melia Koh Samui lies at an approximate 5 kilometres from the airport, meaning that it is quick and easy to reach upon arrival. The resort sits directly on Choeng Mon Beach, and spans a big area. You'll notice this when you walk around the premises, past a meandering loop pool, a tropical garden, and the sprawl of the still relatively private slice of beach.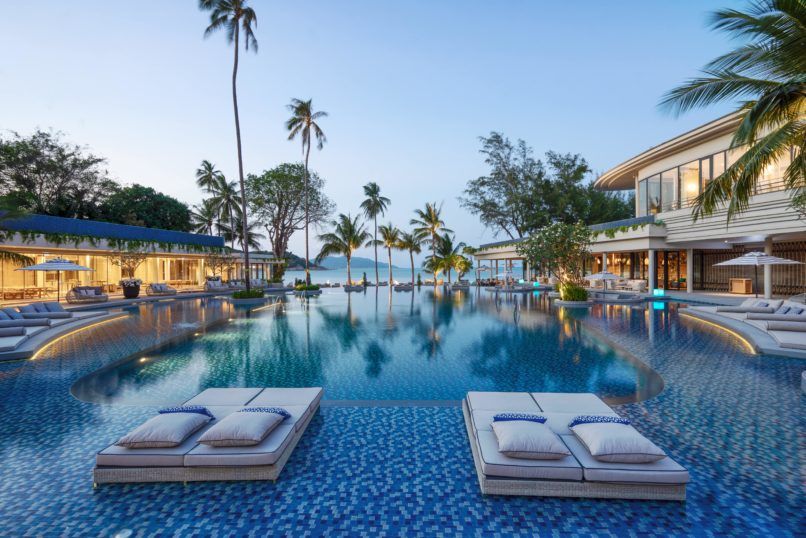 Rooms 
The first thing that caught our eye at the Melia Koh Samui was an abundance of bath tubs. Granted, this is a rising trend amongst hotels anywhere, but at this particular resort, there are bath tubs on balconies too. How you'll use these without flashing neighbouring guests remains a challenge, but we love it for the aesthetic. 
We stayed in a Premium Pool Access Room, with direct access to the loop pool. This makes it a prime choice for families with little ones in particular. The room is fitted in a contemporary dark wood and bright white decor, with bed sheets that made us put them to the top of our wish list for our own home. This room type doesn't have a bath tub on its balcony, but an impressively cosy one in the bathroom instead.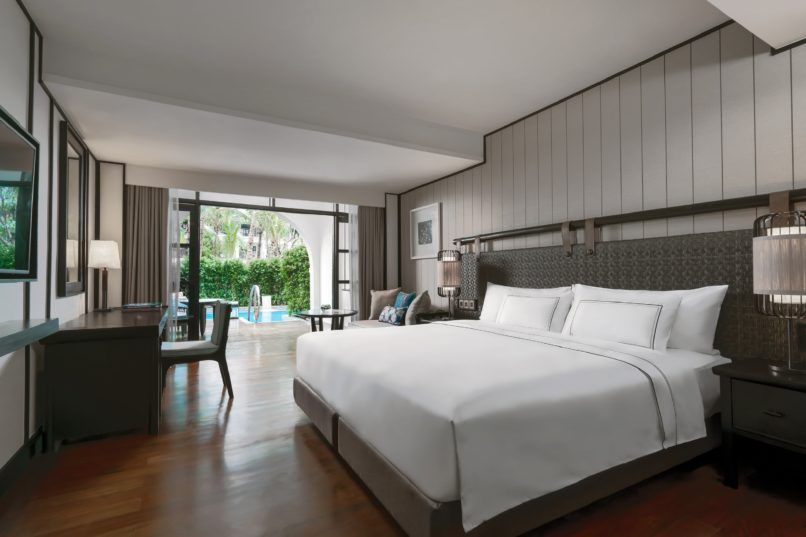 Boat Suites
Here's where it gets interesting. Whilst the rooms in the main buildings offer plenty for comfort and are great for larger groups, the boat suites are what really caught our eye. Made from real (!) repurposed traditional Thai-Chinese boat vessels, it's a perfect marriage of Thailand's rich maritime heritage with sleek modern design, and makes for a sweet honeymoon stay, too. The suite spans two floors with the bedroom on the upper deck, and the bathroom and dressing room on the lower deck. The bathroom is massive, and features double showers (and a tub, of course). Again, there's also direct pool access, as well as ample lounging space outdoors. There's something very intimate about these suites, despite still being in near walking distance to all the facilities.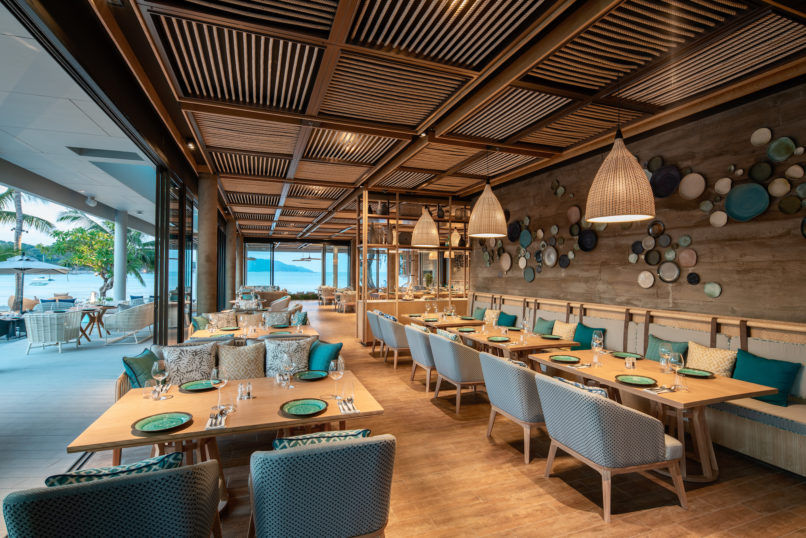 Dining
Beyond the boat suites, the food at each of the dining outlets at the Melia Koh Samui also really hit a lot of the right notes with us. There is a real sense of the Mediterranean in the menu, with Spanish dishes making an appearance (tapas by the pool are essential), as well as plenty of local favourites. 
In the mornings, breakfast is served at KoKo Kitchen with a small but satisfying buffet spread. The beachfront restaurant Breeza overlooks the sea with a bright and beautiful ambience beside the large central pool. Here, diners can gorge on fresh seafood and meats for lunch and dinner. Post-dinner, there's also the Boat's Bar, offering drinks, snacks, and even afternoon tea should you wish it.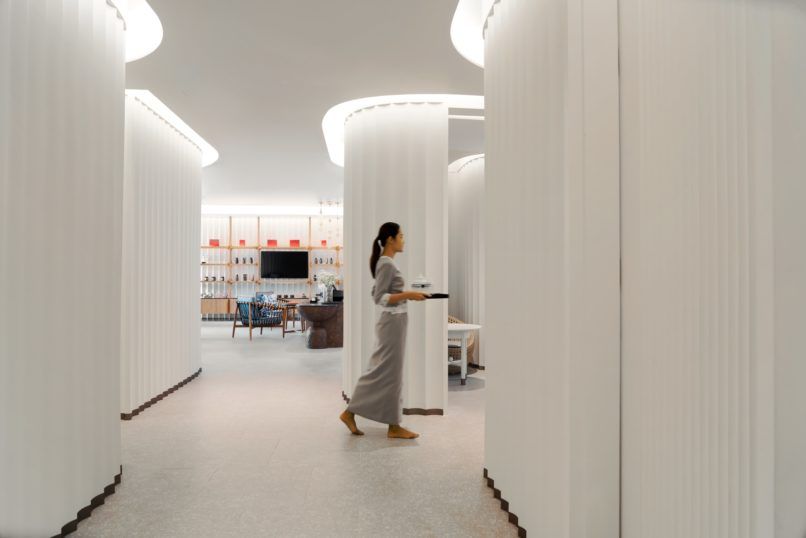 Facilities & Activities
The most outstanding facility at the Melia Koh Samui is definitely the loop pool. An invitation to float along and explore the resort, it curves and streams past the lush landscape, passing by the Kid's Club and the mini water park facility. There's a slide right next to the Kids' Club which adults can use too, though be warned: it may look unsuspecting, but it is wicked wild. 
For a more relaxing experience, YHI Spa sits on a higher floor adjacent to the fitness room, offering massages, scrubs, wraps, and facials. The treatments are designed to blend ancient healing rituals with modern techniques, as a quiet sanctuary of wellness. 
For an afternoon activity, we took part in a cooking class. It's a fun one, even as Thai-food-accustomed Bangkokians, as it provides a taste of the Thai South in an interesting manner. Alongside a team of chefs and armed with your own personalised cooking apron, you'll get to try your hand at delicacies like Massaman Curry, Kanom Jeen, and a Southern Squid Soup.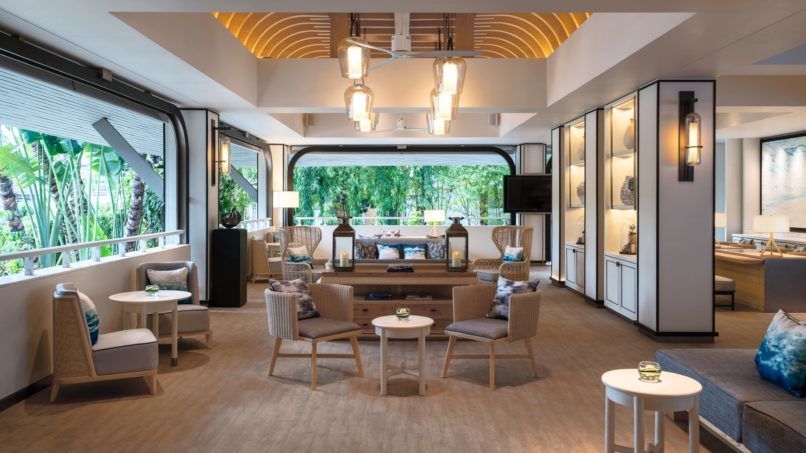 Closing Notes
Somebody once said that the definition of indulgence and vacation lies in having ample spots to lie and lounge on. For anyone who can nod along to this statement, the Melia Koh Samui hits the spot. Sun loungers, napping nooks, an extremely comfortable bed and matching bath robe: all these features are an invitation to relax.
It doesn't matter whether or not you like boats, because the nautical theme is not overbearing. It is executed in small touches, and in clever accents. We love the boat suites and the modern design ethos they follow. There's even a mini museum in the lobby, outlining the history of the vessels. And when we swim up to the rooms and gather our friends to ponder these stories, we're sipping Spanish wine and chorizo. The resort doesn't scream Vamos a la Playa!, but instead ushers you in with local charm, contemporary visuals, and a hint of the Balearic isles. And then, as it turns out, the playa at the Melia Koh Samui is certainly our haven of choice on this sweet Thai isle right now. 
Melia Koh Samui, 83 Moo 5, Choeng Mon Beach, Bophut, Koh Samui, +6677 938 899.