Bangkok is a living, breathing, and growing creature in its own right. It grows with new spots and hidden treasures popping up everywhere everyday. It's a city for everybody: every neighbourhood, every street, every soi has a different personality to offer. And its truly worth exploring them all.
One neighbourhood that's growing particularly quickly in Bangkok is the charming, nostalgic Talad Noi. Literally translated to "little market", this small old town area of the city still keeps its original low-key bustle of market stalls and shophouses. But in recent years, or maybe even just months, the neighbourhood has become home to some of the hottest restaurants, bars, and events in Bangkok. Known for its historical buildings and local wall murals, Talad Noi is a hipster haven, an educational field trip, a tourist's delight, and a true city gem all in one. Here's where you should visit the next time you're in the hood – although, these spots are probably worth making the trip for specifically.
[Hero and Featured Image Credit: Charmgang Curry Shop]
Where to visit:

So Heng Tai Mansion
This 200-year old mansion is one of the last remaining traditional Chinese homes in Bangkok. It belonged to a Hokkein Chinese birds' nest tax farmer from Fujian who eventually joined the nobility under King Rama III. It's still privately maintained by the family of his descendants, but is generally open to the public to visit and admire the ancient architecture and serenity of the area.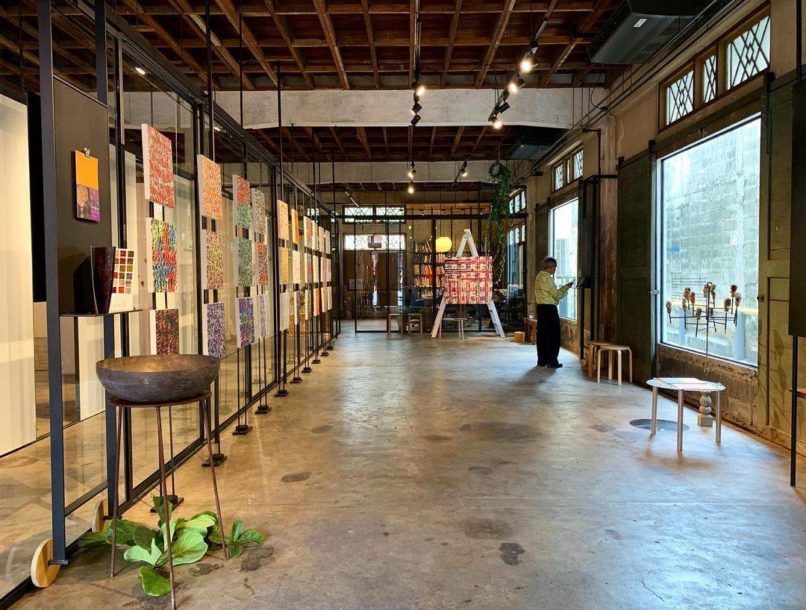 Warehouse 30
A large art and creative space that often hosts cool festivals and events such as pop-up artisan markets, modern art and design exhibitions, and fashion shows. There's a coffee shop and a few permanent exhibitions to stroll through too.

River City Bangkok
Home to hundreds of rare antique art and furniture, this iconic auction house is a fascinating place to explore for when you need some time out of the sun (or rain). The institution also plays host to several globally publicised modern art exhibitions – they recently showed the largest private collection of original Andy Warhol works. You can also often find interesting talks and seminars here on a range of topics from environmental issues to the history of Van Gogh.
Where to eat: Charmgang
A cosy, authentic, yet modern Thai restaurant that's often claimed by the city's cool cats. There's a fun, buzzing vibe that makes this place a perfect balance between urban cool and traditional authenticity. It may be named as "just a curry shop", but the kitchen is helmed by the three former chefs from the iconic Nahm – a.k.a. Bangkok's biggest culinary A-listers.

80/20
Ranked as one of the world's best restaurants, this Michelin-starred Thai-European fine dining spot is a absolutely fabulous experience. A vibrant and buzzing atmosphere for groups; a romantic hideaway for couples; a hotspot for foodies and 'grammers – 80/20 can do it all. Locals are often sceptical of Thai cuisine made "fine", but this is one place they truly approve of.

Pu Curry Puff
Of course, a place like Talad Noi can't be all fancy restaurants and fine dining. Remaining true to its history and name, the place is lined with little stalls and hidden gems. The best of these is quite possibly the little shophouse selling curry puffs just down the road from the Marine Department. The famous Pu Curry Puff requires you to make it to the shop early or to order in advance to secure these golden nuggets. They're usually all gone by 10am.
Where to drink:

Tropic City
On the very edge of Talad Noi is one of Bangkok's pride and joy. Tropic City is not a new addition to the little neighbourhood, but over its five years here it has established its presence as an iconic venue. Named one of Asia's Best Bars, its tropical vibes and regular clientele makes it an absolute must-go when in the hood.

Patina
If you can look past the dozens of Instagrammers, photographers, and all their tripods, you'll find that this charming little cafe built in a 200-year old structure actually makes a mean cappuccino. The friendly (and impressively patient) staff help to keep the overall ambience of the area as chill and authentic as possible.

Contento
Up the stairs from Rongsamran (another recently-opened foodie gem in the neighbourhood), Contento is a glamourous hidden bar overlooking the quiet streets of Talad Noi. The decor combines a DJ set with a huge white swan structure, which should give some indication of the cool eclectic personalities you'll find here. Their creative cocktail list covers all kinds of tastes, while their bar menu takes the best dishes from the downstairs restaurant. There aren't many other places you can sit and shamelessly enjoy a truffle rigatoni by the bar with a negroni at 11pm.