The world is divided into two: those who know and have holidayed at a Club Med before, and those who are unfamiliar. Newbies to the phenomenon ourselves, we checked in to the recently reopened Club Med Bali a few weeks ago, to see what the almost cult-like hype was all about. Here's what we thought.
There is hardly any other all-inclusive family vacation brand as famous and notorious as Club Med. Founded in 1950 by Gérard Blitz, a true pioneer in the all-inclusive holiday realm, Club Med has become a favourite for families across the globe. The brand boasts over 70 resorts in over 30 countries, employing more than 23,000 Gentils Organisateurs (GOs) and Gentils Employés (GEs), which represent over 110 nationalities. By the numbers and as a business model, Club Med is extremely impressive, but where does its massive hype really stem from?
With a world-renowned kid's club and family activities to suit, we wanted to know if we could enjoy the Club Med experience as single millennials, too. A quick four-hour flight to Indonesia later, we found ourselves at the newly reopened and revamped Club Med Bali, surrounded by regulars from Europe and Australia, and first-timers from Southeast Asia. Over a few days, we submitted ourselves to the full Club Med Bali experience — sunset yoga, daily themed dance parties, unlimited sambal, and more — to understand why more and more people are holidaying the Club Med way. Read on for our full review of what we could only describe as an idyllic summer camp on steroids, both for kids and even for millennial adults.
Review: The reopening of Club Med Bali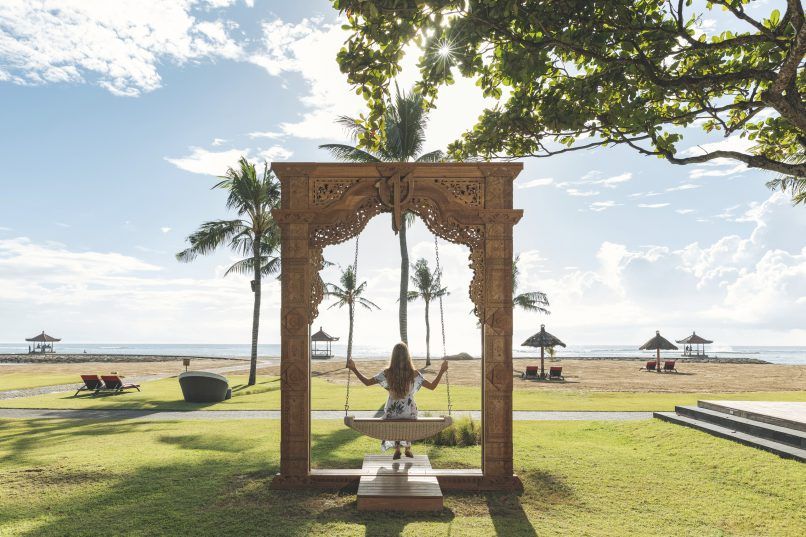 Location
Club Med Bali is located in Nusa Dua, a convenient 30-minute drive from Denpasar's Ngurah Rai International Airport. The resort spans over half a mile (!) along the beach, and proudly holds the title of the longest resort beachfront in all of Nusa Dua. Surrounded by palm trees, multiple pools, and endless greenery, the location of Club Med Bali is impressive from the get-go, and a sense of freedom runs throughout the premise, which ironically makes you never want to leave at all. A Balinese temple lies just outside the resort compound, and a few local shops and massage parlours dot the street just outside.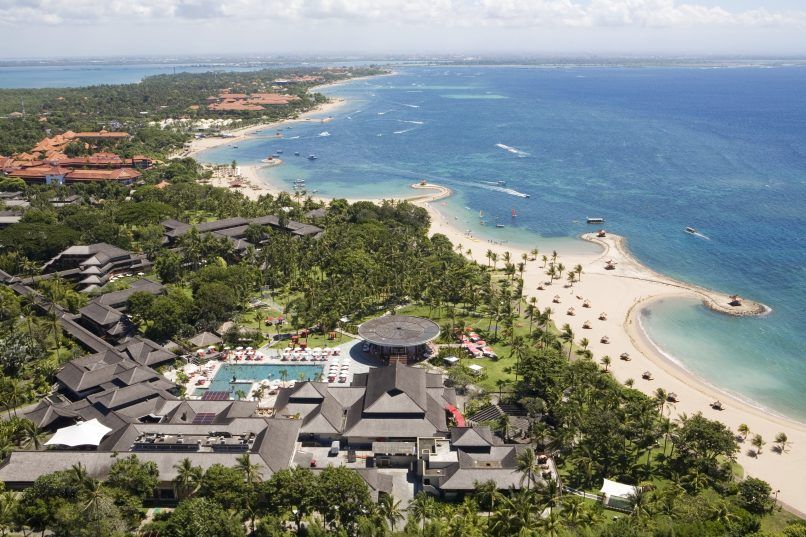 Accommodation
It is a rare for a resort not to have its rooms and suites as a focal point, but we came to understand that at Club Med Bali, you're going to be spending most of your stay outdoors. The rooms are designed to be spaces for rest and relaxation after a long day, which explains their warm yet simple set-up. They are housed in buildings that blend traditional Balinese architecture with wooden accents and bright red furnishing, adding to the fun and light-hearted spirit of the property.
Room types range from 25-89sqm in size, with capacity for up to 6 people in connecting rooms. During our stay, we called the Deluxe Terrace Room our home for 3 nights. This was located on the ground floor with a small terrace and sunbed, as well as direct access to the garden. Conveniently, your room key at Club Med Bali is a bracelet you wear throughout your entire stay. For those who often lose their key or forget it in the room, this fear is completely eliminated.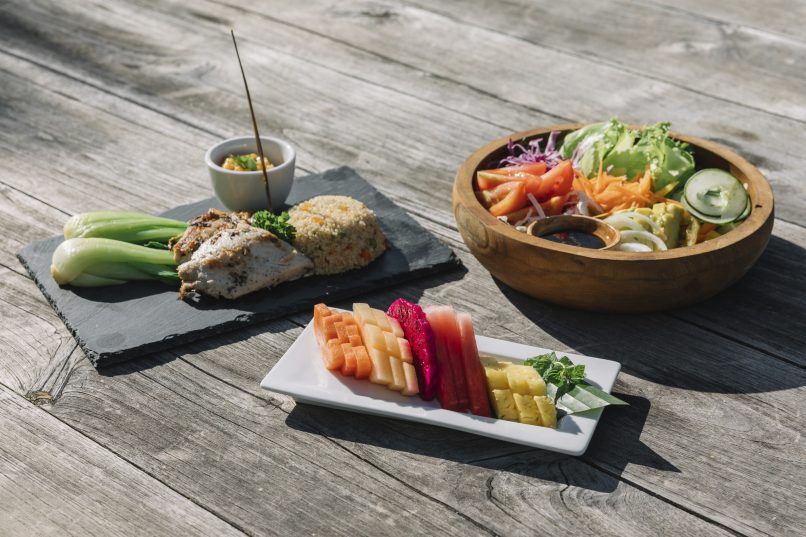 Dining
Club Med's all-inclusive policy means that guests can eat and drink as much as they like throughout their stay, and this includes alcoholic beverages.
There are two main restaurants at Club Med Bali: Agung, where international cuisine is served buffet-style, and The Deck, where a-la-carte meals can be enjoyed. During the day, guests can also nibble and snack at the Beach and Kintamani bars, or follow the luring scent of the Makan on Wheels food cart, where light bites like satay, paninis, and fries are served. This was a personal favourite hangout for us during our afternoons by the Zen Pool, a more secluded pool area accessible to adults only. Ever the millennials, this is also where we got to enjoy free-flow rosé every afternoon.
After its reopening, the Club Med Bali menu now also features more health-conscious options, and a spotlight on sustainable agriculture and locally- and ethically-sourced products. For those particularly intrigued, it is worth checking out the Balinese cooking class for your own spin on the popular and IG-trendy "Buddha Bowl."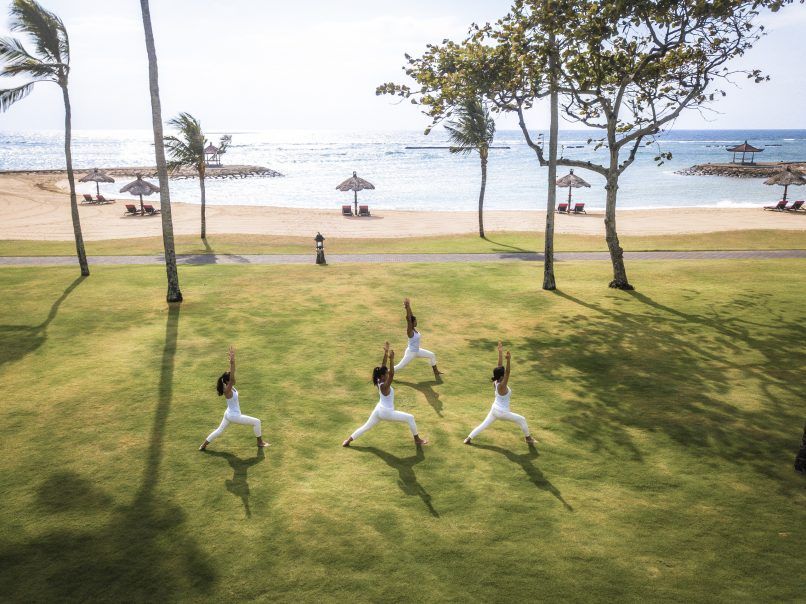 Activities and Facilities
It is apparent that the activities and facilities at Club Med Bali make up its beating heart. Just a quick stroll through the property, and you'll find young adults hanging and swinging from a massive trapeze in the garden, fathers and sons wind-surfing in the sea, and little children playing games together in the kid's pool. Notably, the resort offers the largest number of in-resort sports and activities in all of Bali.
There are 38 "included" activities at Club Med Bali, covering everything from yoga and archery, over to regular and padel tennis, kayaking, water polo, windsurfing, and golf. "On demand" activities come with a small extra charge, and cover individual surf classes, excursions outside the resort, and treatments at the Club Med Spa by MANDARA.
New highlights include the Go Bali resort tour (which goes from the Big Buddha statue to the Balinese temple, and is a great way to explore the property), over to a digital treasure hunt, Amazing Family! Programme activities, and Balinese themed workshops.
All of these activities are led and hosted by the infamous Gentils Organisateurs (or GOs), the central veins of the programme at Club Med. These have something reminiscent of young and sporty summer camp leaders, friendly and approachable, and even down to eat with you during dining hours.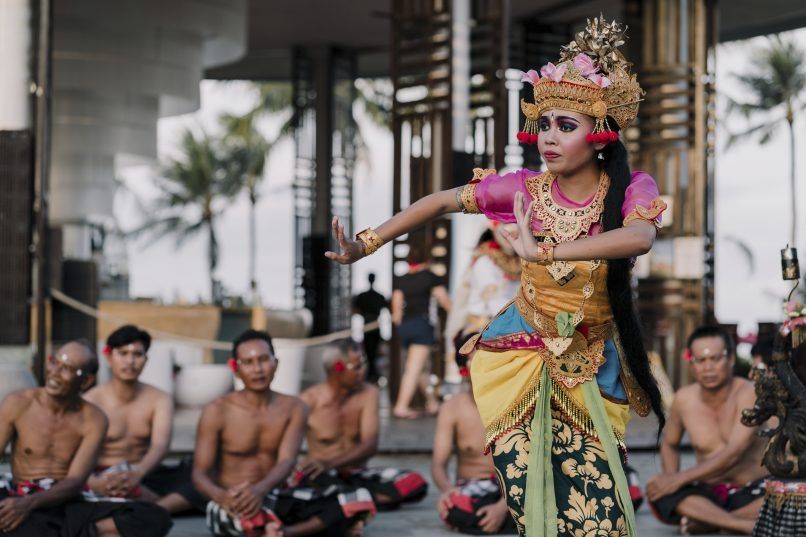 Entertainment
Broadcasted on screens and signposts during the day, every night at Club Med Bali, there is a set theme (with suggested dress code!) that guests can and should abide by. The theme contributes to the entertainment of the night on most nights, as well as the decor of the outdoor spaces. This adds a fun element to your stay at Club Med Bali, and invites you to an after-dinner party every single night. There are newly-introduced digital colour shows, Magic Tribe shows, and the use of electronic screens, lights, and sounds, to enhance this experience, whether it is inside the Balinese theatre on Balinese night, or out in the garden with a live DJ at the Nomad Festival.
Who performs in these shows? Not your average performers. Decked out in detailed costumes and with an addictive fun-loving energy to suit, it is the GOs and Club Med Bali team that make up the cast and crew. It's a testament to how multi-talented the staff here is, but also gives off a warm message, almost like your friends and family performing for you. Whilst the children really enjoyed the theatrics of the shows, we too found it extremely entertaining to see our beloved aqua aerobics instructor go from serious teaching in the day, to impersonating Tom Jones by night. Verdict
It is understandable why families love Club Med, as mum and dad can relax with the rosé by the pool, and the little ones are happy with a genuinely exciting kids club programme. However, even without this highlight, the deeper appeal of Club Med Bali became very apparent to us towards the end of our stay.
The General Manager at a Club Med is referred to as the Chief of the Village, and whilst we thought this was quite quirky at first, it made a lot of sense to us on check-out. Strong, lasting social connections, a warm sense of community, and a comforting peace of mind are beautiful and rare key pillars of the Club Med Bali experience. Especially in a world that is coming out of a pandemic, this can prove to be paramount, and with its recent reopening, Club Med Bali has hit the nail on the head.
No longer newbies to the Club Med phenomenon, on our return to Bangkok, we dropped the word into casual conversation at cocktail parties and social gatherings. Those who had been before, exchanged a knowing and glowing smile. There's a real sense of "if you know, you know," when it comes to Club Med. Happy to be part of this movement, if anything, the millennials in us felt special to be part of the club.
Club Med Bali, Kawasan Pariwisata Nusa Dua, Bali, Indonesia, +62 361 7771521.