It was as if the universe of Avatar had opened for tourism.
A casual flight hour away from Bangkok, and a smooth Hummer ride along Phuket's coastline with few troubles to find, Keemala lies at a periphery between beach and rainforest, and fantasy and reality.
The small (albeit region-renowned) resort boasts an awe-inspiring anomaly of architecture, with bird nest villas and tree pods dotting the property, and an eco-friendly, holistic, and somewhat otherworldly approach to hospitality.
A magically serene hideout, we checked into the luxury rainforest retreat for the weekend, and came back with an ante very much upped for future trips to Phuket, the tropics, and potentially other planets.
[All images courtesy Keemala] Story
Keemala lies in a close proximity to Kamala beach and village, not too far from the infamous Patong beach, and about an hour away from Phuket International Airport. It's strange to consider these very mundane and earthly facts, as Keemala appears to exist as more than just your average island resort by the shore.
You'll be greeted by resident animals on arrival, with a few ducks and an occasional peacock and buffalo paving the way toward the lobby. You'll be escorted to the check-in treehouse (just go with it) by way of golf buggy, and en route you'll pass by frangipane passages, trickling waterfalls, and the unveil of a valley-like landscape that houses different types of curious-looking private villas. There are four types of villas, each inspired by the fictional story of the four local clans. These are Pa-Ta-Pea (Earth), Khon-Jorn (Wanderers), We-Ha (Sky), and Rung-Nok (Nest). The riveting tribe tale is one best reserved for poolside literature, yet also offers some great background knowledge for the design of each of the villas. These are themed after the traits of each group, from the Earth Clan's clay cottages to the Wanderer Clan's tented villas. The restaurant and bar too follow a tribal interior design, and as a general vibe, there is a strong sense of lax Hunger Games filmset. Villas
Whilst most resorts have a discreet 'levelling up' of room or villa types based on décor and privileges, such is not really the case at Keemala. There are 38 villas in total, with four different villa types differentiated by style (and also size, just to make some sort of pricing system make sense), but it doesn't really feel as if any one villa type is 'better' than the other.
For the weekend, we checked into both the Bird's Nest Villa (the largest at 185 square metres) and the Clay Pool Cottage (the smallest at 126 square metres), with divided views on which we preferred. The Bird's Nest Villa feels like the grand dame of the resort, boasting a creative nest-like exterior, high ceilings, and warm wooden interiors that manage a flair somewhere between contemporary and tropical. The bed is romantically draped with a mosquito net and overlooks the private pool and deck, as well as a sprawling view over the resort and town. The shower was perhaps the most imposing aspect, with large curtains and a mirror directly opposite, and a spotlight come nightfall that shines into the light and ups the drama for your nightly rinse.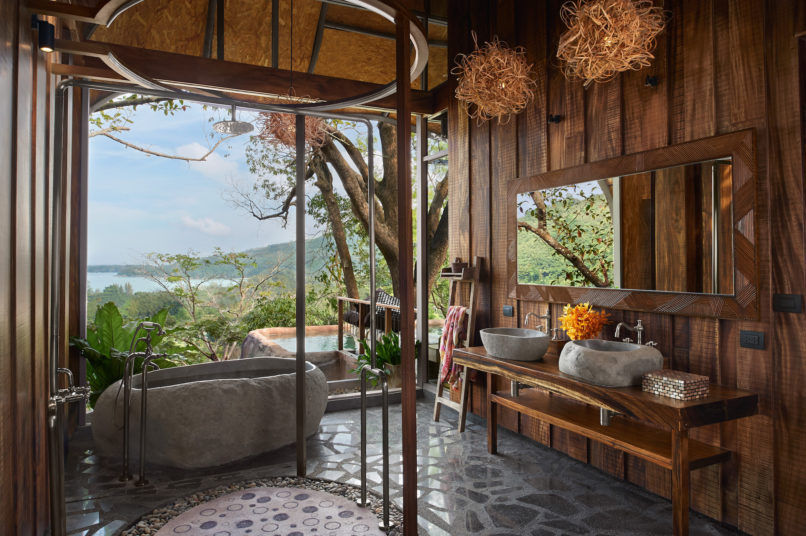 The Clay Pool Cottage is a more intimate retreat. These villas are located deeper into the landscape, and are great for those who like to explore a little more and chit chat with an occasional song bird or baby komodo dragon along the way. They follow the same modern exotic design ethos, with more 'earthy' clay touches from exterior to interior. The dreamiest aspect is the walk into the plunge pool directly from the bedroom, with steps leading into the water like a pathway to relaxation. Where the Bird's Nest Villa is extroverted and loudly opulent, the Clay Pool Cottage is more private, closer to nature, and great for room service and the in-room digital movie library. It must be noted that all villas offer a complimentary mini bar, inclusive of Chiang Rai coffee beans and a coffee grinder, which produced a great morning cup. For those who appreciate the little things, that thing was a big one for us. Dining
Granted, just about anyone would want to have a floating breakfast served in-room by their own private pool, yet we were a little underwhelmed by this option, and very much preferred dining at Mala Restaurant on the premises. Whilst there's only really one dining outlet at Keemala (besides the cocktail bar and private dining arrangements), Mala manages to achieve a lot in a small space. The menu is varied, spanning Thai and Indian over to international and even spa cuisine, with enough options for those who are vegan and gluten-free. This goes well with the resort's philosophy of healthy and wholesome well-being, and also delivers in nutrition and taste. Junk food, plastic straws, or anything less than organic would just feel perverse.
We were particularly wowed by the Thai food (a real challenge in a heavily saturated market), as well as the fresh seafood. Breakfast too is a fine affair, with a buffet of common staples from pastry to fruit, complemented by a la carte morning classics, and detailed additions from banana jam to Phuket dumplings. The juice and elixir list is excitingly lengthy, and to top it off, Keemala offers complimentary prosecco for breakfast too, because of course. Experiences
Arguably, the key experience at Keemala is being at Keemala, but for those looking to get the most out of the surroundings, the resort does provide a number of fitness and culture activities throughout the day. Though groggy at first (the sun rises at 6am, let's just reiterate that) we headed to sunrise rooftop yoga on our first morning for a beautiful start to the day. Nature walks, jogs, runs, and specially-tailored de-stress programmes can also be arranged, and there's even a meditation cave on site to zen your heart out. Beyond these sessions, there's also a main pool area for daytime lounging, a boutique and library, and the Mala Spa. Here, the treatments have been curated to incorporate the story of the clans and their various elements, and further a sense of ritualistic and local healing technique. Mala Spa is set in a smaller enclave of little treatment pods, really continuing to nail that 'leave your worries behind in the human world' vibe. Verdict
On arriving at Keemala, we dipped and probed a little. What is it that people get up to around here? Are they beach bums? Are they forest foragers? Wellness weekenders? Hibernating humdrums? Our questions were met with an answer that felt absurd at first, but made complete sense the afternoon of our departure.
Most people check into Keemala and check out of the real world for a true sense of escape. Whatever clan they may assign to, it isn't uncommon for guests at Keemala to never leave the comfort of their villa. The resort is warmly accommodating of this. Day beds, twinkling streams, and an occasional bird call capture the aura of the property and its concept almost in its sheer entirety. Boasting very much the same feel as our childhood bedroom fort on steroids, Keemala is the fantastical wonderland where an escape is not only an illusionary travel goal, but an immaculately executed reality.
Sure, it's not for everyone; but that becomes clear from the start. Like you not the potential prick of the moody mosquito on an evening out on your tropical terrace, then you should know you'll be more comfortable in a temperature-controlled high-rise. Yet if you like nature, want to be one with the jackfruit trees, and always kind of wanted to star in your own version of Alice in Wonderland meets The [tropical] Chronicles of Narnia, Keemala is your calling. Once upon a time, and magically ever after.
Keemala, 10/88 Moo 6, Nakasud Rd., Kamala, Kathu, Phuket, +66 76 358 777.
This article first appeared on Lifestyle Asia Bangkok on 22 June 2019.