When conversations and concerns surrounding climate change and the environment seem paramount, what can we all collectively do to make it better? And how can we incorporate that into our everyday lives?
Lifestyle Asia's latest Good Life Workshop, in collaboration with Ecotopia of Siam Discovery, was all about that and more. At our highly anticipated workshop Essential Oil & More, we got the chance to team up with some of the most influential beauty experts in the industry, the locally founded all-natural, eco-friendly, and cruelty-free brand the Moringa Project, Ecotopia, and friends of LSA to learn more about beauty hacks and natural oils and scents that are nourishing for the body, soul, and environment.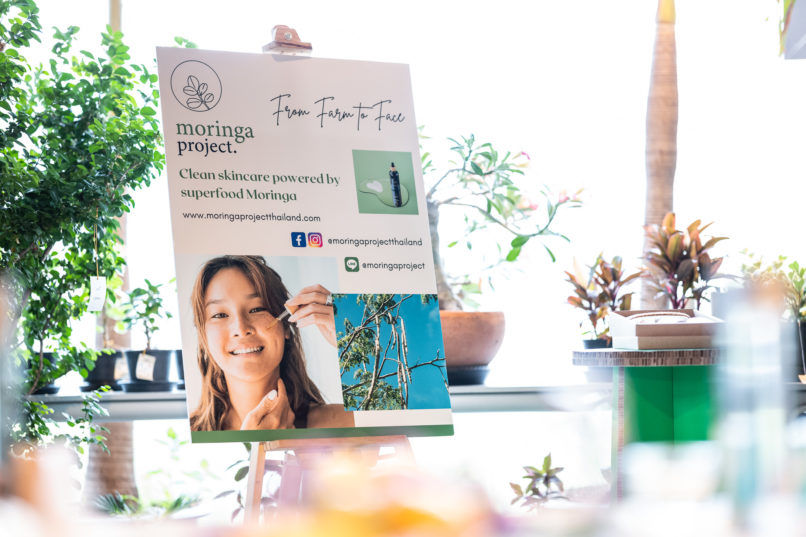 Yes, it is possible to live a good life while being good to the environment, here's how.
Ecotopia, the largest eco-retailer in Thailand located at Siam Discovery, is home to over 100 brands and 1,000 eco-friendly and sustainable products, and was also where our workshop took place.
From THB 1,715 to THB 1,399, guests and friends of LSA were given a glimpse of what Ecotopia had to offer with the all-exclusive Moringa Massage Gift Set consisting of Moringa Project's 300ml Moringa Facial Oil and face roller, PASUTARA Rosemary cleaning water, to RePlanet.me's reusable organic bamboo makeup remover pads, and to get started with the workshop.
Who was there?
The gift set was limited to 10 people only, so you can tell it was pretty special for our friends who joined. Among our attendees were also some of the beauty industry's most popular influencers, from Chanoggan 'Tune' Veerakatidham (@tuniez83); Punnapa 'Oam' Verapuchong (@oampunnapa); Papapin 'Aom' Verapuchong (@aompapapin); to Vasavee 'View' Wornphien (IG: @viewtoria).
Learning about the miracle tree
Our main protagonist was the Moringa Facial Oil, an oil derived from the seeds of the Moringa Tree, more commonly dubbed as the "miracle tree" for its numerous benefits. There, we were introduced to one of our many esteemed guests, Khun Marika Nanni, co-founder of the Moringa Project, who shared with us the many skin benefits of the oil – from protection, hydration, anti-inflammatory, nourishment, and healing, to its age-defying attributes.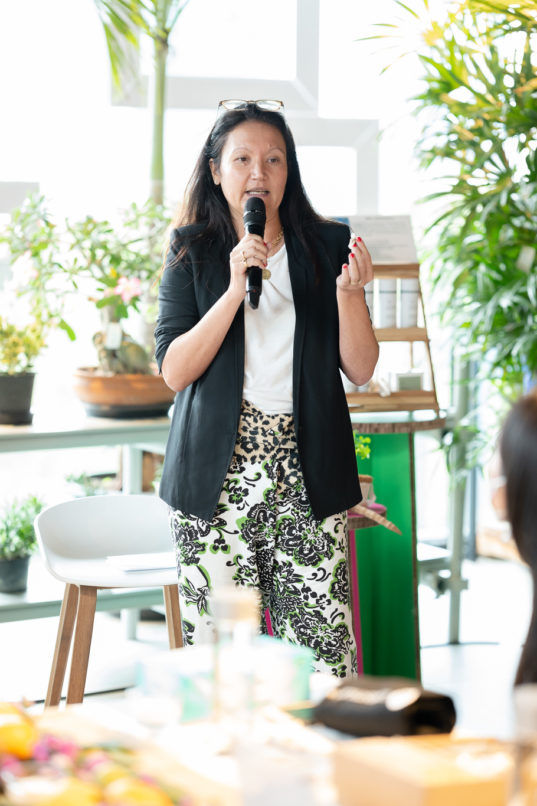 Lessons in facial care
The introduction was then followed by our first activity, led by Aniwat 'Au' Na Nakorn (IG: @auuuu), a leading skincare and beauty expert who has over 10 years of experience in the industry. There, K. Au shared with us the benefits of using natural oils on our skin and everyday regimen, and that there is no perfect routine for applying oil on your face – it just depends on your preference. Facial oils, especially the very beneficial ones like the moringa oil, can be applied before or after moisturising the face, and also in the morning or night. Its light, quick, and deep absorption allows the oil to penetrate into our skin tissues for the best rejuvenation and nourishment and will make your skin as healthy as ever.
From the gift set was also the face roller, which, as we know, has become a cult favourite among the beauty scene over the last couple years. K. Au demonstrated to us just how beneficial it is, and how to exactly use it, from always rolling it upwards in multiple locations on your face for skin tightening and better blood circulation.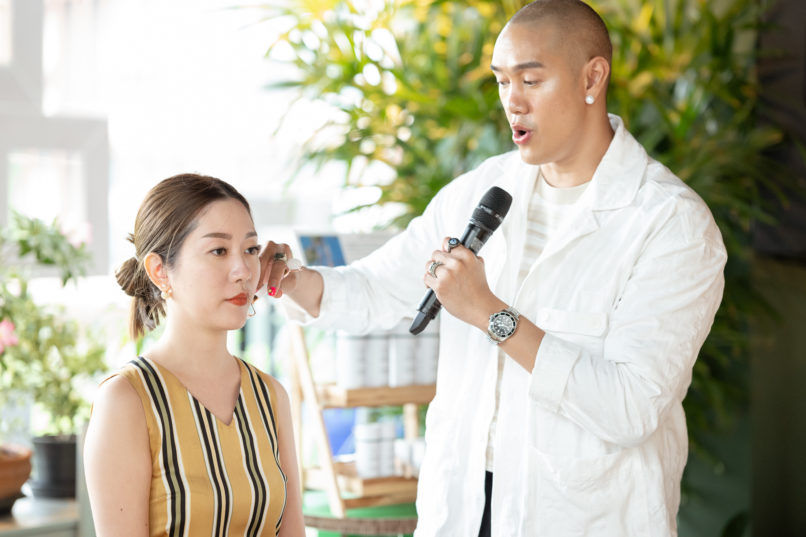 Discovering scent personalities
Then it was time for our second activity of the workshop and to finally get our hands dirty, which was to discover our favourite, customised, personality scent by mixing one of the five essential oils into the moringa facial oil.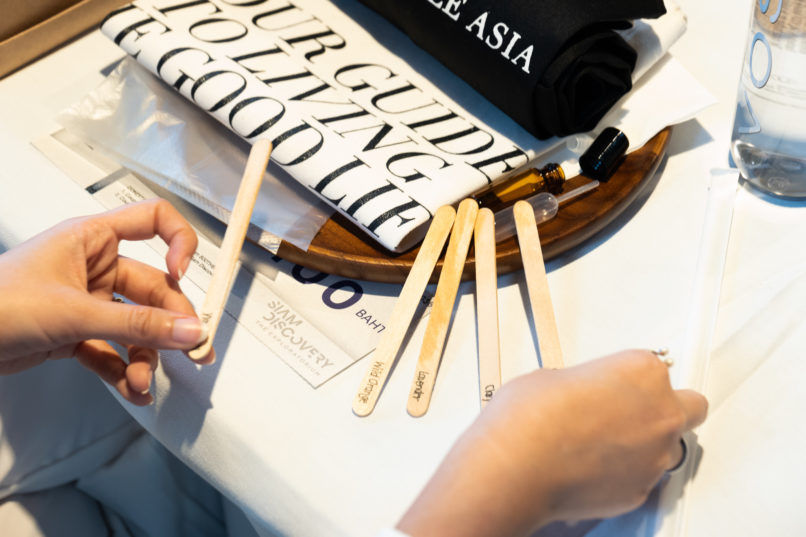 Guests were given five options/scents to choose from: lavender, cedarwood, ylang ylang, wild orange, and clary sage. Upon being introduced to each of the scents and its characteristics by K. Marika, such as the woody scent of cedarwood and its ability to reduce stress and anxiety, guests of the workshop were then given the chance to choose one of the given scents to be incorporated into their oils. At only 3 – 5 drops, then there you had it – your own personal scent that is both soothing for the mind and skin.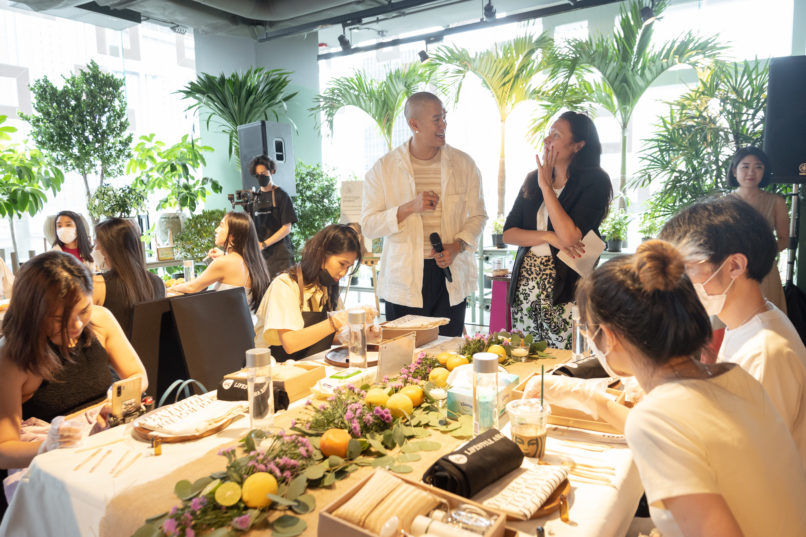 And then that was a wrap! The workshop came to an end with both open hearts and open minds. We got to learn more about eco-friendly products that are not only good for the environment but also accessible and beneficial to our mind and body, as well as beauty hacks from the industry's best. To top it all off, guests also went home with the ultimate gift set and tote bag from Lifestyle Asia. Suffice to say, it was one wholesome afternoon.