The hip Gucci Osteria restaurant in Los Angeles is three-Michelin-starred chef Massimo Bottura's first American venture.
When Chef Massimo Bottura opens his first restaurant in the United States, it definitely calls for a grand celebration. That's precisely what happened during the star-studded launch party of the Gucci Osteria da Massimo Bottura in Beverly Hills recently. Located on the rooftop of the Gucci store in Los Angeles, the intimate restaurant has an outdoor seating area that offers sweeping views of Beverly Hills – the place to be when you're in the city of angels.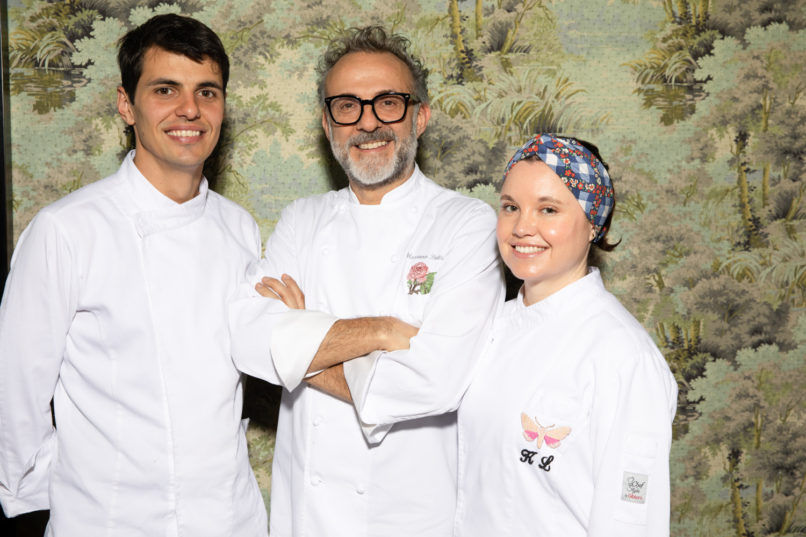 Needless to say, the food is going to be spectacular. Chef Massimo Bottura and Karime Lopez (chef de cuisine at Gucci Osteria da Massimo Bottura in Florence and also the first female Mexican chef to receive a Michelin star) worked alongside Mattia Agazzi to bring the menu in Gucci Osteria Beverly Hills to life. Agazzi's credentials are not too shabby either, having worked as Lopez's sous chef in Italy. The launch of this new restaurant marks the continuation of Gucci and Bottura's collaboration from their first one back in 2018 – the Gucci Osteria in Florence. It was recently awarded a one Michelin star.
As the restaurant's name Osteria – which means Italian restaurant – reflects, the menu is deeply Italian. However, Bottura also plans to make this outpost a place for him to transform classically Italian dishes into cross-cultural compositions by mixing techniques and flavours. Here you'll find signature dishes including Bottura's iconic Tortellini with Parmigiano Reggiano cream and the Emilia burger. As for Californian-inspired dishes, think along the lines of risotto camouflaged as pizza made with tomatoes, basil and mozzarella; smoked chocolate ganache, miso caramel, chocolate sorbet, chocolate star-crisps and cocoa nibs; and more. Produce used will be organic and sourced from the local farmer's markets.
Hand in hand with the exciting menu is an equally gorgeous interior. Gucci brings Florence to LA with the use of Gucci Decor wallpaper, red marble dining tables, antique mirrors, and wicker dining chairs. But of course, the restaurant too needs an element that distinguishes it as being truly LA – this is where details such as herringbone wood flooring and cherry red velvet banquettes come in to play. Outside, the floors are made with Italian marble mosaic and the bar area is an antique wooden pulpit. The restaurant can seat over 50 guests and officially opens on February 17th, 2020.
(Featured & hero image credit: Pablo Enriquez)