With a heatwave that won't let go, visiting some of these hotspots for a cold treat is as much appreciated as rain in July. What's in the cone you wonder? Summer sorbets like those scooped in Italy, gourmet treats and unbelievable ice cream creations. So stay put — these are the addresses where you'll find the best ice cream in Paris!
Pierre Marcolini is the king of healthy and fruity gourmet ice creams! Without any added sugar, you'll find delicious praline ice cream, covered by a chocolate shell. Try the tasty ice cream cups, drizzled with dark chocolate sauce, grilled almonds and pecans and raspberry coulis. Yummy!
Hoct&Loca, a chocolate bar located in the heart of Paris, is offering tasty ice cream coated with decadent chocolate for the summer. With a base of homemade vanilla ice cream, you can dip your cold treat into one of the six different chocolate flavours. Or just buy six ice creams because all the chocolate flavours are worth savaging!
After reminiscing about the fruity desserts they enjoyed during childhood, Marie-Laure Pollet and Olivia Berdah created Fruttini. Made with the best Italy has to offer, these frozen pastries combine a frosted fruit outer shell and a light tasty sorbet filling made from fruit pulp. And they come in a variety of shapes and flavors — pineapple, banana, lemon, strawberry, kiwi, coconut, apple, dates, pear, and even cacao. A feast for the eye and a feast for the palate.
Like every summer, the oldest chocolate factory in Paris unveils new flavors of homemade ice creams, a nice tradition that they have been keeping for decades. Made in the heart of the factory's kitchens, they offer a variety of flavours. This summer is no exception and you'll find everything from coffee-pecan and pistachio-calisson to more fruiter tastes such as raspberry, passion fruit and lemon.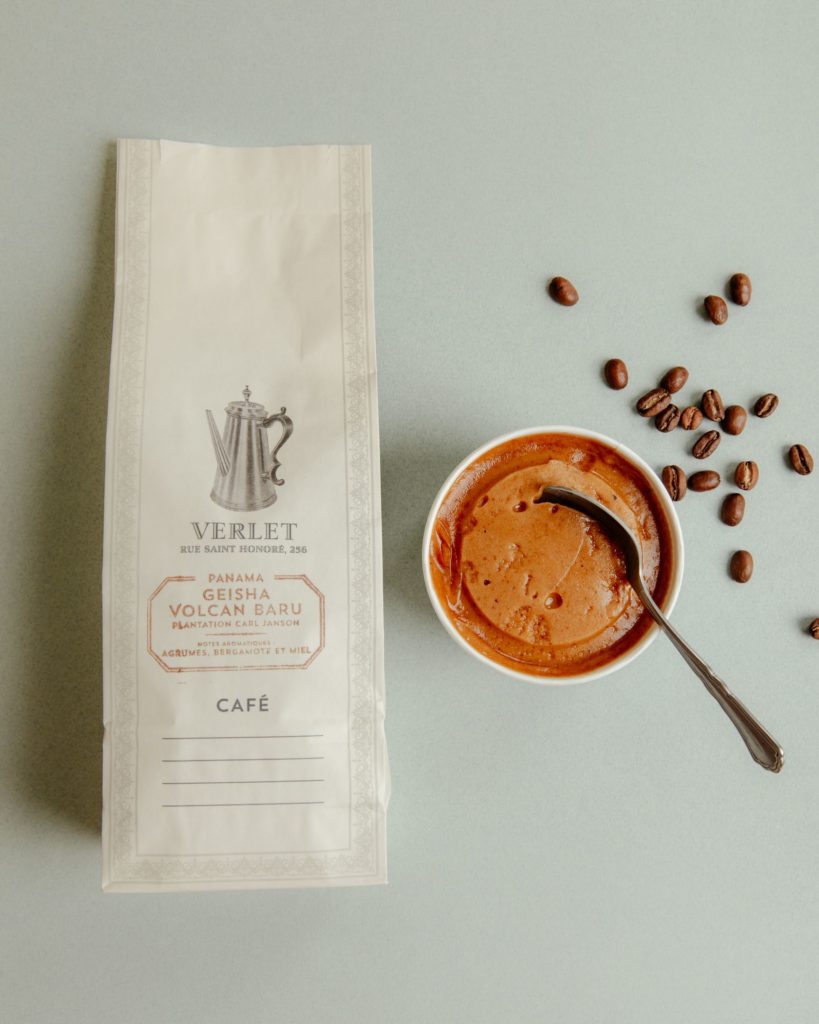 The infamous Café Verlet on the infamous Rue Saint-Honoré is collaborating with Une Glace à Paris this summer. With the help of Emmanuel Ryon — renowned pastry champion, these chilled, pieces of heaven, coffee creations, come in four different flavours: Kopi Luwak ice cream, Moka Sidamo ice cream, a candied fruit ice cream with Moka Sidamo and a Panama Geisha sorbet. You're welcome all coffee lovers!
Glace Bachir is the first ice cream parlour in Paris to offer you 100% organic ice cream made with Lebanese know-how. Located just a stone's throw from the Centre Pompidou and Les Halles-Châtelet, the queue to get one of these frozen delicacies speaks for itself. Totally worth the wait when you're finally getting your hands on their crushed pistachios coated ice cream!