The best kept secrets are the ones nobody can remember. Although, be reassured: none of these places are close to oblivion. After all, name a feeling better than wandering in your favorite city and still discovering wonderful, hidden places. This is the whole point of speakeasies, if you ask us. The charm of the places listed below does not only lay in the fact that they are serving some of the best beverages Paris has to offer, with a sharp attention to the mixology, it also lays in the fact that most of them do not seek public attention.
We won't spoil too much about these addresses — we've left enough secrets out there for you to stumble upon on your own. So here you go, 5 speakeasies to discover in Paris!
A chunk of Mexico is living in this friendly neighborhood taqueria in the third arrondissement. Hidden behind a regular white door, La Candelaria is to many of its clients, simply the best place to experience freestyle mixology (along with more classic beverages). Whether you like Margaritas or Negronis, the place has got your back. Best shared with friends!
There are speakeasies that are hidden from your sight, and then there's the Moonshiner. No half-measures were taken during its conception and that's precisely why it is so successful. Sure, we've all heard of speakeasies that were hidden behind a phonebooth, a laundry or even behind a shelf… But the Moonshiner just takes it up a notch.
The instructions are simple :
Go to Restaurant Pizza Da Vito
Look for the restaurant's kitchen
Locate the walk-in cooler, get in
Order the beverage of your choice
Have a great time
The hint seems to be in the name. For that very reason, getting to experience the Little Red Door in perfect conditions (that is, with as little clients as possible) is probably harder than in any other speakeasy in Paris. "We don't take reservations but recommend coming down as early as possible" explain the owners, in a detached manner. "We sometimes have a little queue, but don't worry, our doorman is lovely and usually has some tea…". But after all, if the bar falls victim of its own success, reasons must be plural!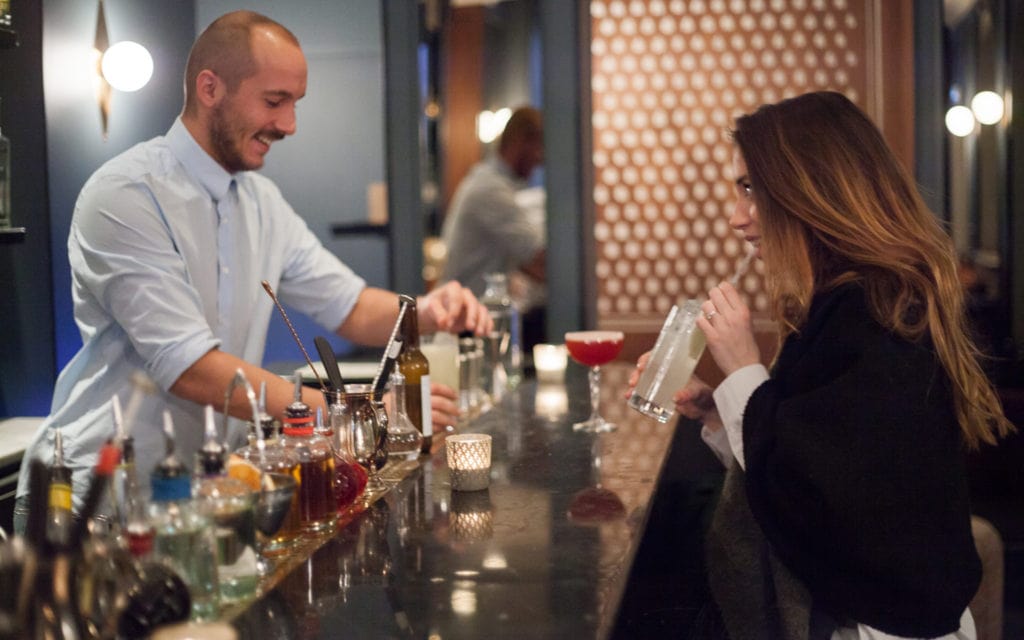 Who said four-stars hotels needed to do things the regular way? Certainly not the good folks by rue de Montorgueil, at Hotel Bachaumont, as they, a couple of years ago, gave birth to the Night Flight Bar, paying homage to Saint-Exupéry and to "those who travel by night". The name is obvious, for a good reason. The subtle establishment only opens once the night has come. Their, the bartenders are not only very friendly, but also highly-skilled. Each drink on the menu is served in a different type of glass, for that classic cocktail feel. Not inspired by what you see on the menu? Ask for any drink and watch the marvel unfold before your eyes.
There truly is nothing fancy about Le Syndicat. At least not on the outside, because once you get in, it's a whole other story. Located in the popular rue du Faubourg Saint-Denis area, the mood gets all cosy once you've passed the door. The run-down walls are covered in posters and PSA's leave room with golden curtains and lighting, as well as an overwhelming sense of chic. When it comes to drinks, everything on the menu is guaranteed made out of 100% French-produced alcohols. Some say Le Syndicat is one of the best experiences in Paris. You can verify this information by checking them out next time you're in the French capital.