Prints and patterns have decorated some of the most lavish and contemporary homes around the world. While it takes a strong personality to be bold enough to mix different prints together into the home, it can be as easy as introducing small splashes of colourful motifs into a corner in the living room.
This creative approach has been around since the early days of the Renaissance when patterns were literally hand-painted onto gilded walls and ceilings. Today, we find all sorts of prints and patterns in various materials and textures — from ceramics to wallpaper, embroidered silk to digitally printed fabrics.
Internationally acclaimed bespoke pattern expert, de Gournay, employs artisans to hand-paint beautiful leitmotifs of flowers, scenery and animals – continuing the 18th century artistry of hand-painted wallpapers. In Malaysia, Lisette Scheers of Nala Designs uses hand-drawn patterns (inspired by diverse Malaysian culture) in everything from clothing to porcelain, curtains to wall coverings and rugs. Dubbed the 'Queen of Patterns', Scheers believes that prints have the ability to enliven a space with character and exuberance.
When it comes to putting prints and patterns together, a simple rule is to find the right balance. Keep the colours cohesive or the exact opposite – let the patterns clash intentionally. If you're not confident with mixing patterns, pair complex motifs with a solid colour to create a balanced look. Otherwise, use a variety of patterns in small doses; think fresh linens, go-to decorative throws and cushions, miniature framed prints, and vases that you can easily switch out once the design trend moves on.
2019 interior design trends suggest the resurgence of ethnic motifs and rich-coloured prints to achieve warmth and familiarity at home. Pick prints and patterns that resonate with your personality and heritage to give your interiors a swanky praise-worthy look without looking like a kitsch playhouse. That said, if a full-on heavy-handed ethnic inspired look like above is not for you, think about small ways to bring in the moment.
Here are eight of the latest prints and patterns to get you feeling inspired for a home makeover. (Featured image: de Gournay)
1
Geometrical Prints
Geometrical patterns almost never go out of style thanks to their symmetrical harmony. It is best used to add visual interest into the room without doing 'too much' to the space. This versatile print can be used on the floor, ceiling, wall or even decorative accessories. You can amp it up by pairing it with a striking complementary colour. (Credit: Jim Thompson)
2
Abstract Florals
Keep the space cohesive with a repetitive pattern of abstract floral or leaf motifs. If you're going for a wallpaper treatment to your space, choose a simpler texture to add depth and the right touch of style. Go for larger prints for a more impactful look. Abstract floral prints go very well with fresh bouquets or potted plants. (Credit: Christina Juarez)
3
Heritage Handover
Wondering what to do with an old batik sarong? Turn that into a beautiful statement piece for the bedroom or the living space. Some batik prints have unique leitmotifs and elements; so make sure you observe the most eccentric side and secure it in a tempered glass frame for an extra touch of luxe.
4
Palm Patterns
Palm prints have never left the building; in fact it's a top choices for modern homes. Palm-patterned wall-covering or textiles add a relaxed vibe, especially with its cool green tones. The print is best used as feature wallpaper, cushion covers or art pieces. This ensemble is best paired with brass or gold metallic for a retro-inspired look.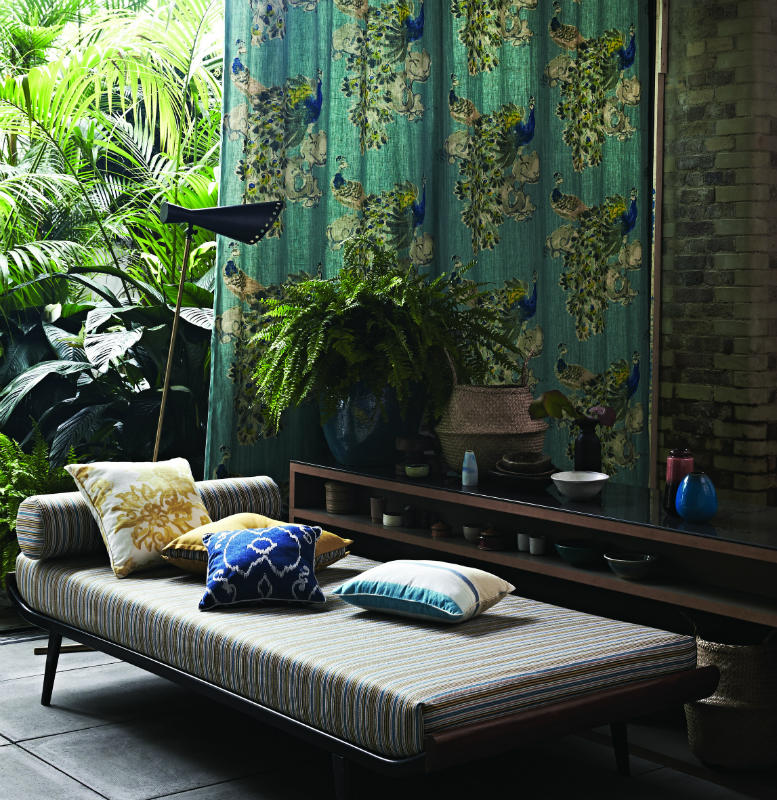 5
Blending In
Besides having balance, prints can also be used to add depth into the space with the art of 'blending in'. Layer the desired corner with patterned fabrics that respond to its surrounds. Pictured here is a peacock leitmotif that is paired with the deep green hues of the outdoor garden so create a chic nature-inspired look. (Credit: Jim Thompson)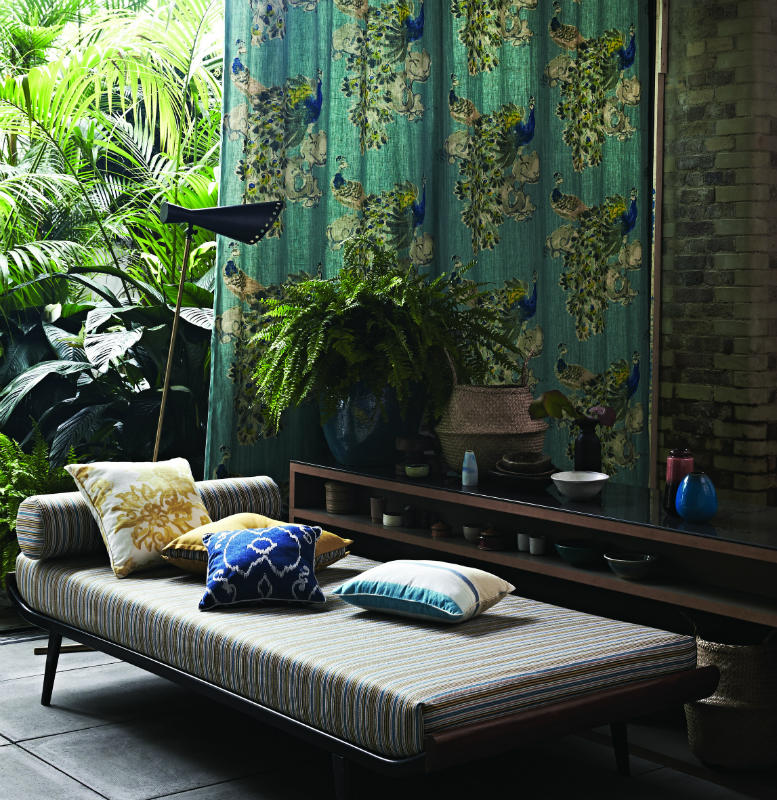 6
All Oriental
Chinoiserie and oriental influences have been around for a long time but there will be a stronger emphasis in 2019 with a focus on bold statement elements like flowers, birds and dragons. Embroidered textiles will be favoured alongside vivid colours like red, yellow and jade green. These prints are best used as feature pieces in larger living spaces, foyer and bedrooms. (Credit: Jim Thompson)
7
Unfinished Project
Prints and patterns are used to create conversations. If you're planning to have a DIY mural project at home for a feature wall, make it a work in progress and continuously add in the colours. The idea of a 'living wall' makes the space even more interesting especially for returning visitors. Otherwise, keep the outlines of the patterns — use a metallic sheen for a luxurious touch — as the final look on the wall.  (Credit: de Gournay)