First, there was 'I Am Not A Plastic Bag'. Now, Anya Hindmarch is going the other direction by launching a new 'I Am A Plastic Bag' handbag.
The year was 2007, and the world was just getting a head start on the environmental dangers of single-waste plastic bags. Anya Hindmarch took charge and launched its 'I Am Not A Plastic Bag' campaign with the same words splashed across a limited-edition, reusable canvas tote bag.
Fast-forward 13 years later and Anya Hindmarch is back at it again with a new sustainability campaign, except that this time it is a plastic bag. More specifically, 'I Am A Plastic Bag' is made out of a new innovative fabric that looks and feels like cotton canvas, yet is created from recycled plastic bottles and coated with recycled plastic windshields.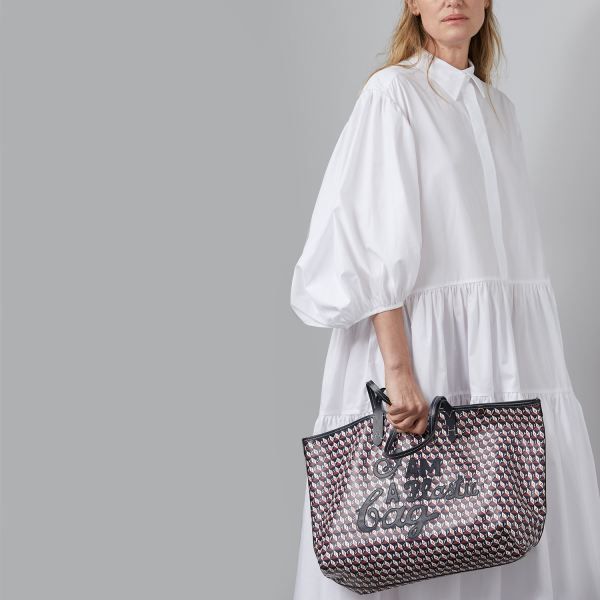 The fabric is woven from a yarn created from plastic bottles. It's an intricate process that begins with the plastic bottles being sorted, shredded, washed, and turned into pellets. These are then melted and extruded into fibres that are spun and woven to create a fabric. To give you a gauge, it takes 32 pieces of 500ml bottles to make a large 'I Am A Plastic Bag' tote bag.
As for the weather-resistant finish for extra durability, the fabric is coated in recycled PVB, a byproduct of old car windshields. This coated fabric is done in Taiwan, apparently the only place able to provide GRS-certified recycled coating.
Finally, the bag is trimmed with responsibly-sourced leather. Some may think, why not vegan or recycled leather? The people behind Anya Hindmarch did consider it, but research and expert advice conclude that responsibly-sourced leather was the best option as the alternatives contained unacceptably high-levels of polyurethane.
The responsibly-sourced leather that Anya Hindmarch uses in this bag is a by-product of the meat industry, sourced from a tannery in Northern Italy close to where the bag is made.
The 'I Am A Plastic Bag' collection has been pre-launched on Net-A-Porter in conjunction with London Fashion Week on February 15th. The full collection with four colourways will launch mid-April in Anya Hindmarch London stores and online.
(All images: Anya Hindmarch)