Burberry's Fall/Winter 2020 runway show during London Fashion Week was one of the many that pledged sustainability.
In an effort to offset its carbon footprint, Burberry has announced the launch of a new 'carbon insetting' project, starting off with the brand's Fall/Winter 2020 collection, which was recently presented at London Fashion Week.
Keeping in line with its commitment to the Fashion Pact initiative, Burberry presented a carbon-neutral Fall/Winter 2020 runway show during London Fashion Week. The show also marked the launch of a new 'carbon insetting' project, which will see Burberry working directly with its supply chains to reduce carbon emissions. A Regeneration Fund is also being set up, which will further its efforts to reverse environmental damage through projects that promote biodiversity, restore ecosystems and support livelihoods of local producers.
"Along with limiting and offsetting our carbon emissions through a project that reduces the risk of wildfires in Australia, we are also developing a Regeneration Fund to start carbon insetting to tackle the environmental impacts of our operations — beginning with a partnership with PUR Projet to implement regenerative agriculture practices in our supply chain," said a statement published on the brand's Instagram page.
For the Fall/Winter 2020 collection, in particular, the house chose to show at a carbon-neutral venue within Kensington's Olympia Exhibition Centre. Electric vehicles were used, and air-freight service was avoided in its preparation for the show. Trees were planted in Australia on behalf of its guests in lieu of gifts, and an investment was made to a savanna fire management project that aims to reduce risks of Australian wildfires, offsetting any remaining carbon output generated from putting on a catwalk show.
The collection itself is titled Memories, and includes both menswear and womenswear that share Chief Creative Officer Riccardo Tisci's reflection on all that he came across at the beginning of his career as a young designer. Whether it's the places he visited — he studied in London's Central Saint Martins, moved to India post-graduation, before starting his own label in Italy — the people he met or the music he listened to, it was those little encounters that influenced and shaped him into the man he is today.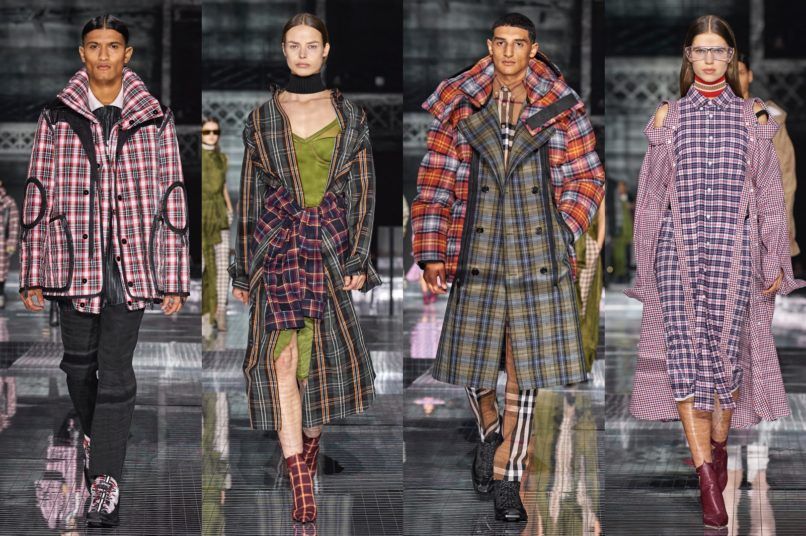 As a result, traces of London in the '90s from grunge plaids to the moody colour palette ran through the collection, while ruby shirts were found reconstructed into corsets, cinched tops and ponchos. Indian references, meanwhile, came in the form of pleated madras checks and drapes.
A continued exploration on the houses's rich heritage and today's idea of Britishness, signature Burberry elements from the trench coats to the tailoring, duffle coats, the checks and the beige colour palette have been reimagined in modern silhouettes, prints and fabrications, all of which are oozing in a touch of sensibility that had us wanting more.
The iconic trench, for example, was reworked in fascinating new ways. Some were softened up and worn off-the-shoulder, others featured curly shearling, faux fur and more. Evening offerings were also extensive and diverse, including standout options shimmering in fluid chain mail, crystal fringes and ring-pierced cut outs to simple, fluid maxi dresses.
Click on the link below for a full look at the collection.
This article first appeared on Lifestyle Asia Hong Kong.