We are in the digital age of beauty. And thanks to new innovations, technology has now integrated and become an integral part of the industry. Here's five innovative products in the world of beauty tech to keep your eye out for…
Whilst we have seen beauty tech in popular products such as Ava Kensington's Light Therapy Mask and FOREO's face tools, there has been an obvious increase in the purchase of tech products that we can use at home – especially as the pandemic has encouraged less in-person shopping and physical testing of makeup and fragrances. With beauty houses forced adapt and change the way that we consume its products, what if there was an easier way for us to enjoy beauty and skincare? What if you could create your own lipstick colour from any colour in the world without having to leave your vicinity? What if this could be done within minutes, rather than the long hours of applying and removing like you would at a store? Well, all of this is possible.
Featured and hero image courtesy of Neutrogena
5 beauty tech products to keen an eye out for:
Rouge Sur Mesure powered by Perso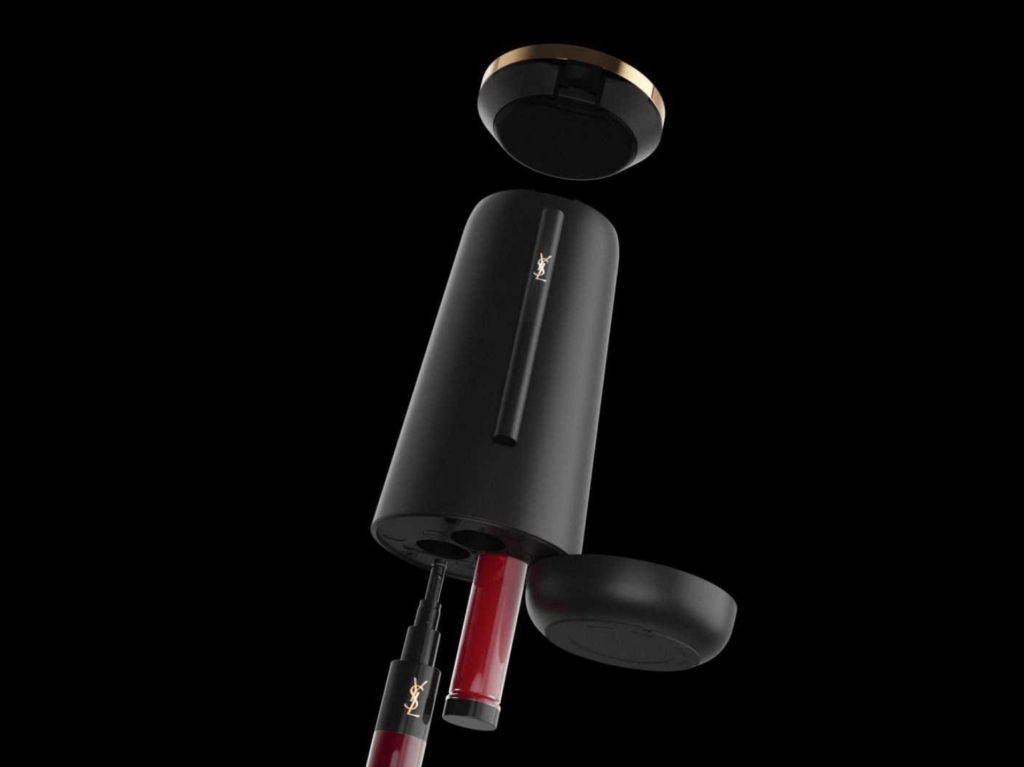 This technology creates a new shade of lipstick each time you need it – all in a matter of minutes and in the comfort of your own home. The user downloads the app, compatible with all smartphones, and uses three methods to create the desired shade:
Shade wheel: Select an everyday shade and then easily dial it up for an evening look.
Shade match: Match a standout outfit or favourite accessory with a simple photo capture.
Shade stylist: Consult real-time trends from YSL experts.
Once the user selects a colour, press 'create', and the machine will dispense a single serving that you can apply with the accompanying brush. The device includes a removable compact that you can bring out with you for touch ups, as well as an attachable magnetic brush. The app will save your favourite dose size to fit your lips as well as the most recent shade dispensed. You can also decide to save your very favourite shades in the virtual shade closet.
Scared the colours may mix if you want to wear red one day and nude another? With over 1000 shades within the universe of red, pink, nude and orange, one can create a shade from a different set by simply installing the new cartridge. "The respective sets ensure the quality and shade remain in that particular color universe vs. mixing and matching." says Guive Balooch, Head of L'Oréal's Technology Incubator, "The cartridge is also transparent allowing the user to see the formula color and the formula left. All of which are FDA approved". Think: truly personalised, perfectly tailored beauty experiences for consumers at home.
"Rouge Sur Mesure solved the question: how do you create a new beauty gesture that allows users to see a trend and immediately partake in it, without creating additional waste." adds Guive Balooch. It features a seamless automatic refill process that ensures its custom, NFC-tagged cartridges are always stocked and ready for daily use.
A limited pre-sale of this breakthrough device, priced at USD $299, is available for registration here for Spring 2021 delivery; a full launch will follow by end of 2021.
Benefit Cosmetics WeChat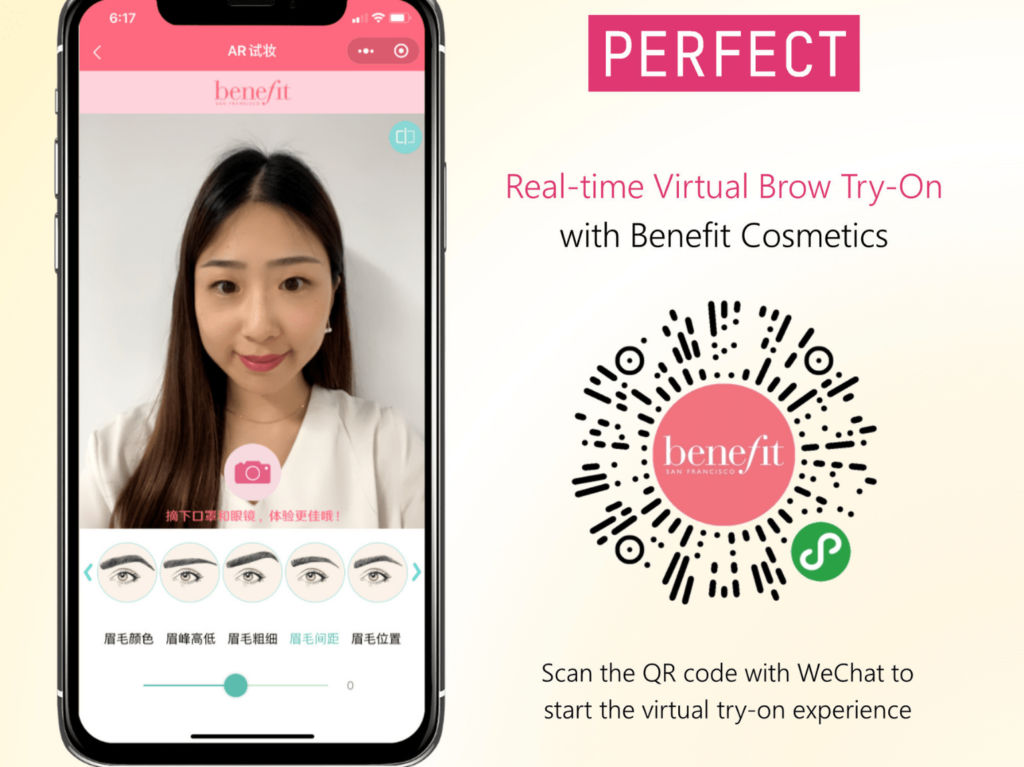 Ever gone to spruce up your brows and then absolutely hated the result? Perfect Corp and Benefit Cosmetics have recently launched a programme that can prevent bad brows. With all the lockdowns and more hygienic concerns in light of COVID-19, this innovative application makes it easier for customers to choose the right eyebrow before an appointment. "We are hoping that Benefit's Brow Try-On experience will give customers the ability to see our products and services on their own faces while removing one of the last barriers to buying or booking an appointment online" says Toto Haba, Global Senior Vice President of Digital at Benefit Cosmetics in its media release.
Using Perfect Corp's facial-point detection and colour-blending technologies, the WeChat mini program allows customers to book an appointment after choosing their eyebrow look. It is currently available to consumers in China. In October 2019, Perfect Corp partnered with Alibaba and integrated its YouCam Makeup AR virtual try-on technology into Taobao and Alibaba online shopping experiences.
Cyber by LOOK LABS
Cyber is the first fragrance encoded into a non-fungible token artwork to accompany its unisex perfume. "It is a combination of my love of fragrances and the hunt for new bolder scents that are not available on the market", shares Jordan Katzarov, founder of LOOK LABS. "The main inspiration behind it was the Blade Runner movie and how the future beauty product should look. The centuries-old process of perfume making can co-exist in today's world, and with the evolution of the Metaverse". This inspired the founders to come up with the name "Cyber" and its colours. Each NFT comes with a redeemable physical collector's edition of the unisex perfume for an additional fee.
The significant part of the fragrance is indeed its scent. The head, heart and base notes combine three different wooden notes, sandalwood, cedarwood and amber. "The idea behind the fragrance is to give you this pulse of energy but also to neutralise it slowly and relaxes you." says Jordan. "We believe in the future that the fragrances will evolve, it will have even more scientific applications as having an anti-anxiety and relieve effect, and supporting general well-being."
Working with a traditional perfume-making boutique house in Grasse, France, LOOK LABS were focused on various aspects, especially sustainability. The bottle is refillable and not disposable.
"To turn it on, you need to press the power button on the label, the text Cyber and the earth and recyclable symbols light up in bright red light. The message that we want to send is to dispose of it correctly and have a better "cyber" future together."
The perfume will be dropping soon; users can follow updates here.
Neutrogena Skin360
You can't carry your dermatologist around with you but with Neutrogena Skin Scanner, you pretty much can! The scanner, operated with a camera and an app, measures pores, fine lines and moisture levels to generate a skin score, which is then used to understand your skin's health and can be used to track your progress over time. It processes over 100,000 skin pixels to identify 2,000 facial attributes such as dark spots, wrinkles among others.
But what differentiates Neutrogena Skin360 from other skin analysis app? Its NAIA, Neutrogena AI Assistant that asks you about environmental triggers that may affect your skin, such as sleep, exercise and stress levels. It then creates an eight-week skincare regime for you based on your preference, i.e. a 10-step routine or five-minute person. Even though the recommendations are from Neutrogena, you can include your other skin products to track the effectiveness of your routine. It regularly checks in to ensure you have your weekly progress photos and sticking to your routine.
The app is also an integral tool to Neutrogena Mask iD, Neutrogena's personalised face masks customised in both shape and ingredients. Rather than using one face mask that doesn't fit your facial structure or only uses one product all over the face, this face mask targets different skin concerns on different parts of the face. Products include hyaluronic acid, niacinamide, feverfew, N-acetylglucosamine, and vitamin C.
The app will show you what your final, custom-fit mask will look like. Once satisfied, consumers can submit it through the app and it'll be shipped right to your door. Each mask will be single use but users can change your mask formulas depending on your skin's changing needs. Whilst the beta study of the mask has just launched, the company has confirmed it will roll out MaskiD to other markets in Asia.
Mink Beauty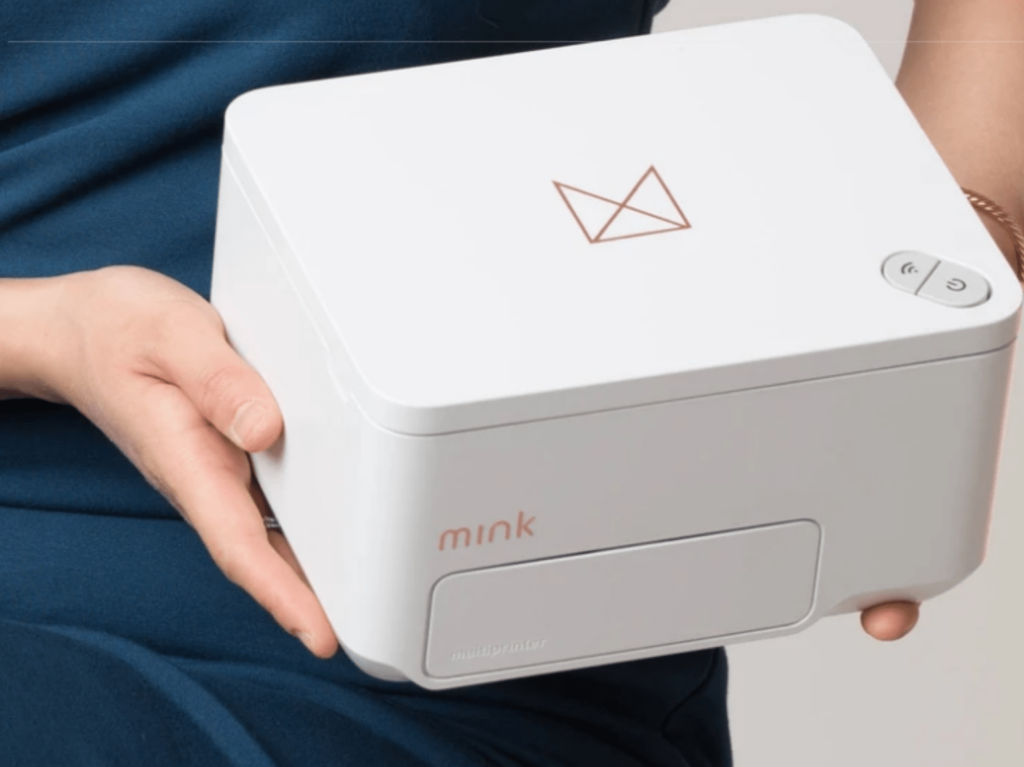 Seen something on the internet that you wish you could apply? That is now possible thanks to Mink Beauty. Mink is the world's first 3D makeup printer that instantly transforms any image into a wearable color cosmetic. It disrupted the beauty industry in 2014 with the revolutionary concept of printing makeup at any place and by anyone.
"Growth of online media and entertainment gave viewers the choice to select how and what content to consume. This choice allowed viewers to uniquely curate content, guided by their personal tastes, opinions and preferences." says Grace Choi, Founder of Mink. "Mink brings that aspect of individuality and puts the user in the driver's seat to beauty. Users are turning to these images for inspiration. Mink enables them to choose, control and create exactly what they want from their content."
To use the printer, you must open the Mink app and import any image from your device, iOS and Android, or internet. You then can choose to either print an entire image or a single color. Insert a Mink makeup sheet into the tray and press send to print. The makeup sheets are co-developed with cosmetic brands to ensure product quality and performance. After printing is complete, the makeup is essentially ready to be applied. "It can print 16.7 million colors and is so precise, you can even see the finest of hairs," adds Grace Choi. "The cosmetic grade ink deposits onto Mink's proprietary makeup sheets, and immediately becomes wearable makeup." To apply, simply swipe your finger or brush across the sheet and apply onto the relevant areas of your face.
It is recommended that the makeup sheets be used within 2 weeks after printing. Like regular makeup, soap, water, makeup remover can be used to remove printed makeup.
Mink has partnered with a beauty retailer where guests can experience the Mink printer. While direct to consumer purchasing is currently not available at this time, the company looks forward to exploring this direction as they continue to grow. For latest updates, visit here.